RESULTS OF OUR 16TH AURORA EXPEDITION OCTOBER 2018
by Paul D. Maley, NASA Johnson Space Center Astronomical Society
An incredible view during one of the explosive outbursts as photographed by Joe Palys.  Taken October 8, camera Fuji XH 1, Lens 16 mm ( 24 mm equivalent), Iso 3200, F 1.4, 1.3-1.5 sec exposure 
Our 16th Northern Lights viewing expedition (October 6-10, 2018) once again came back with some wonderful images and experiences as we had 4 mostly clear  nights with temperatures during the daytime not exceeding 50 degrees F and at night ranging from 23-30 deg F.  This makes 16 straight successful aurora viewing trips!  The aurora we observed this time was caused by a coronal hole in the Sun's atmosphere with high energy particles streaming into the Earth's magnetic field that began more than 2 days prior to our arrival.  From the photos that follow you can see that different gases produce different colors when they are excited and their energy states elevated. The most abundant elements in Earth's atmosphere are nitrogen and oxygen; oxygen at about 60 miles altitude gives off the yellow-green color most commonly seen while oxygen at higher altitudes (about 200 miles above us) produces red auroras. Ionic nitrogen produces the blue auroras and neutral nitrogen gives off the red-purple and the rippled edge auroras.
Our Northern Lights team consisted of Joe Palys, Ed and Joan Steiner, Pat Healy, Doris Trauner, Karen Mullen, Kimberlee Ray, Sharon Hayden, Robin Marion, Richard Nugent, Chuck Herold, Mike Schramm, Mikayala Horton, Lynn Palmer, and Paul Maley.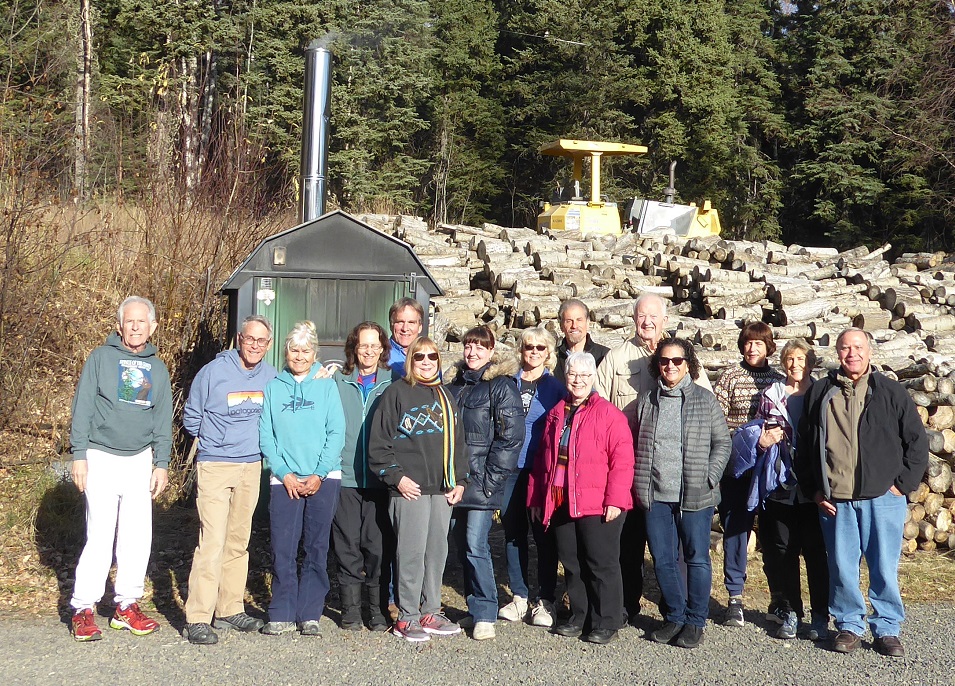 The aurora team (left to right): Paul Maley, Ed Steiner, Joan Steiner, Lynn Palmer, Michael Schramm, Doris Trauner, Mikayla Horton, Kimberlee Ray, Richard Nugent, Karen Mullen, Chuck Herold, Sharon Hayden, Robin Marion, Pat Healy, Joe Palys.
We spent October 6-10 monitoring the sky generally from after 930pm until about 6am with individual tour members going outside to stare at the sky and wait for something to happen at other times too. This trip was one for the record books. We were positioned to experience a possible G1 class geomagnetic storm which lit up the sky each night at different times and varying intensities.  Most aurora viewing sessions can be defined as spending hours of boredom punctuated by short episodes of auroral glows. On this trip I recorded about 1,400 separate aurora images! the following reflects a small sample of what was seen.
If after reading this you are stimulated to come with us on our next adventure, please send me an email (eclipse@dt.com) and we will include you on the short list (maximum of 15 persons per trip) on the two back to back trips we are planning in February 2020.
OCTOBER 6/7 AURORA SIGHTINGS
All photos were made by team members with their own cameras. I have not listed the precise times of each image but those collected on each individual night are grouped together and in some cases not in sequence.  Photographs were not taken by professional photographers. They truly represent the colors (as best we saw them) and visual experience that those present saw.  Because of the geomagnetic storm we can categorize these images as being a representation of luck, where luck is defined as the intersection of preparation and opportunity.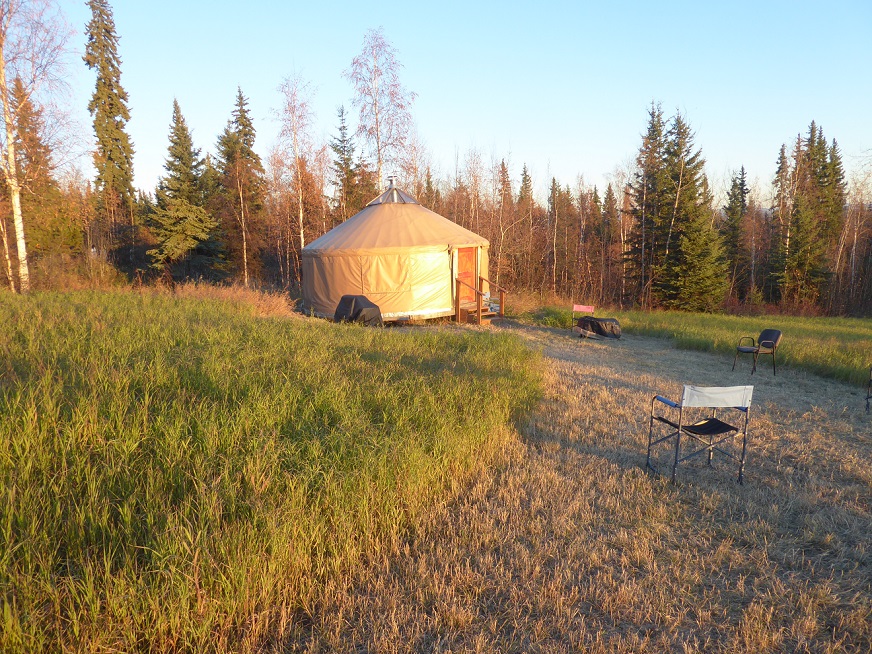 A view of the yurt and freshly cut grass in the area where most of our aurora sightings took place. P. Maley photo.

The first sign that auroras are stirring in the north as a faint green glow appears on the horizon. Constellations of Ursa Major, Perseus and Auriga are visible. P. Maley photo. All images taken by Maley were from a Nikon D3100, f/3.5, ISO 3200 with exposures ranging from 4 to 10 seconds.
Beams begin to form in the north. P. Maley photo.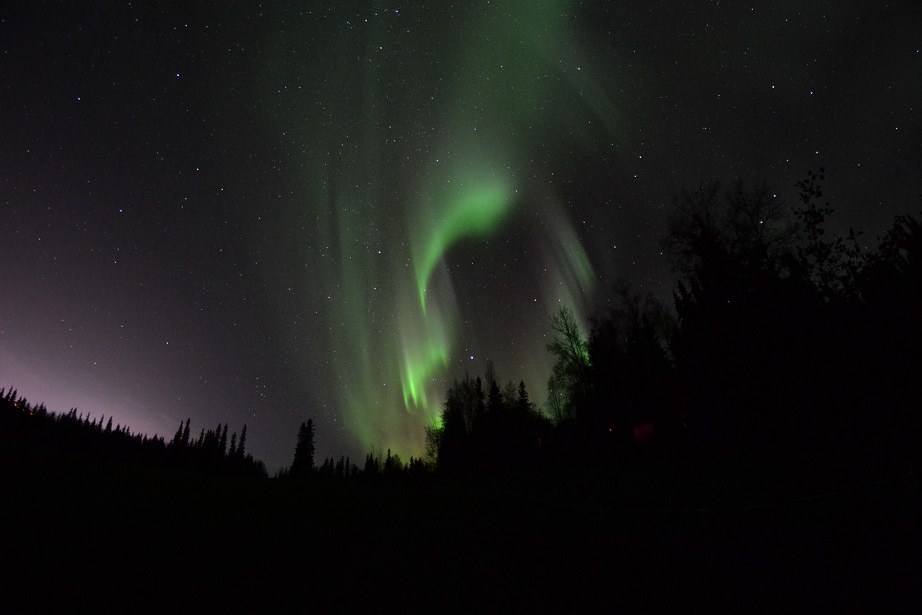 However, we soon get intense curtains in the western sky followed by smaller beams.  The pink glow on the horizon on this and other images comes from the lights of Fairbanks.  P. Maley photo.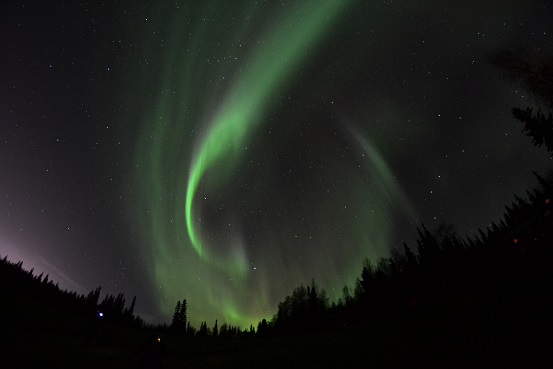 The curtains merge into an arc with additional structure lower in the sky.  P. Maley photo.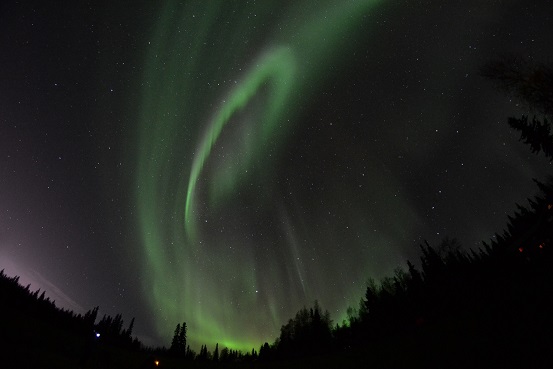 The arc then morphs into a 'smoke ring'. P. Maley photo.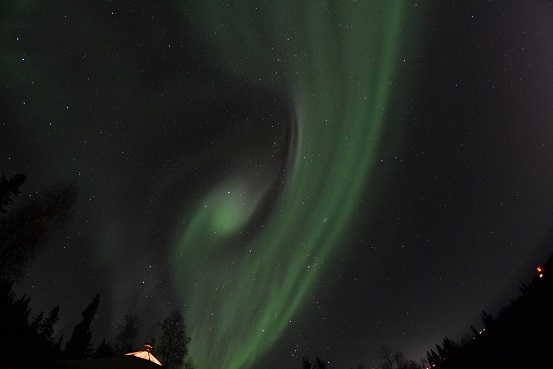 A new aurora appears as a ghostly figure in the east.  The constellation of Orion is seen rising in the southeast.  P. Maley photo.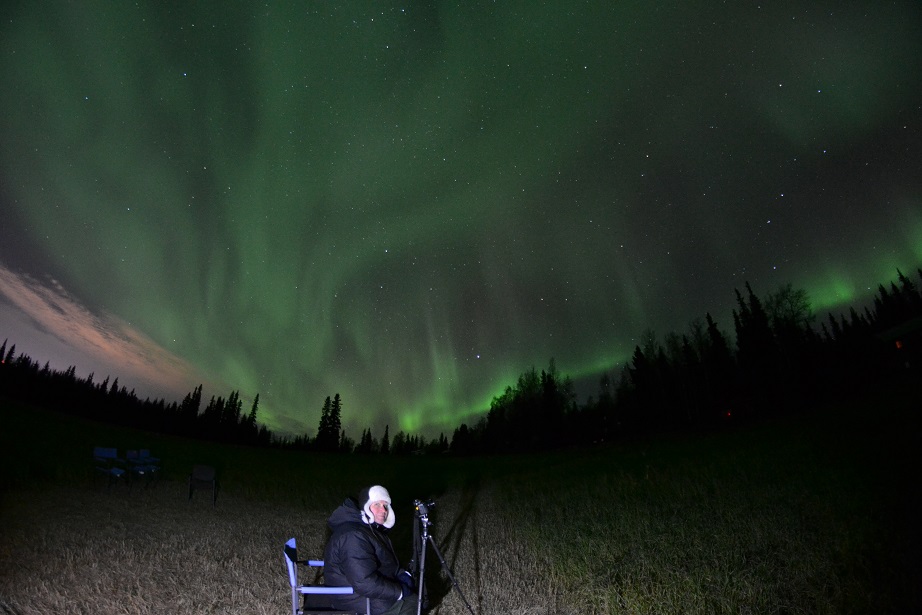 Joe Palys at work silhouetted against newer aurora dancing around the horizon. P. Maley photo.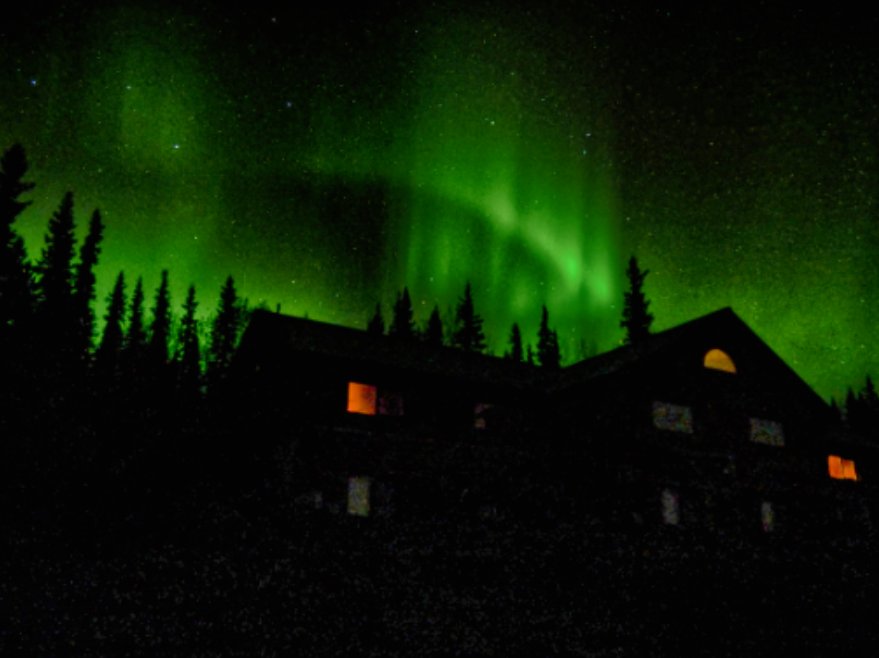 This photo with the lodge in the foreground was taken by Richard Nugent. Olympus OM-D, f3.5, 16mm ISO 3200, 6 sec.

After a long series of aurora have passed through the sky a large area of green remains forming strange and overwhelming patterns that can cover every square inch of the sky. P. Maley photo.
A "face in the sky."  P. Maley photo.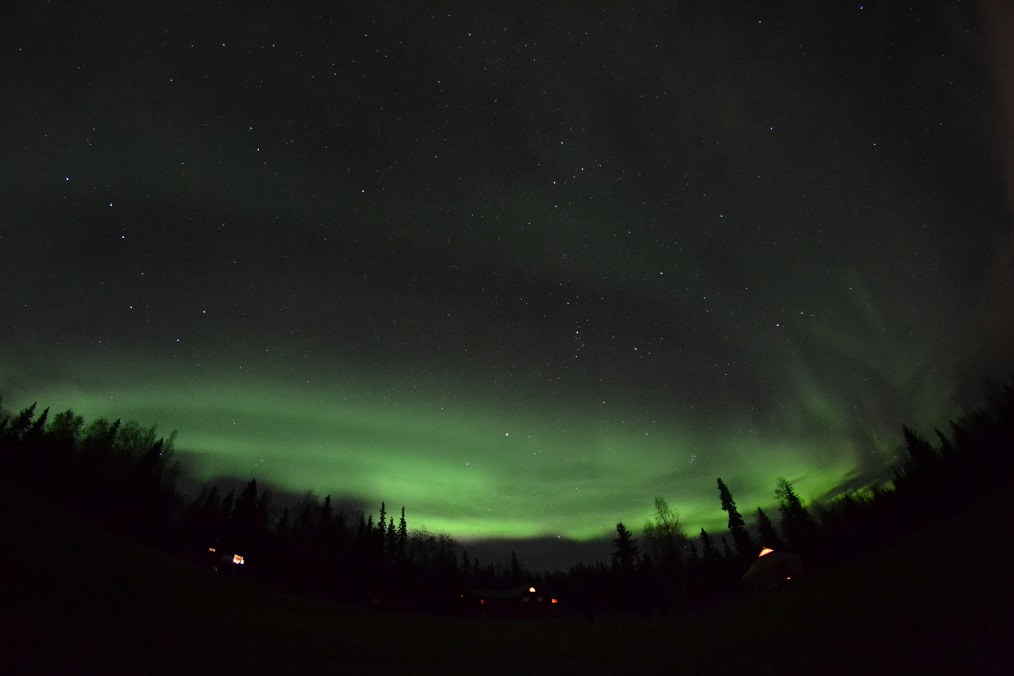 Intense green indicates a strong episode of aurora is in the offing. P. Maley photo. 
OCTOBER 7/8 AURORA SIGHTINGS.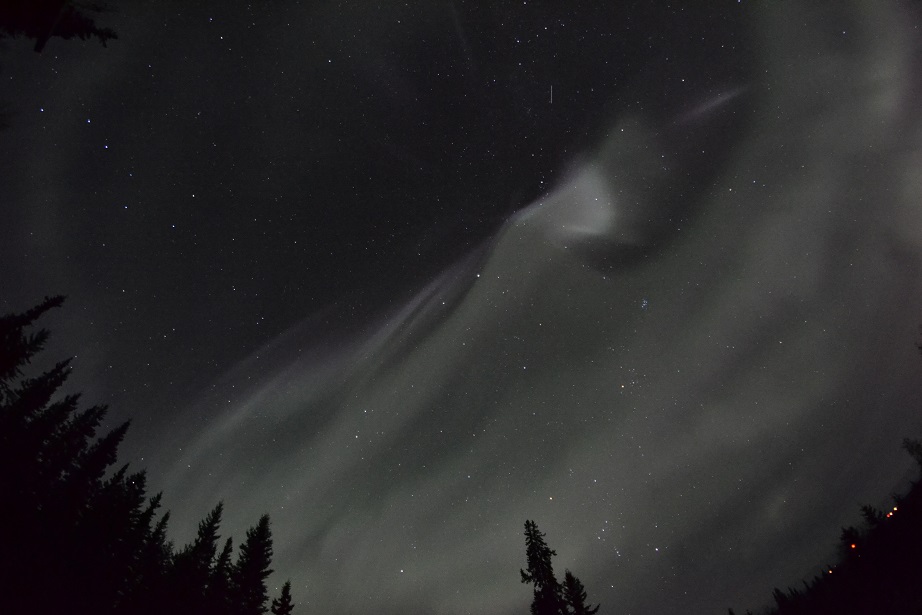 This bright feature remained overhead for a long time while the rest of the auroras appeared a dull gray. A satellite is seen tracking through the field of view (top center).  Notice that auroras appear to cover the constellation of Orion to the south. From Fairbanks auroras seldom cross the zenith and nearly always remain in the north, east or west.  On this night the majority of images showed white/gray colored aurora.  P. Maley photo.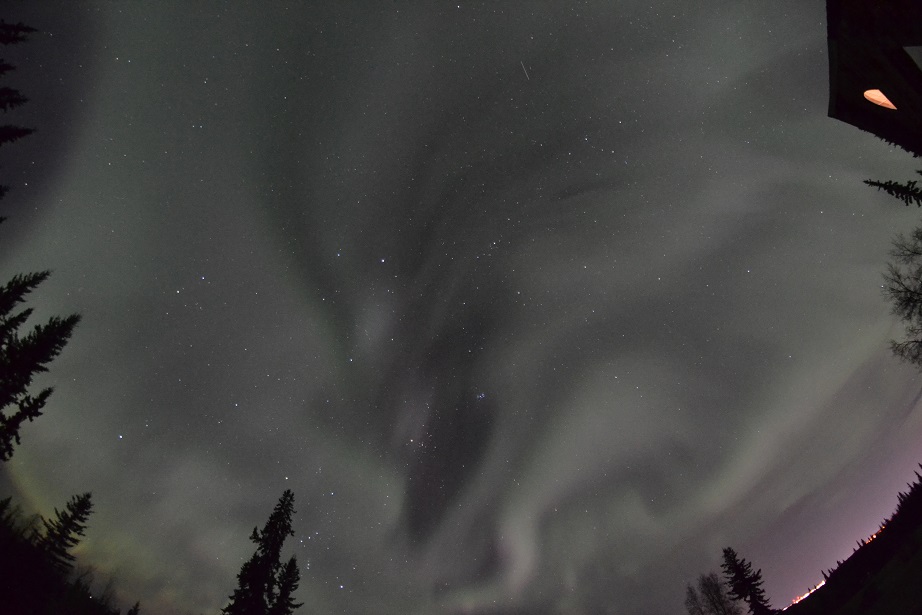 Grayish aurora appeared during the early half of the night which seem to be of lower intensity than the usual green background auroras. Notice a trail of a wayward satellite in the top part of the field. P. Maley photo.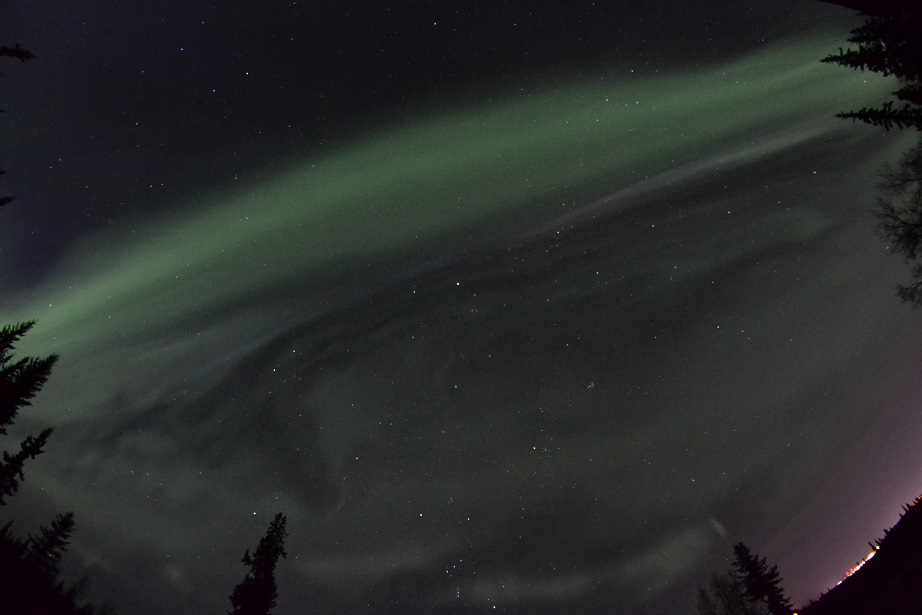 An expansive overhead band stretches 180 degrees.  P. Maley photo.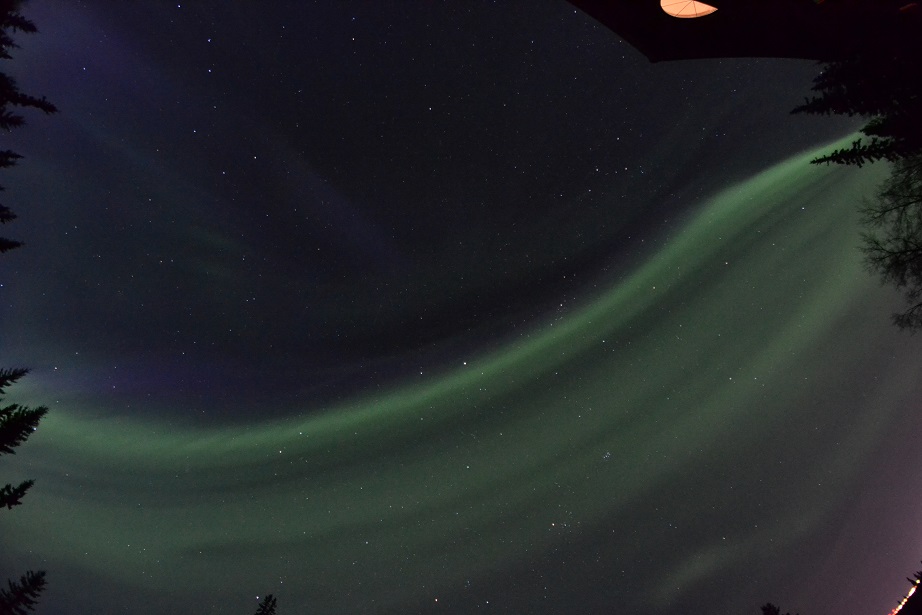 The band bends and bluish rays appear in the open space.  P. Maley photo.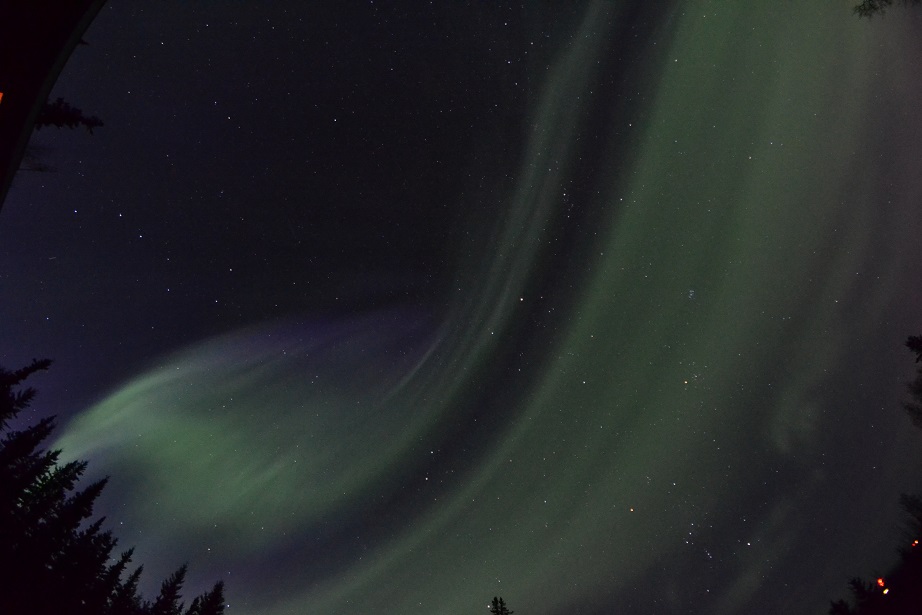 A nice arc with fine edges appears to the north aligning with the green band.  P. Maley photo. 

As dawn approaches an unusual swirl appears.  P. Maley photo. 
OCTOBER 8/9 AURORA SIGHTINGS:  

THE NIGHT OF THE MOST INTENSE ACTIVITY!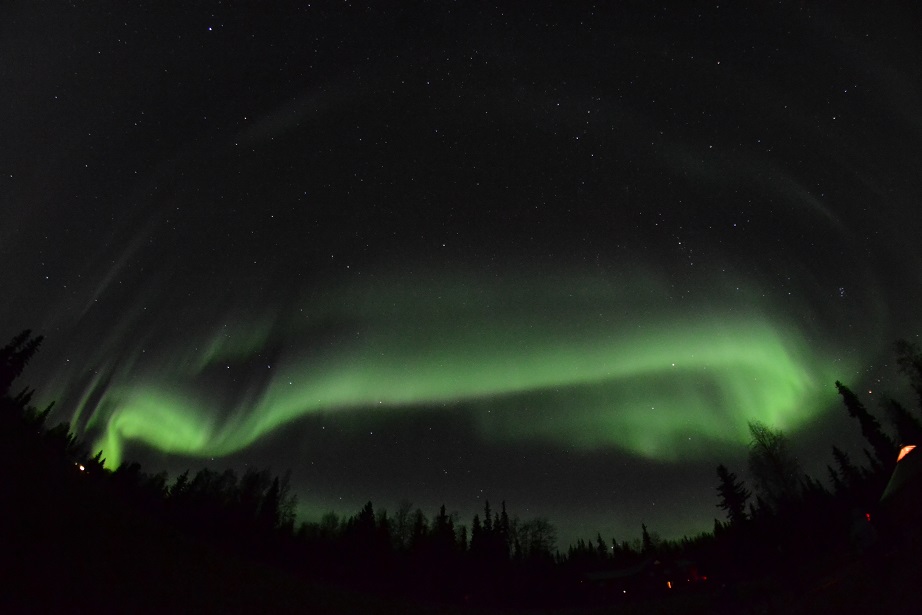 First of three images showing how rapidly an aurora changed in front of our eyes.  P. Maley photo.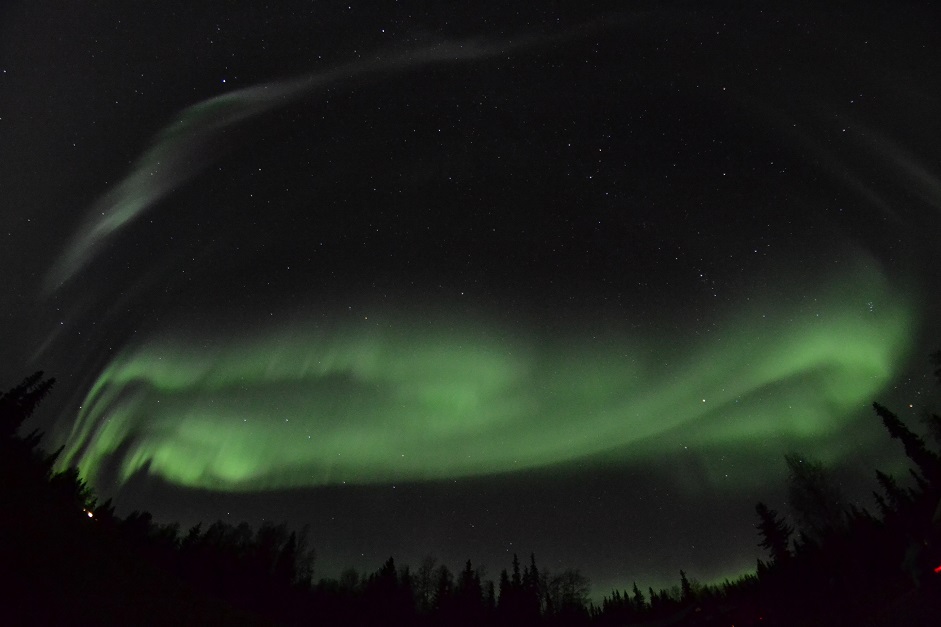 Second image.  P. Maley photo.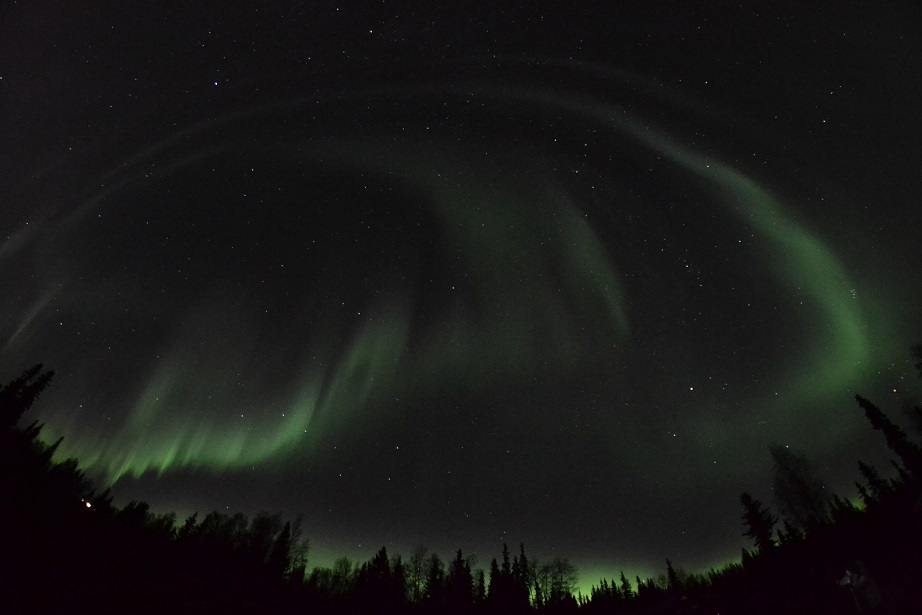 Third image.  P. Maley photo.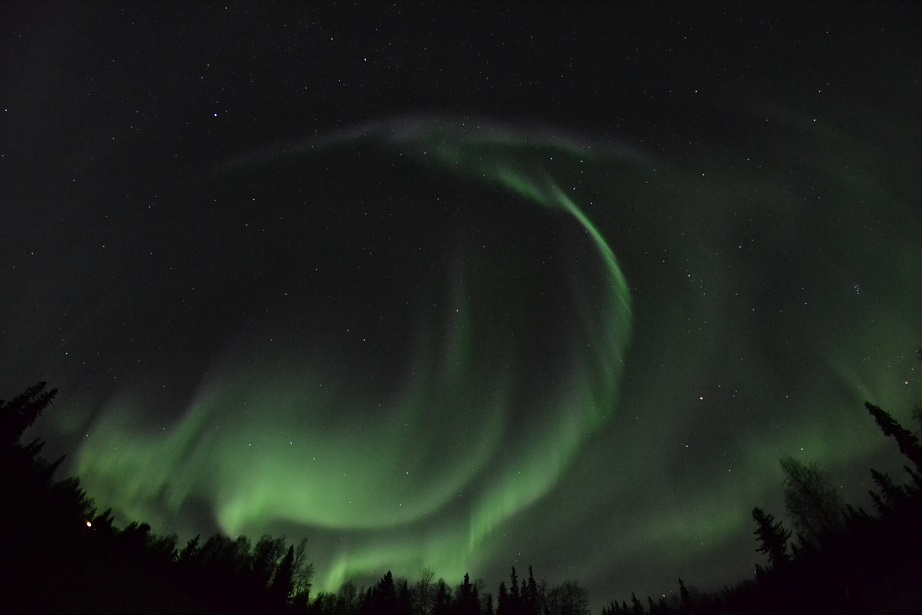 Still another set of intriguing arcs. P. Maley photo.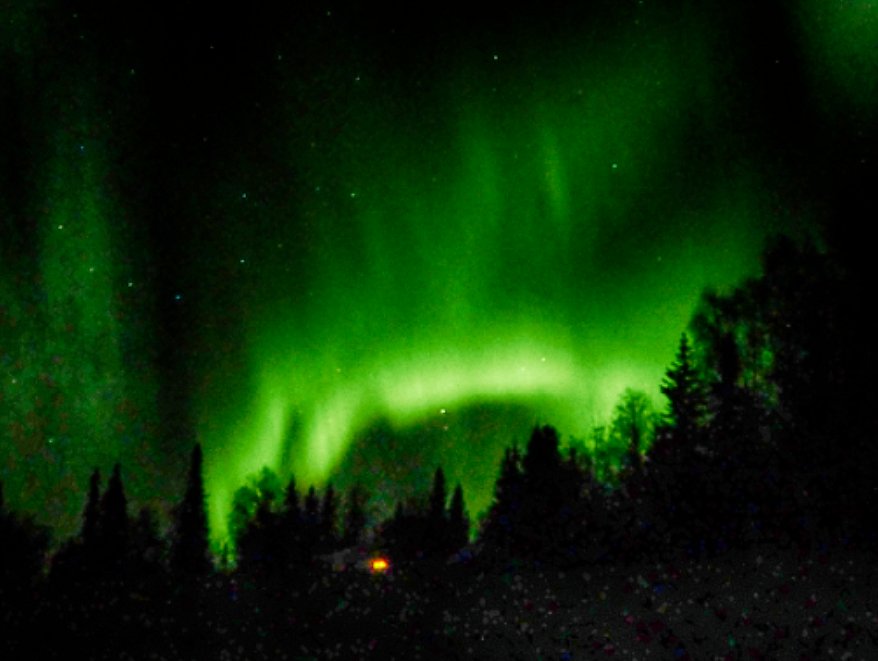 A bright aurora arc above the northwest treeline.  Olympus OM-D, f3.5, 14mm ISO 2500, 2-sec. R. Nugent photo. 
A very bright curtain as photographed by Joan Steiner.   Canon 7D mii, 16 mm Canon Lens, f/stop 2.8,  ISO 1600, 10 sec.
Taken October 8, camera Fuji XH 1, Lens 16 mm ( 24 mm equivalent), ISO 3200, F 1.4, 1.3-1.5 sec exposure. Joe Palys photo.
Taken October 8, camera Fuji XH 1, Lens 16 mm ( 24 mm equivalent), ISO 3200, F 1.4, 1.3-1.5 sec exposure. Joe Palys photo.
Taken October 8, camera Fuji XH 1, Lens 16 mm ( 24 mm equivalent), ISO 3200, F 1.4, 1.3-1.5 sec exposure. Joe Palys photo.
Taken October 8, camera Fuji XH 1, Lens 16 mm ( 24 mm equivalent), ISO 3200, F 1.4, 1.3-1.5 sec exposure. Joe Palys photo.

A near all sky view of a rapidly evolving complex structure.  P. Maley photo.

This was the start of a literal explosion in the sky with a brilliant band in the west that rapidly changed its shape and amazed everyone.  It lasted only a few minutes.  P. Maley photo.

 It looks like the wind has blown this band into a twisty shape.  P. Maley photo.  Karen Mullen described this as follows: "Watching the aurora the second and third nights when they stretched from horizon to horizon was like being inside a celestial screensaver! "

The head of the band brightens as the tail continues to turn.  P. Maley photo.

The right side of the band intensifies rapidly. You can see reddish aurora on the right edge. Oxygen at altitudes of around 200 miles produces red auroras. P. Maley photo.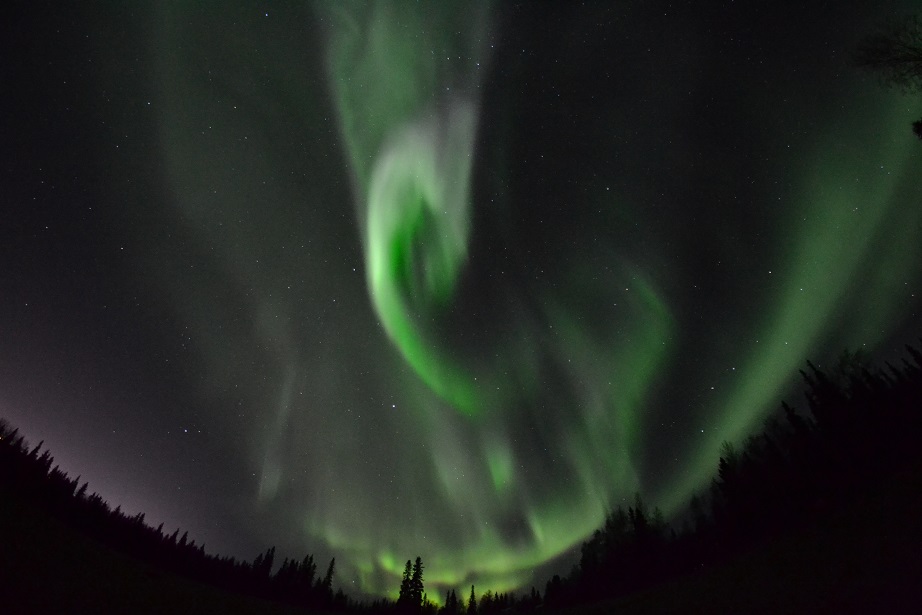 Now the shape has modified again with a snake-like structure beginning to form in the center.  P. Maley photo.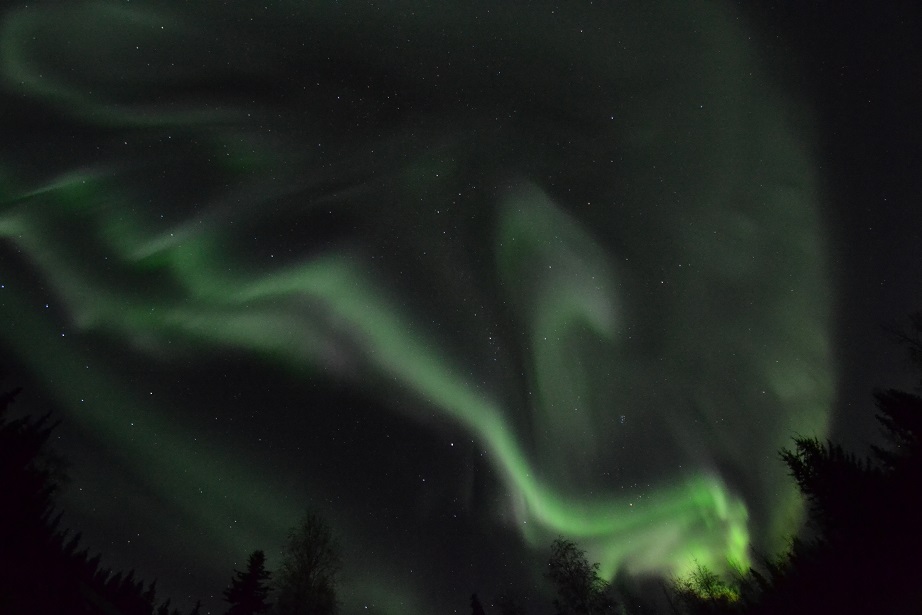 The band died out, then within seconds it reemerged into the above form.  P. Maley photo.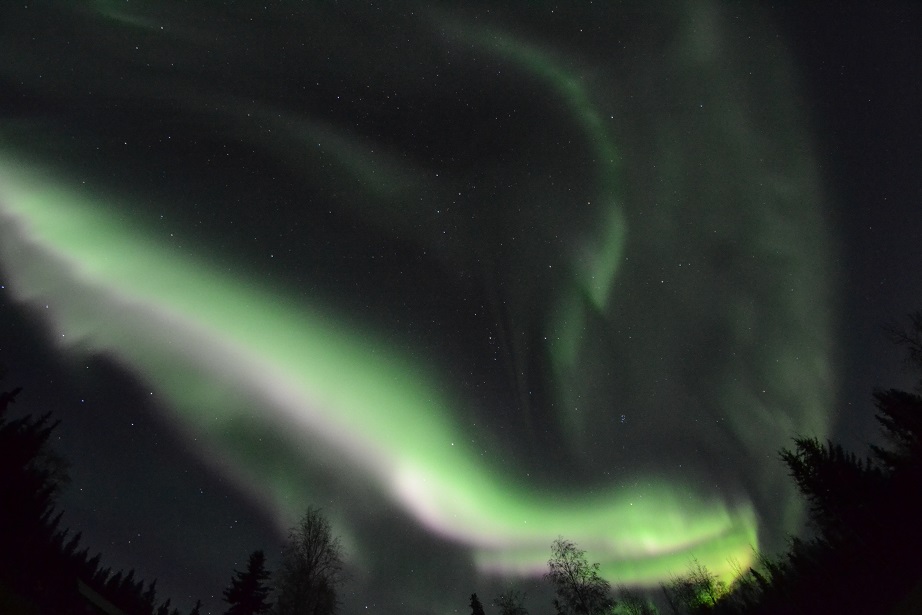 Then it explodes again in intensity.  P. Maley photo.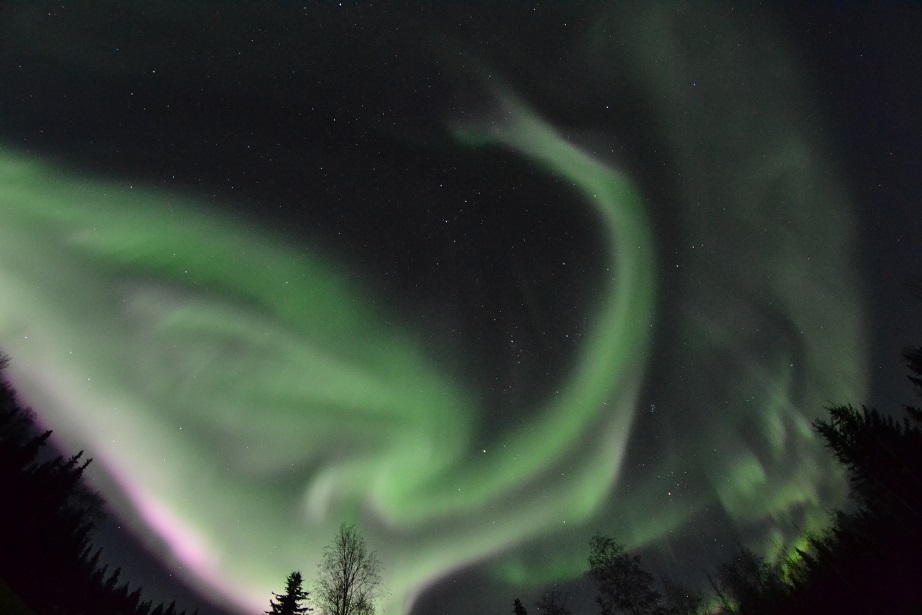 This giant super snail-like form takes shape to our west.  P. Maley photo.
OUTSTANDING AURORA VIDEO FROM OUR TRIP COMPILED BY JOE PALYS. A SPECTACULAR SEGMENT OF VIDEO BUILT FROM OVER 500 SEPARATE PHOTOS THAT HE TOOK THIS NIGHT. YOU CAN ACCESS THE VIDEO BY CLICKING THE LINK BELOW:  

Image shot looking east at 1150pm with a Sony ILCE-6000, f3.5, 20 seconds, ISO 1600 with a 16mm lens.  Pat Healy photo. 
OCTOBER 9/10 AURORA SIGHTINGS
Ed Steiner was wide awake during the best activity and the next three images are from his camera. They were taken minutes apart from one another.
Several bright arcs appear in the northwest preceded by faint bands.  Ed Steiner photo. 5 sec, f/2.8, 14 mm wide angle, ISO 3200,  Nikon D750. 
Shifting to a more overhead view you can see the extent of this aurora as it covers the zenith as well as the northwest sky.  Even here the aurora expanded well outside the field of view.  8 sec,. f/2.8, 16 mm fisheye, ISO1600, Nikon D750.  Ed Steiner photo.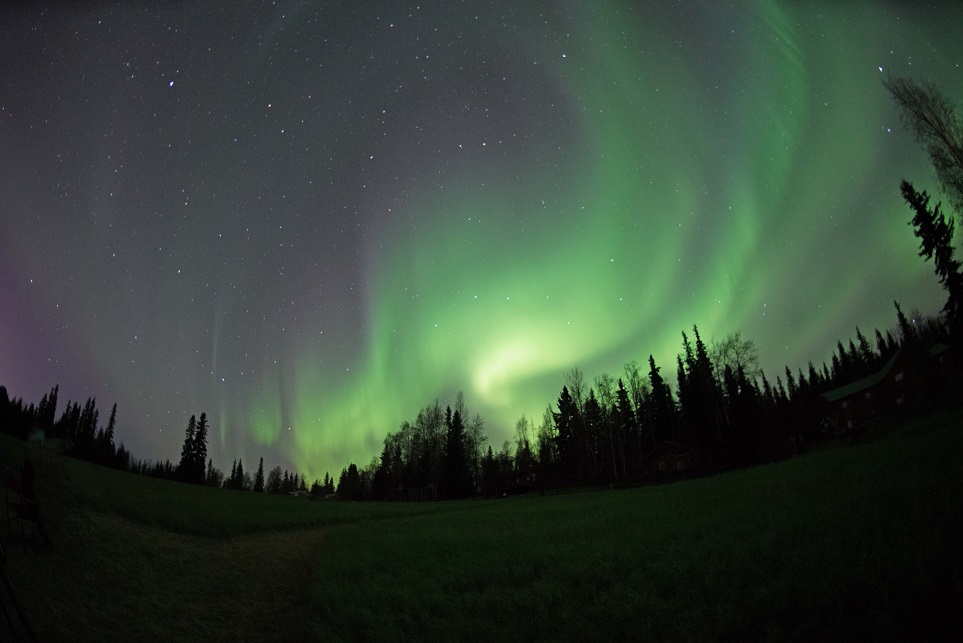 Still another set of arcs in the northwest make their presence known.  8 sec., f/2.8, 16mm fisheye, ISO 1600, Nikon D750.  Ed Steiner photo.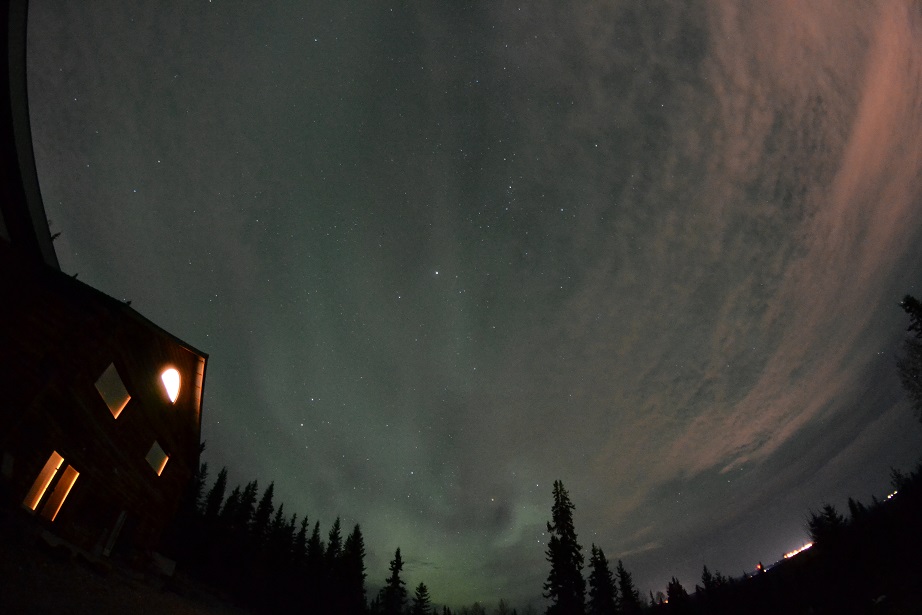 I missed the best part as I was not wide awake during the critical times above.  The evening began inauspiciously with clouds to our south and a general green glow from fuzzy aurora. Not very impressive. P. Maley photo.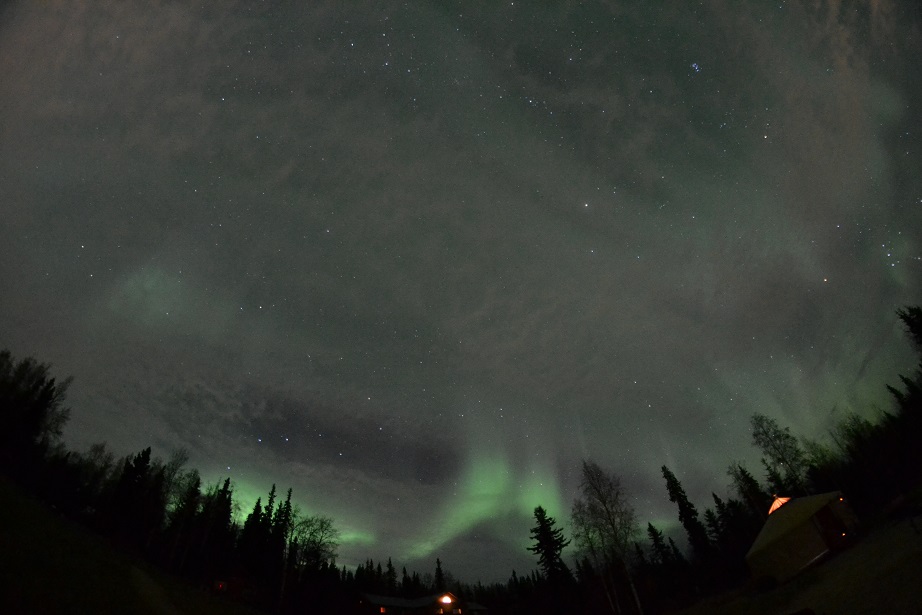 A few small glows were seen but otherwise it looked discouraging. Unfortunately most of us were asleep when a couple of high intensity outbursts occurred and there are no photos to document this. Sometimes one has to stay up all night just to see a few minutes of spectacular scenes.  P. Maley photo.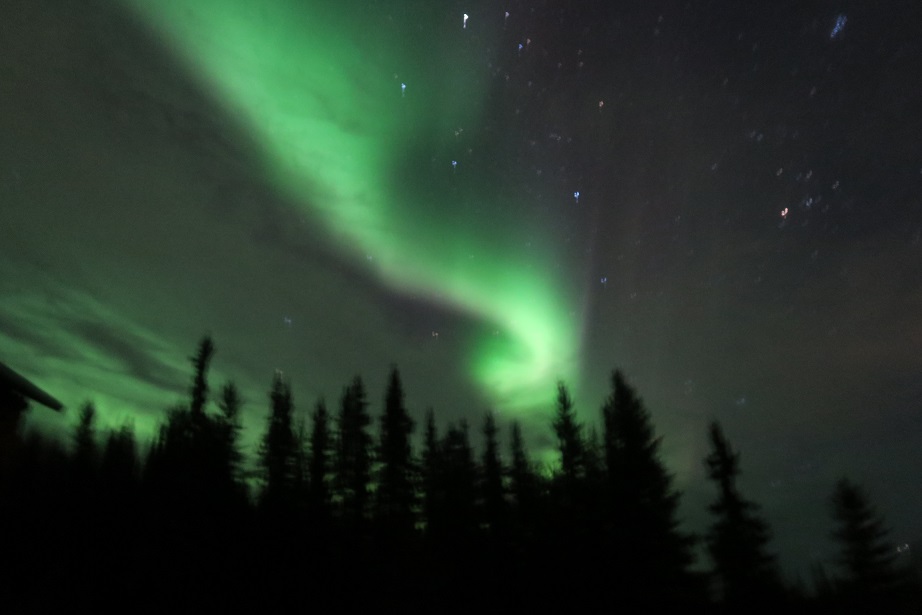 A unique shot that was hand held during a burst of activity around 115am.  Normally a tripod is used to stabilize any aurora photos; however, if one is not readily available it is really easy to use whatever you have to capture the moment. That is what Karen Mullen did in this really interesting photo.  Besides the aurora the Pleiades, Taurus and Auriga are visible as well as the trees and a curtain within the bright aurora itself. Canon GX5 camera, f 2.8, 1600 ISO, 8″ exposure.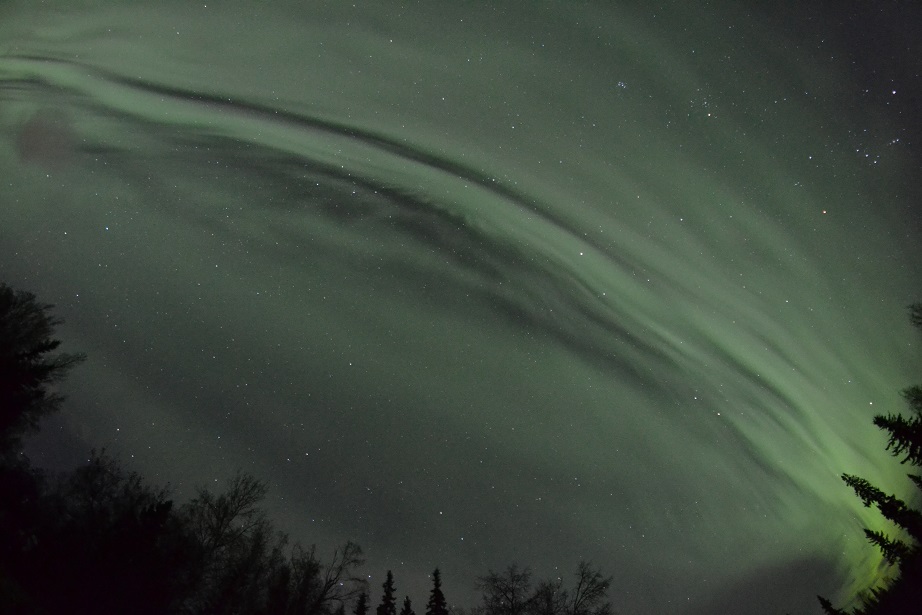 I was able to capture horizon to horizon banding which broke up into rivers of green aurora.  P. Maley photo.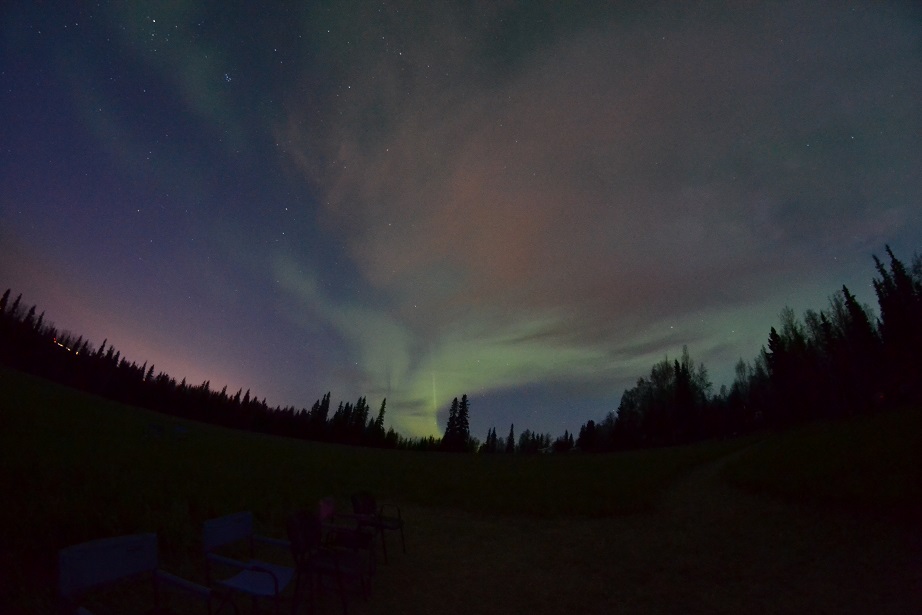 This photo was shot toward the west as twilight increased in the eastern sky just before sunrise.  A lone ray appears to shoot up from the horizon.  Short exposures can capture aurora without overexposing the sky.   P. Maley photo.
MISCELLANEOUS IMAGES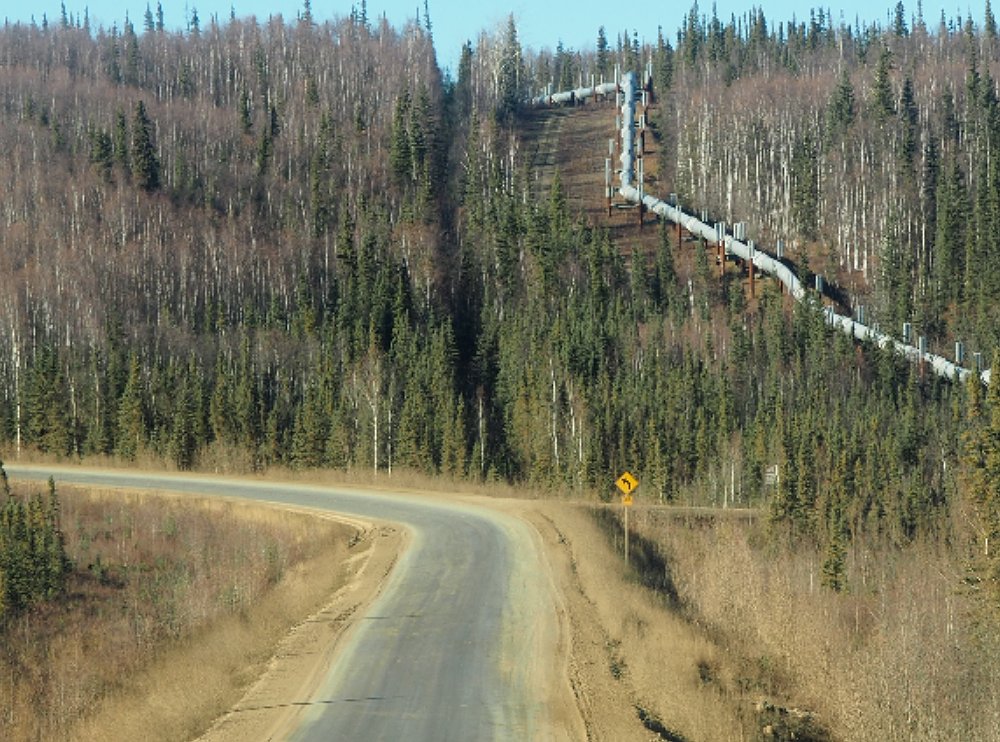 A section of the Alaska pipeline as seen from the Dalton Highway.  R. Nugent photo.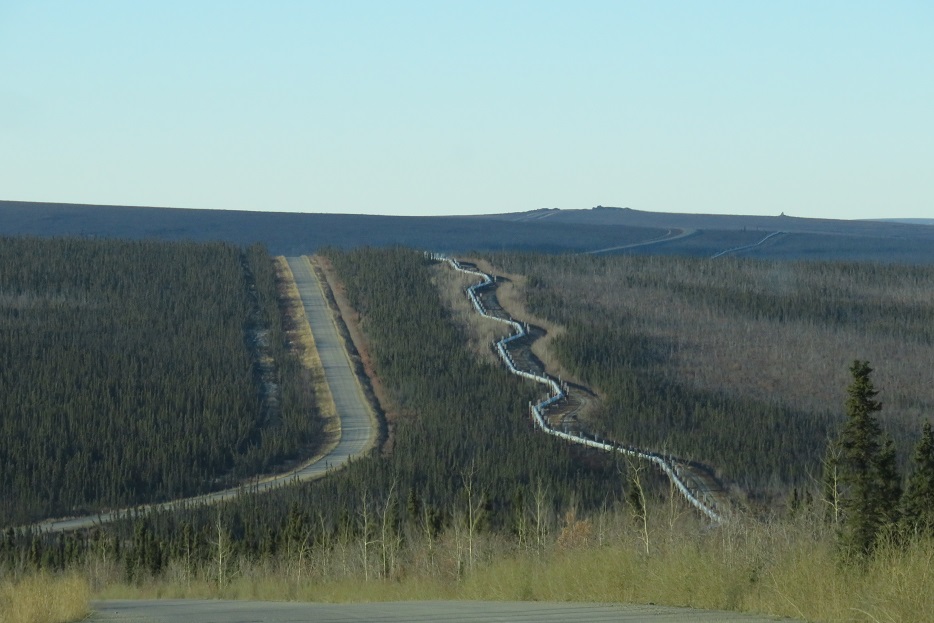 A bigger view of pipeline sections along the landscape. Karen Mullen photo. 
Sometimes it is better to be lucky than good. During our trip, the auroras we saw were surely in that category. The above image is of a vehicle whose luck really ran out.  Ours did not! Kimberlee Ray photo.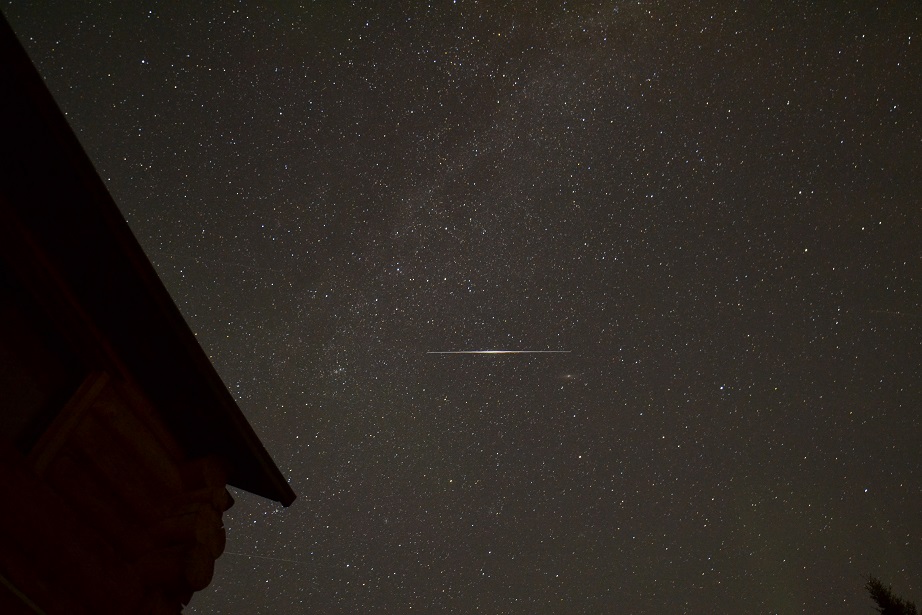 The Iridium 52 satellite flares up to magnitude -4.8 in the eastern sky prior to the start of the aurora. Note the small faint, fuzzy glob indicating the Andromeda galaxy M31 just below the track on the right side.  The Milky Way is visible as a diagonal swath from the roof edge to the upper right center.  P. Maley photo.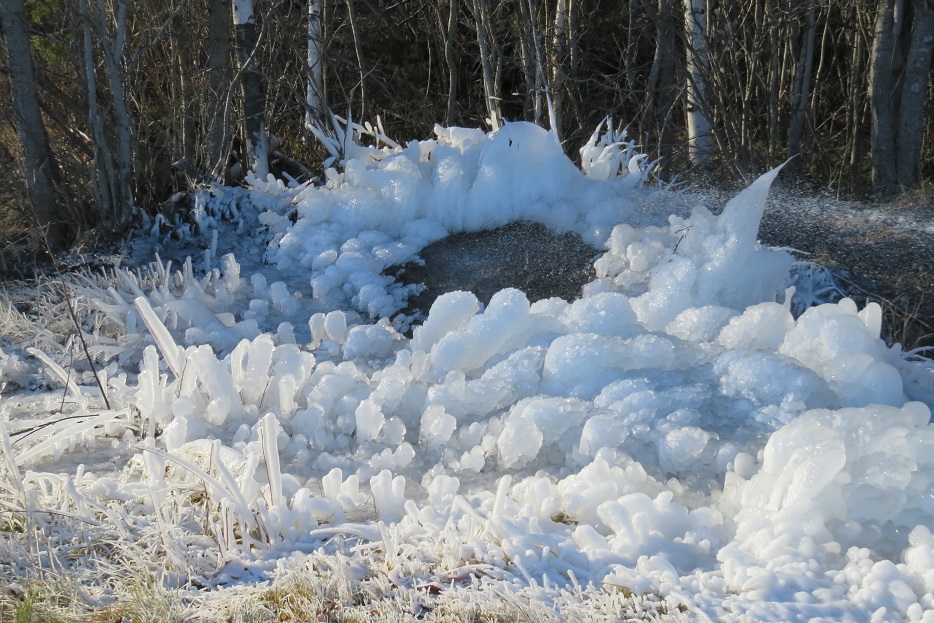 Ice formation at an artesian well as seen during the Arctic Circle tour.  Karen Mullen photo.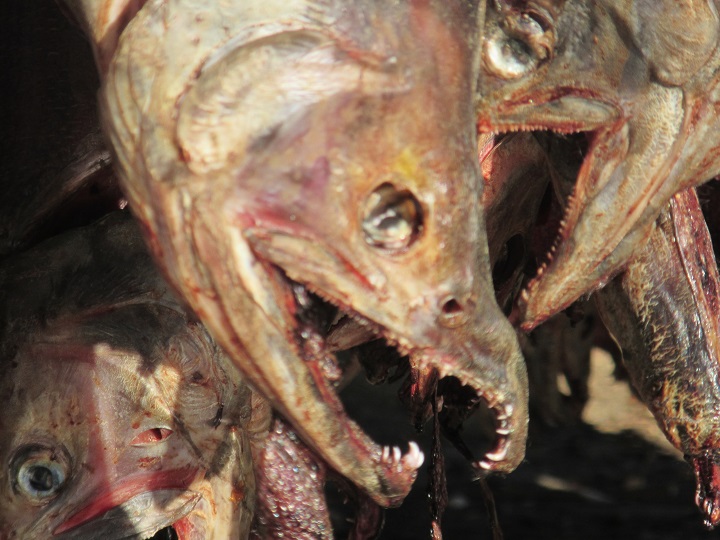 Angry, hanging fish seen along the Arctic Circle drive at the Yukon River.  Robin Marion photo.