2020 AURORA EXPEDITION #19 RESULTS
by Paul D. Maley, NASA Johnson Space Center Astronomical Society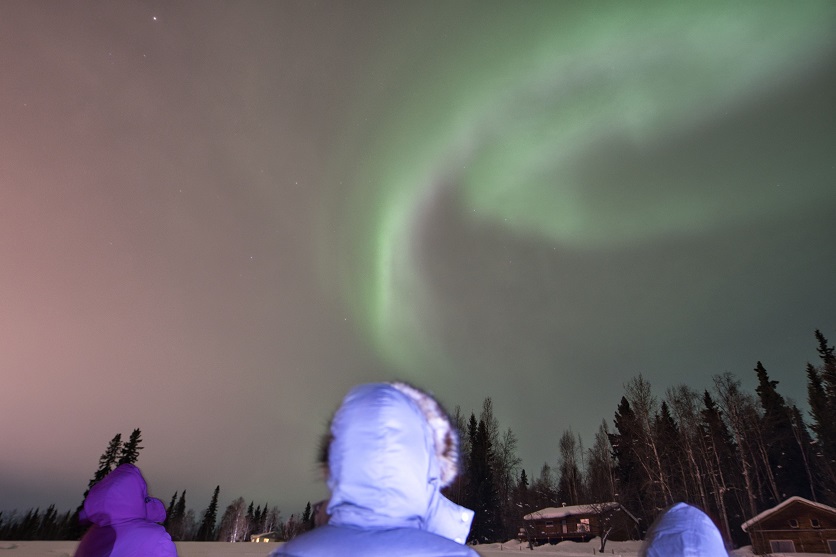 Three of our team watching the lights with cloud in the background and one star visible; this was probably the best night for Northern Lights that we experienced during the trip since there were more clouds than expected. Nikon D500, 14mm lens, f/1.8, ISO 800, 5 sec. Rob Mauro photo.
This expedition occurred from February 19-23, 2020—the usual four night sequence. The weather ranged from low temperatures of  -20 deg F or so up to +7 at night while in the day time the highs were as high as 30 deg F.  These 'higher temperatures' meant lots of clouds, also some snow as well.  However, there were aurora and other sights to be seen.  I rated the level of activity (on a scale of 0-10) as between 0 and 1 during these dates. As Shampa Sarkar remarked:
"Got to see ice sculptures, walked on the surface of the Yukon River, saw the gorgeous snow covered black spruce, birch on White Mountains, the Alaska Pipeline and the Arctic Circle as it snowed. How can one even complain?"
The trip included our largest group yet with 16 travelers participating. Eight of them took the 18 hour-long Arctic Circle excursion which unexpected was extended to nearly 24 hours due to a road accident in which their bus had to stop to assist a van which had collided with a moose. Luckily nobody was injured but the moose was a goner and the other group's van was totaled.
Here are some images from the various experiences.  Photo credits are given below where I have been informed of the name of the photographer.  The group members were: Rob Mauro, Jeff Pohlman, Mike Connor, Judy Thompson, Diane Birnbaumer, Jim Thompson, Bill Bechtell, Peggy Bechtell, Joe Mizrahi, Elliot Lepler, Ken Biba, Shampa Sarkar, Tien Grauch, Dick Grauch, Lynn Palmer and Paul Maley.
DOG MUSHING IN ALASKA!
This was a very unusual optional pre-tour and was timed to synchronize with the beginning of our aurora viewing expedition. Lynn Palmer and Jeff Pohlman arranged to spend 5 days preceding our trip mushing their own dog teams in the wilderness.  This was no trivial feat. Their adventure route is shown below between the two arrows. In total they mushed 120 miles through the snow experiencing temperatures as low as -30 deg F along the way.  I insert this account to show that it is possible to do some amazing things in Alaska; this is one adventure that is available to travelers in the region beyond the normal aurora viewing experience.  It was truly an amazing accomplishment!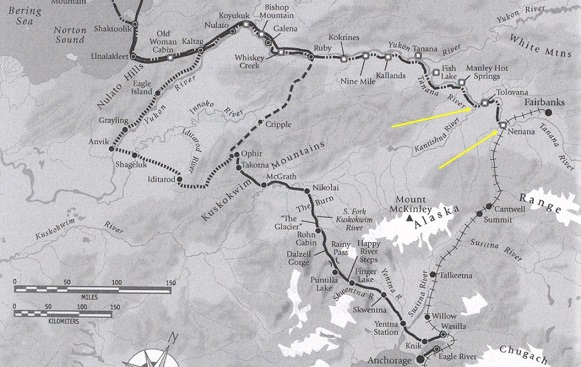 Mushing map showing key features and other treks possible in the region.  The traveled from Nenana to Tolovana and back from February 15-18 the one way distance is approximately 56 miles/90km.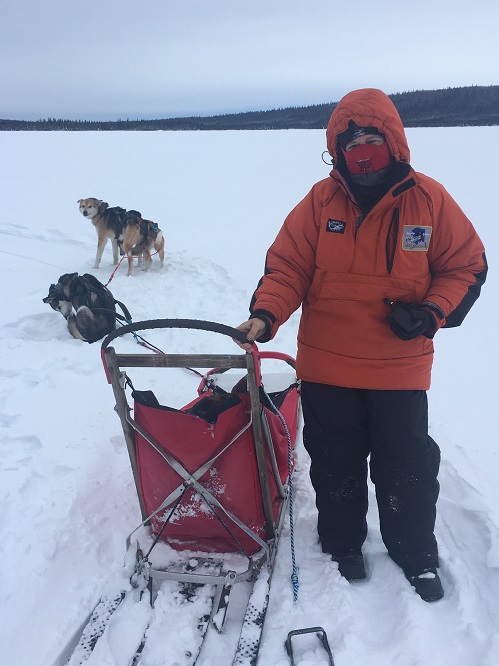 Lynn with her sled and three of her five sled dogs. Leslie Goodwin photo.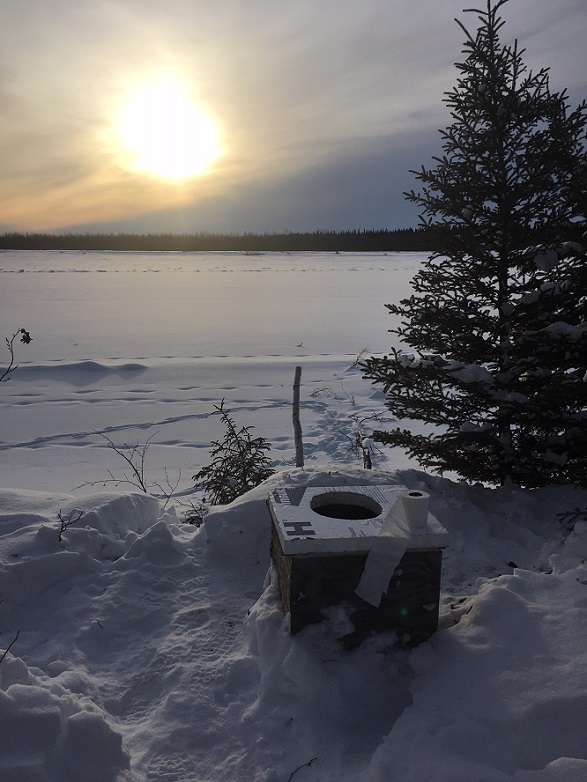 And where do you go to the bathroom when mushing? Here is the answer.  Note the comfortable styrofoam seat and real toilet paper. Lynn Palmer photo.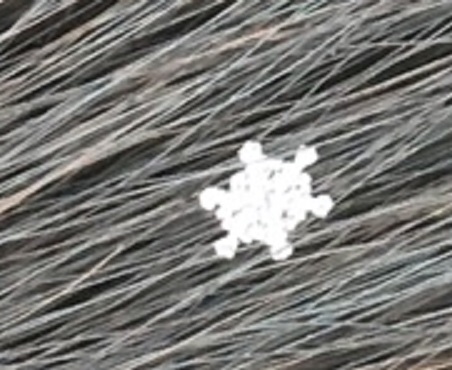 Sometimes you can see interesting things along the way.  This is a closeup of a giant snow flake called a stellar dendrite. It was perched on the back of one of the sled dogs and has one of the unique shapes classified by snowflake investigators. Lynn Palmer photo.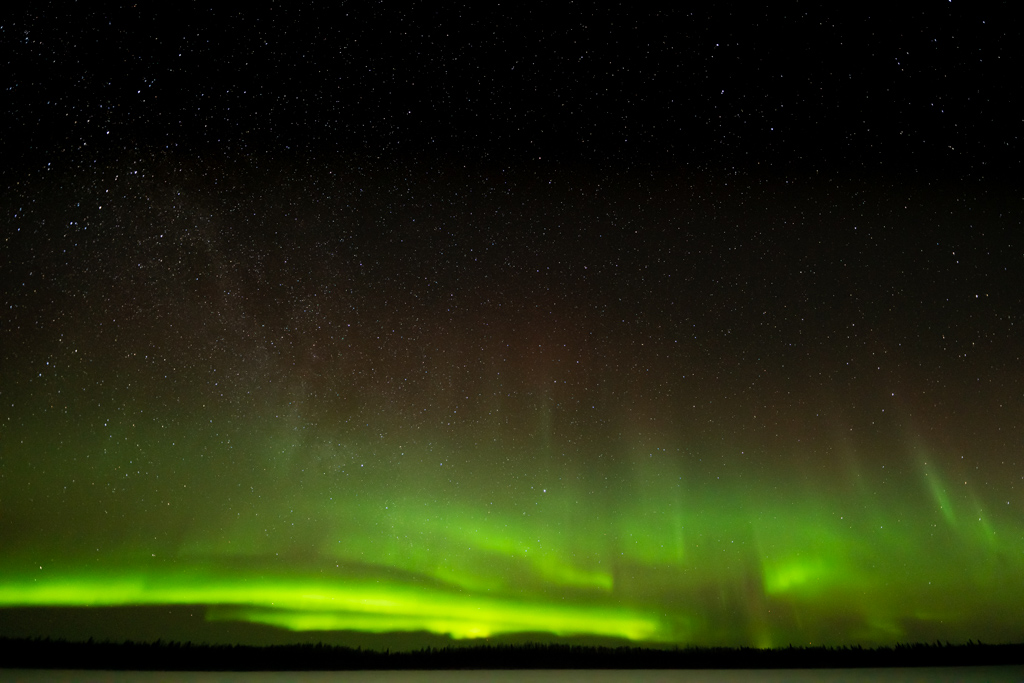 This is why having a flat north horizon is so important.  The next two images are low in the sky.  Two bands of Northern Lights plus arcs are seen in front along with beams seen when stopped for the night on the mushing trip.  The constellation of Lyra is just below center inside the aurora; Corona Borealis is right of center; Draco in center; handle of Big Dipper top center; Cassiopeia in upper left.  Jeff Pohlman photo.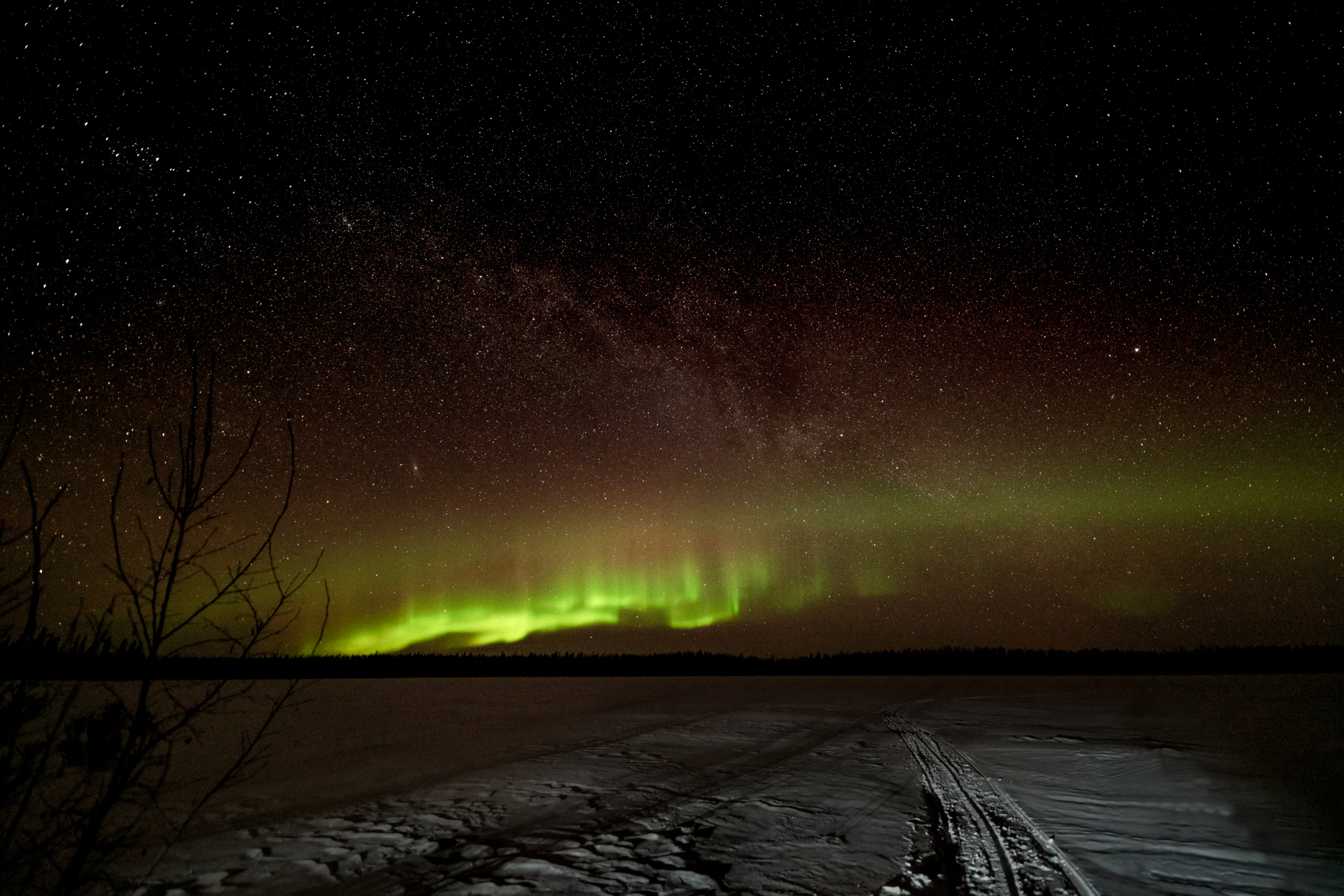 A gorgeous sky with thousands of stars amidst a more active display of Northern Lights.  This image gives you an idea of what you can not only photograph but see visually when you are out in the wilderness away from city lights.  M31 is the fuzzy object left of center. To its lower left first is Mu, then Beta Andromedae.   Jeff Pohlman photo.
THE MAIN TRIP
ACTUAL TEMPERATURES EXPERIENCED: 
FEB 19: 23 TO 4 DEG F 
FEB 20: 32 TO -1 DEG F
FEB 21: 14 TO 2 DEG F
FEB 22: 10 TO -1 DEG F
FEB 23:  -1 TO -25 DEG F
With all of our tour members this was also an opportunity to test aurora photography with different cameras including those in smart phones. The first shot below was taken with an IPhone 10.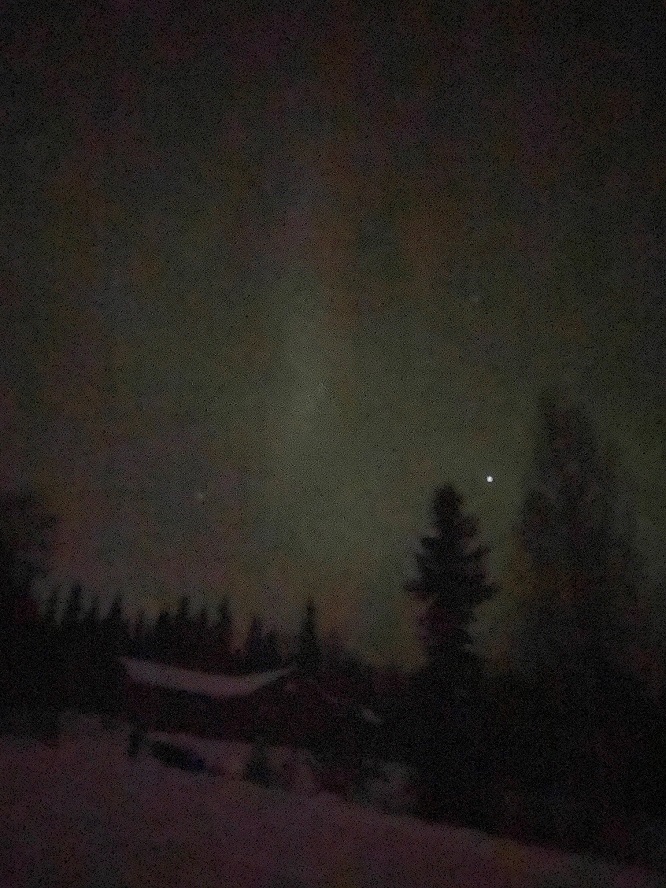 This model smart phone shows a lot of grain, poor response and is somewhat out of focus. Even with a downloaded app, the IPhone 10 is not recommended. Elliot Lepler photo.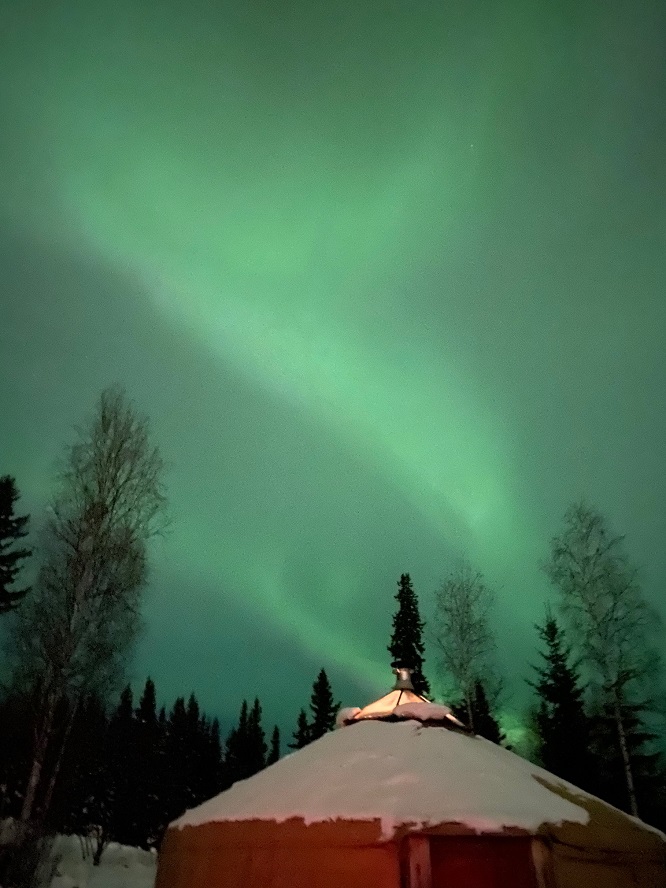 Yurt is in the foreground.  This image was taken with an IPhone 11 Pro (not the IPhone 11 basic model). A much improved response almost equivalent to a 35mm DSLR image. This model costs twice as much as traditional IPhones but as you can see, the end product is really worth it! Stars and foreground are in focus.  Mike Connor photo.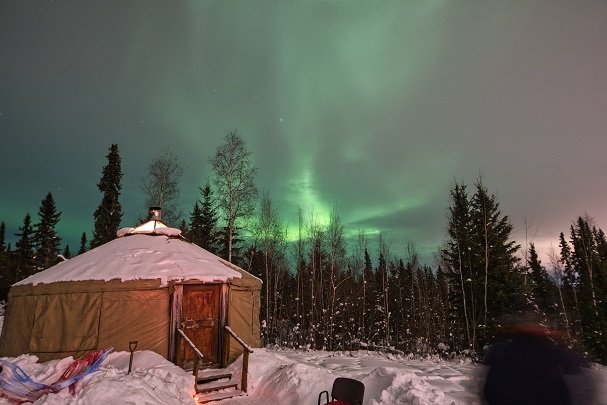 A photo taken around the same time with a 35mm DSLR can be compared to the one directly above in terms of detail and intensity. If you really want to take the best still Northern Lights images a 35mm DSLR is the best way to go.  Nikon D500, 14mm lens, f/1.8, ISO 400, 13 sec.  Rob Mauro photo.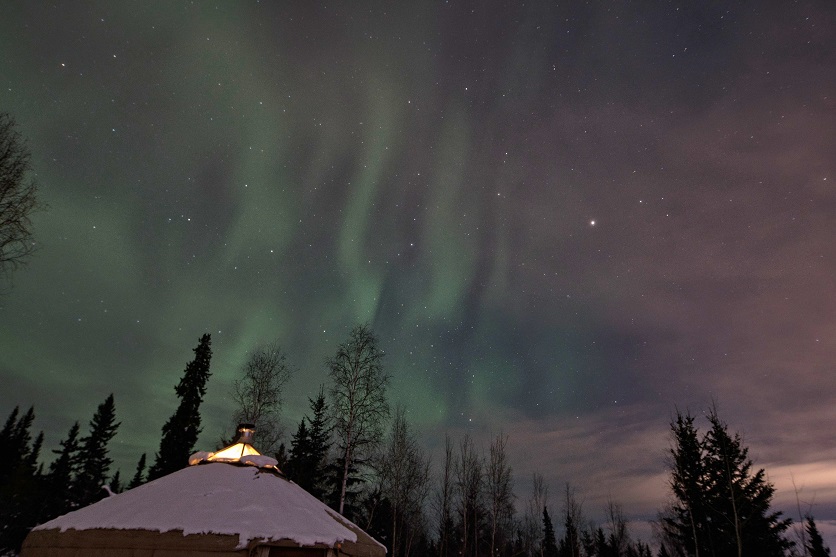 Ribbons of green over the yurt. Nikon D500, 14mm lens, f/1.8, ISO 800, 5 sec. Constellation of Corona Borealis in the center, Bootes right of center.  Rob Mauro photo.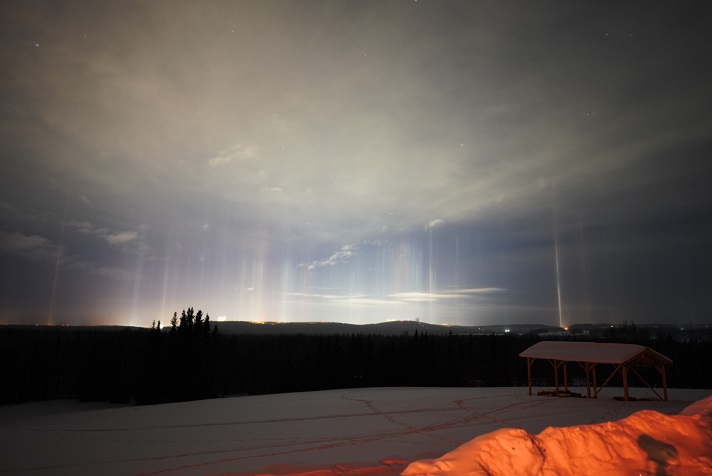 Light pillars seen for the first time emanating from lights in Fairbanks. Note cloud cover in the sky at the time. This is a rare phenomenon and I only observed it once in the 8 years that I have been leading aurora viewing trips but never as clear as the beams shown here. Temperature and other sky conditions have to be in a specific configuration for light pillars to be visible.  Sony ILCE-7RM3, 24mm f/1.4, ISO 1000, 1.6 sec.  Kory Eberhardt photo.
The above image is so rare and unusual for Fairbanks that it merited two photo inserts including the one below.  Only one time did I see light pillars and that was during Expedition #14 October 14-19, 2017 (see our PAST TRIPS) and there were a few barely visible pillars.  These are clear and distinct.  A light pillar is an atmospheric optical phenomena (belongs to the "halo" family), in which a vertical column of light appears to radiate directly above a light source. Besides a light source, the main component to this impressive optical phenomenon are ice crystals suspended in the sky near the Earth's surface. Orange pillars can form from sodium-vapor lights, and white pillars from LED lights.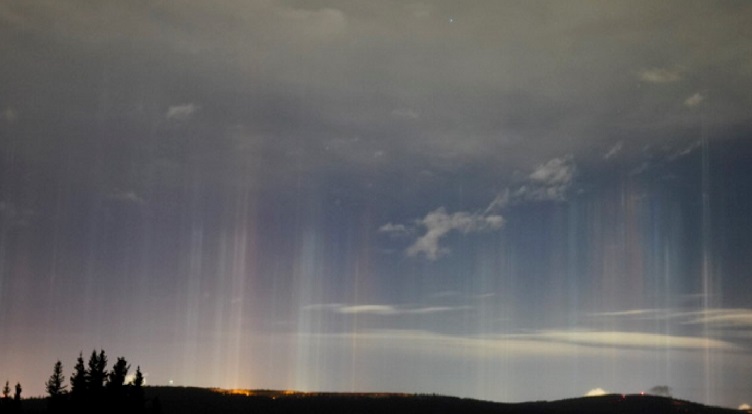 A second image showing more detail in the vertical pillars and also colors proportional to the light sources below them.  Kory Eberhardt photo.
Millions of flat, hexagonal plate ice crystals are present when a pillar forms.  The presence of flakes at a spread of altitudes causes the reflection to be elongated vertically into a column. In order for these crystals to linger just above the ground, it has to be quite cold outside (10°F or colder).  We certainly experienced these temperatures. These plates are oriented such that they act as tiny mirrors to reflect the light towards the viewer.  The larger the ice crystals, the more impressive the light pillar becomes.  Unlike a light beam, a light pillar is not physically located above or below the light source. Its appearance as a vertical line is an optical illusion resulting from the collective reflection from the ice crystals; but only those that are in the common vertical plane direct the light rays towards the observer.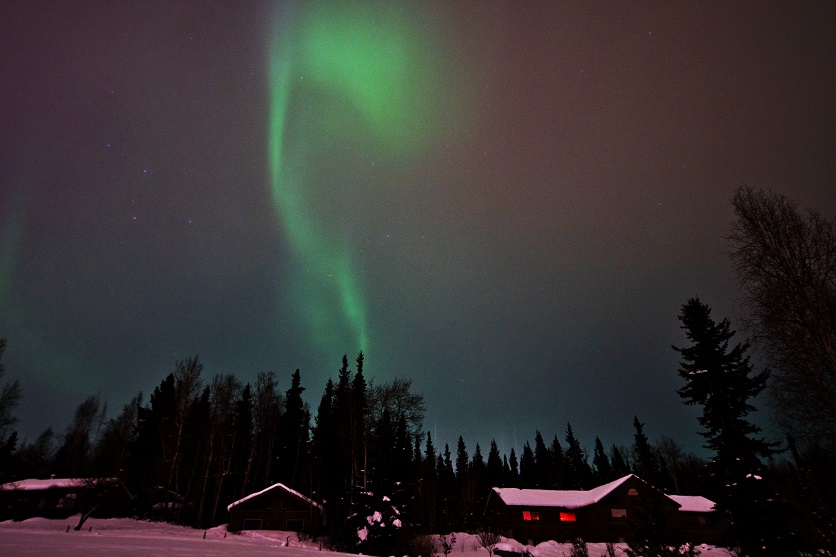 Aurora above the lodge. But look closely; hiding in plain sight in this photo are also light pillars slightly left of lower center and just above the tree line taken on Feb. 21.  Nikon D500, 14mm lens, f/1.8, ISO 800, 5 sec. Rob Mauro photo. See the closeup below.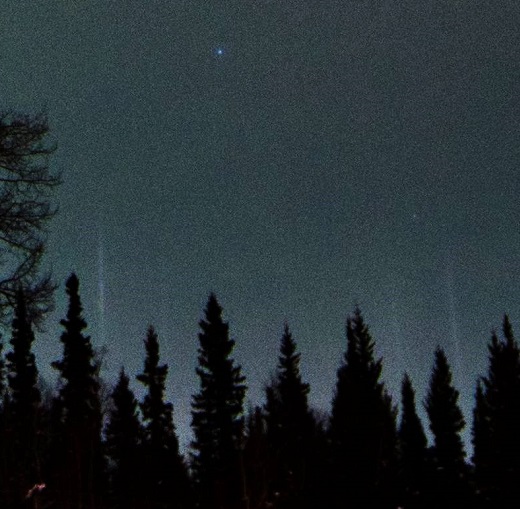 An expanded view of the preceding photo clearly identifying at least 3 light pillars to the north of the lodge. The bright star is Deneb and star to right of center is Gamma Cygni.  Rob Mauro photo.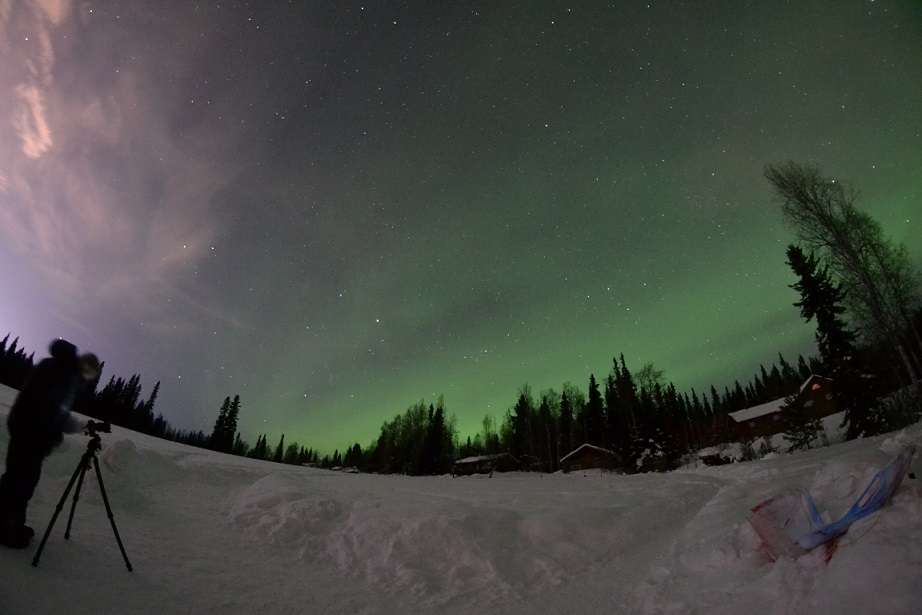 A diffuse green glow signals the aurora are moving southward early on the first night of our trip. I missed hearing the alarm on the second night night but others got some good shots.  NIKON D3100, 14mm, f/3.5 ISO1600, 20 sec.  Constellations of Auriga lower left of center, Cassiopeia right of center.  Snow depth is 2 to 2.5 ft/60-75cm.  Paul Maley photo.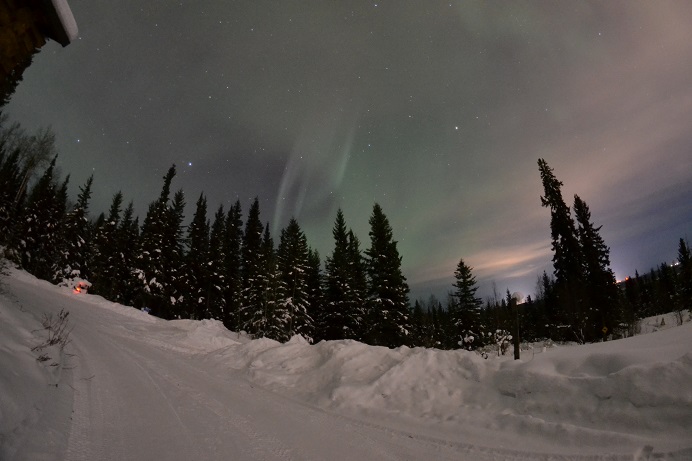 A low intensity curtain appears just above the tree line but does not show any color on February 19.  Arcturus is the bright star right of center; Vega left of center almost touching the tree tops.  This is the road directly behind the lodge facing east.  Paul Maley photo.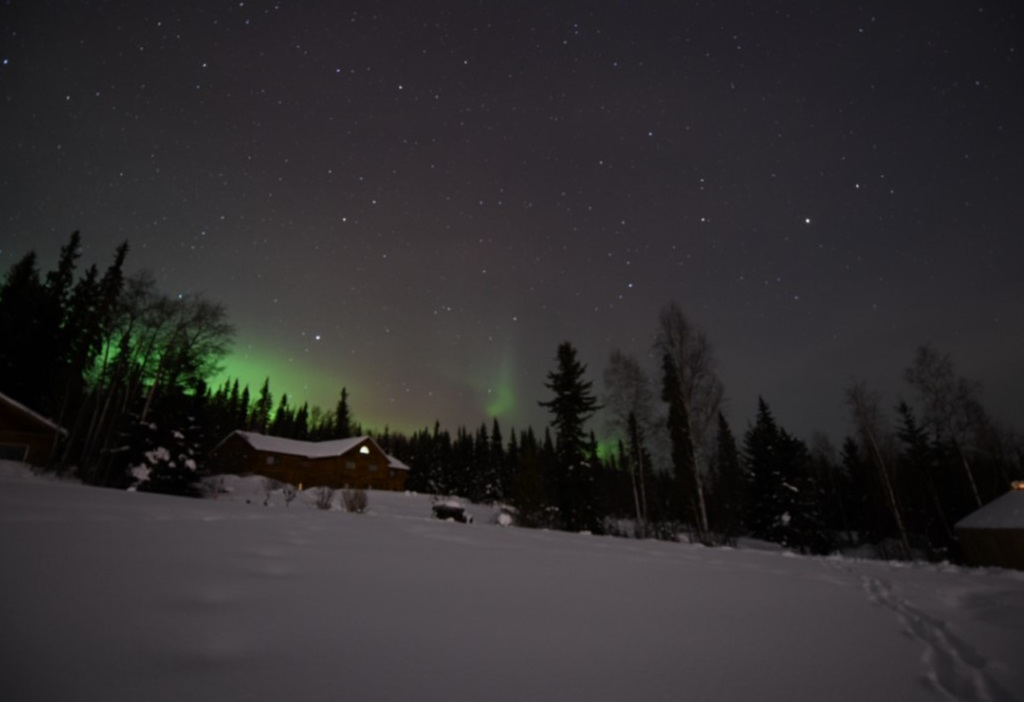 Nikon D850, Nikkor 14-24mm f/2.8 lens,  focal length 14 mm, ISO 1600, f/2.8, 15 sec.  Constellation of Draco is left of center; Bootes right of center.  Facing north-northeast.   Dick Grauch photo.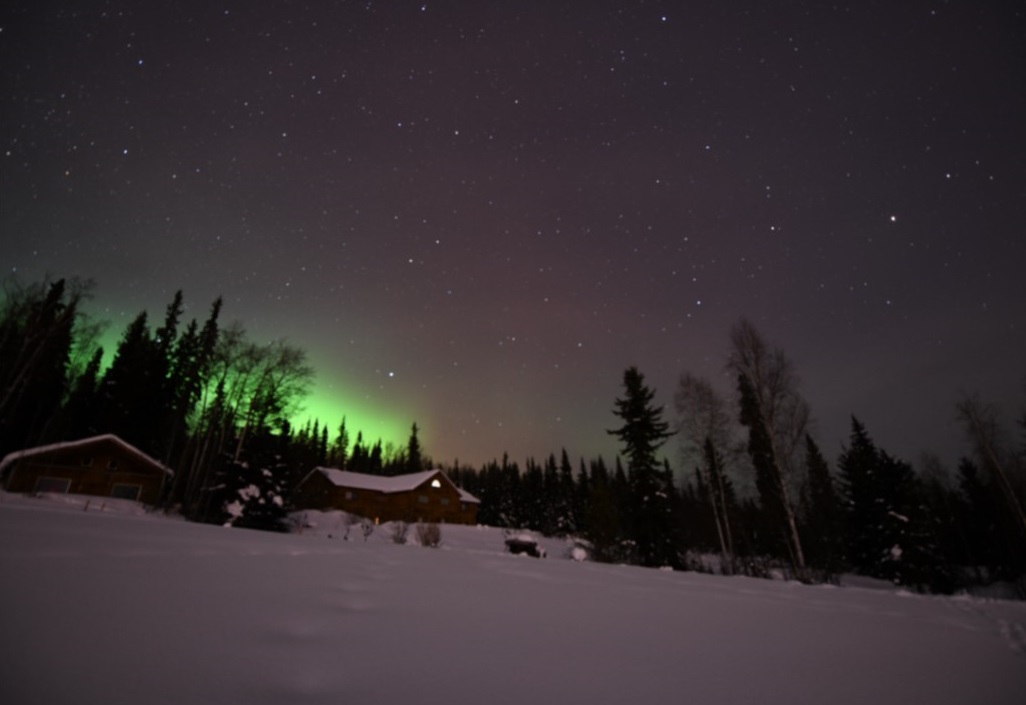 Nikon D850, Nikkor 14-24mm f/2.8 lens,  focal length 14 mm, ISO 1600, f/2.8, 15 sec. Dick Grauch photo.
MISCELLANEOUS IMAGES
Two moose were seen from the lodge, a calf and its mother.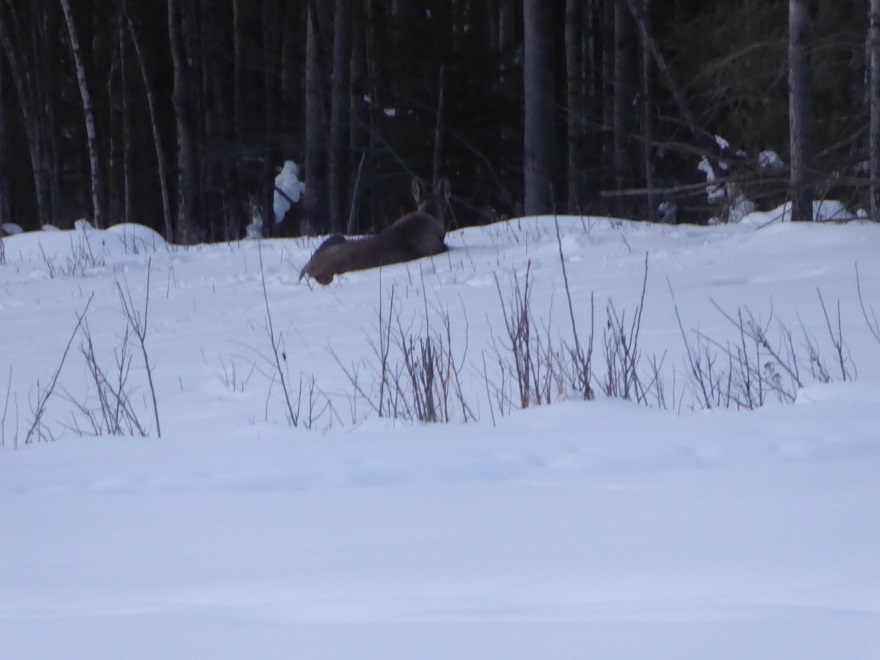 Moose calf at a safe distance. Lynn Palmer photo.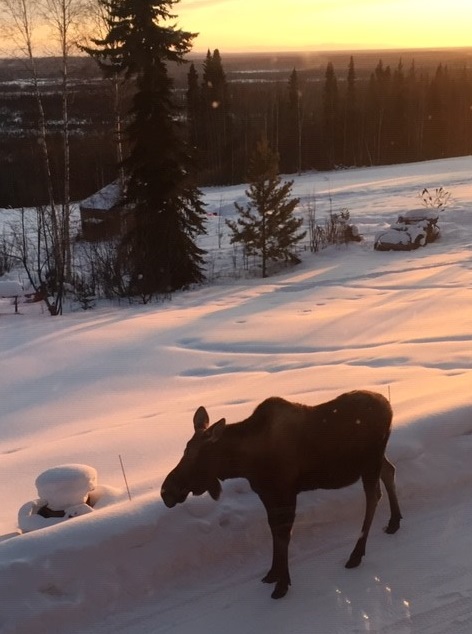 Moose walking on the roadway behind the main lodge.  Bill Bechtell photo.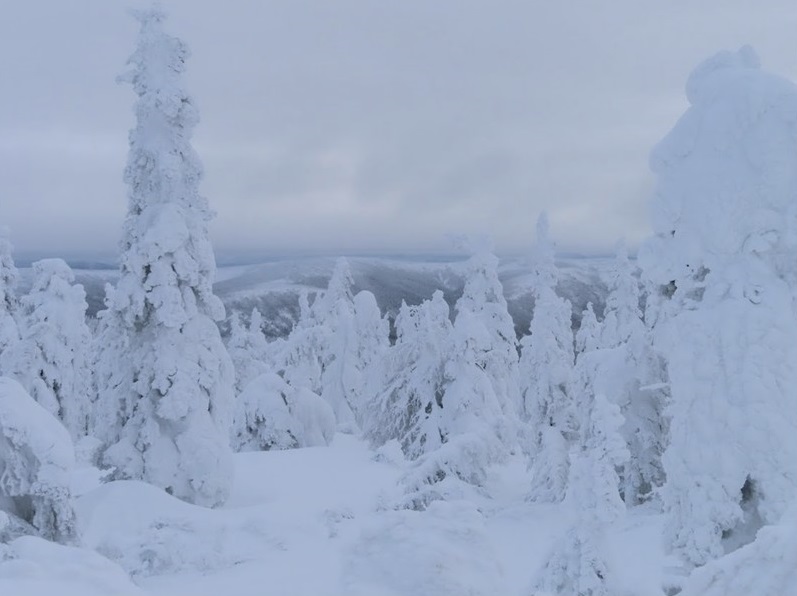 Hoarfrost as seen on the Arctic Circle journey.  This optional cost trip lasts normally for 18 hours and can be the best opportunity to see and photograph Northern Lights when skies are clear.  Hoarfrost is the deposit of ice crystals on objects exposed to the free air such as grass blades, tree branches, or leaves. It is formed by direct condensation of water vapor to ice at temperatures below freezing and occurs when air is brought to its frost point by cooling. Diane Birnbaumer photo.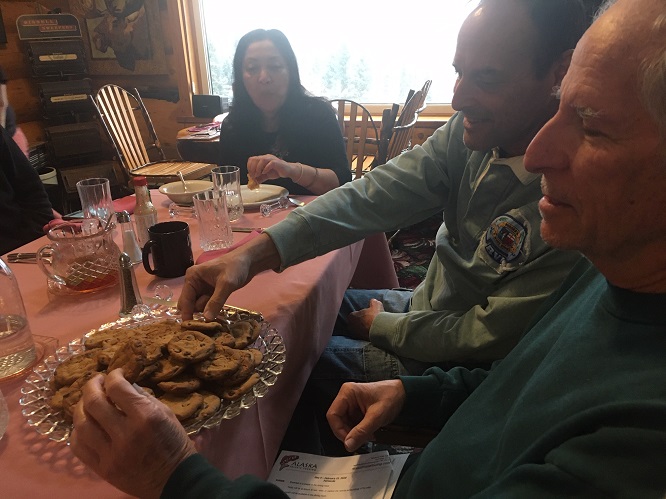 The best chocolate chip cookies made by Debbie Eberhardt! They are baked on day 3 of each trip. From left Shampa, Rob and Paul.  Lynn Palmer photo.
On one afternoon we journeyed into Fairbanks for an ice sculpture competition. Unbeknownst to us, the competition date had been moved up and none of the sculptures had been completed. However we did get a chance to see some of the amazing ice carvings being put into form.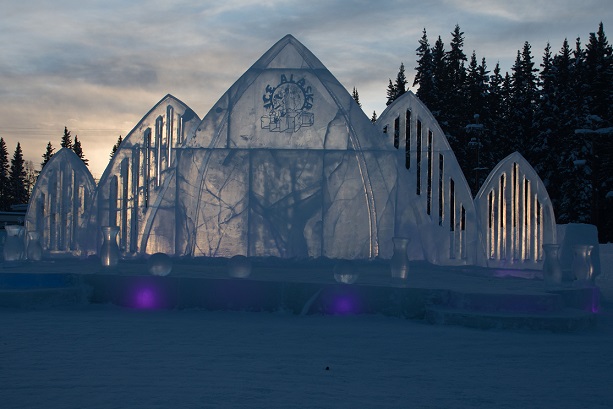 A completed carving (not part of the exhibition) at the front of the fairgrounds.  Rob Mauro photo.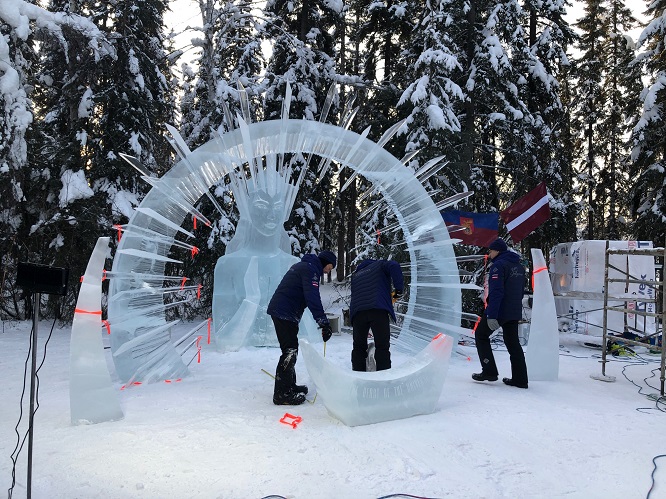 A very detailed ice sculpture being put into form during the day by the team from Latvia.  Photo by Joe Mizrahi.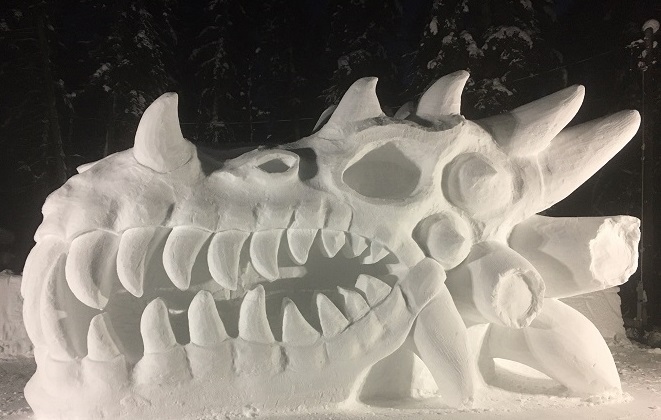 A dragon head sculpture not part of the competition; photo at night. Lynn Palmer photo.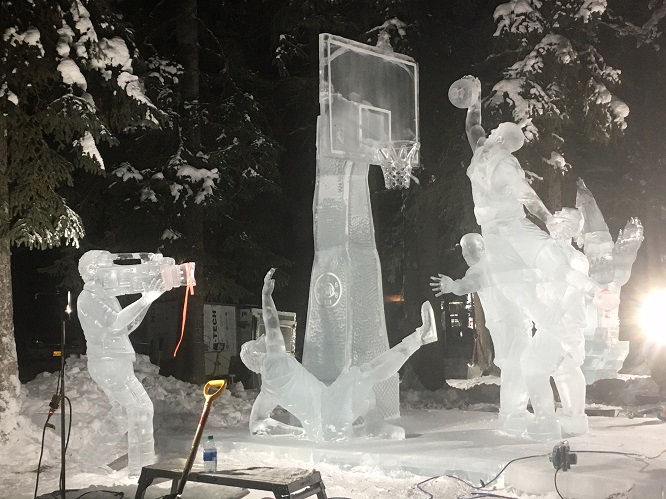 An imaginative basketball court multi-block sculpture under construction for the competition. Lynn Palmer photo.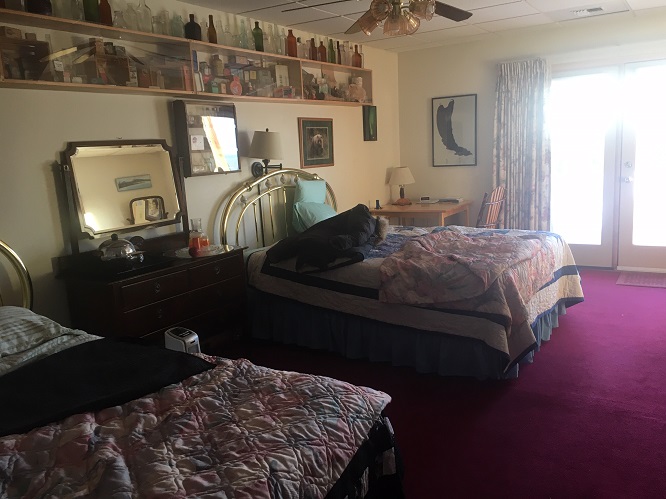 Inside one of the standard rooms.  Notice the door that opens to the outside.  Lynn Palmer photo.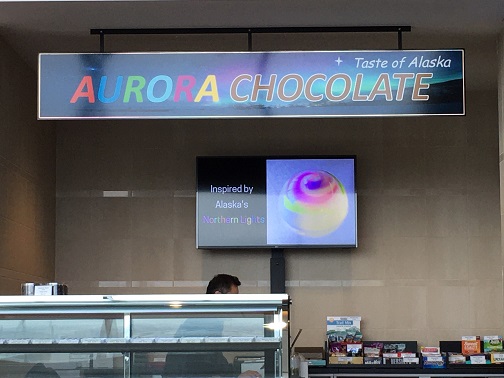 Even in the Anchorage airport you can get reminded of the Northern Lights when buying food. Paul Maley photo.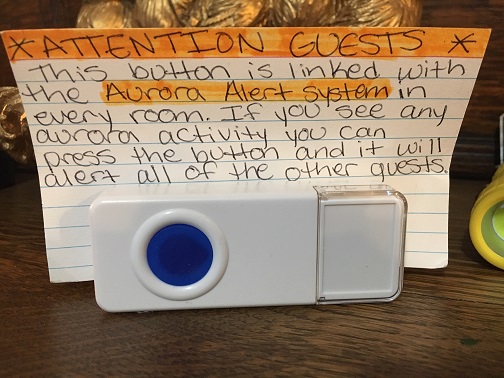 The master aurora alert button (located near the lodge entrance) requires someone to push it in order to alert all guests in the lodge that it is time to go outside when the Northern Lights appear. A second button is located in the yurt to make it easier for people already outdoors to notify those sleeping.  Paul Maley photo.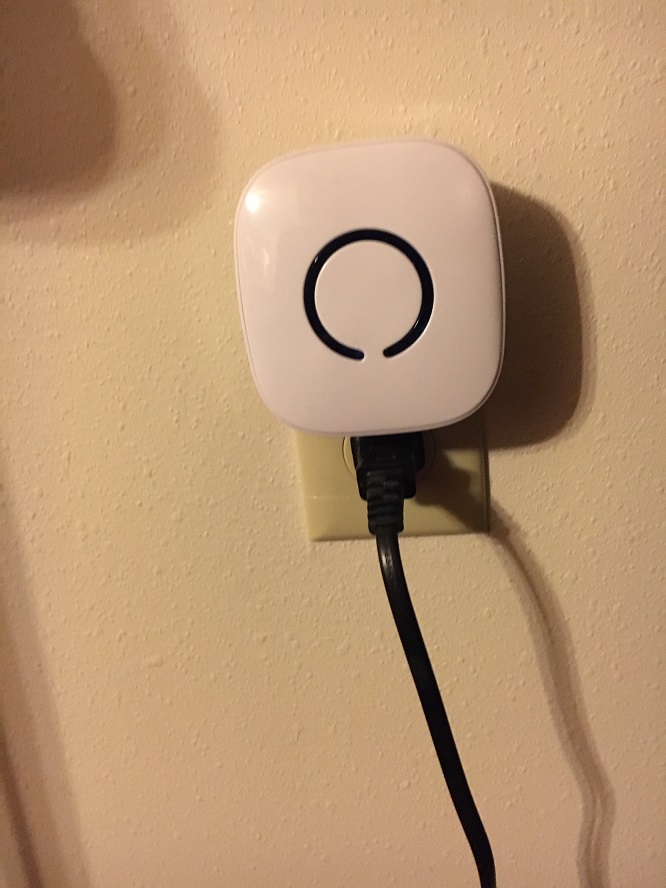 The aurora alert alarm is plugged into the wall inside each guest room. Paul Maley photo.

Sun dogs on either side of the Sun. Paul Maley photo.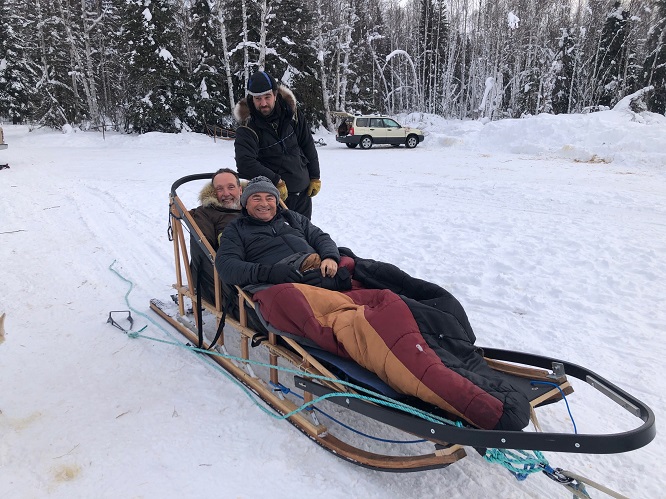 Joe Mizrahi and Elliot Lepler getting ready for a sled ride.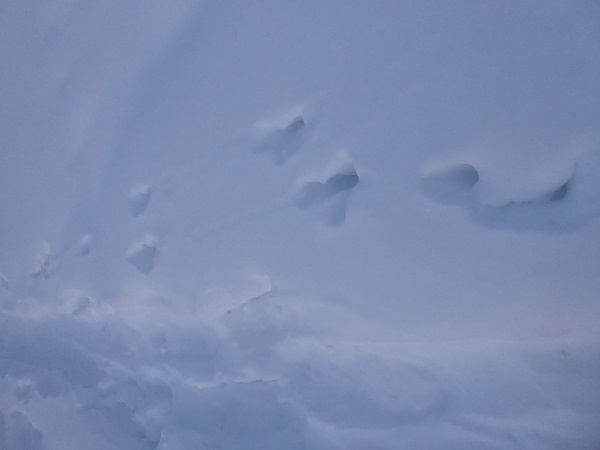 Moose tracks near the lodge. Paul Maley photo.
Jeff Pohlman brought a magnetometer. The idea here is to receive an alert when there is a sharp change in the local magnetic field. This can be used to correlate to impending or real-time aurora activity.  This is just an indicator and may or may not signal such.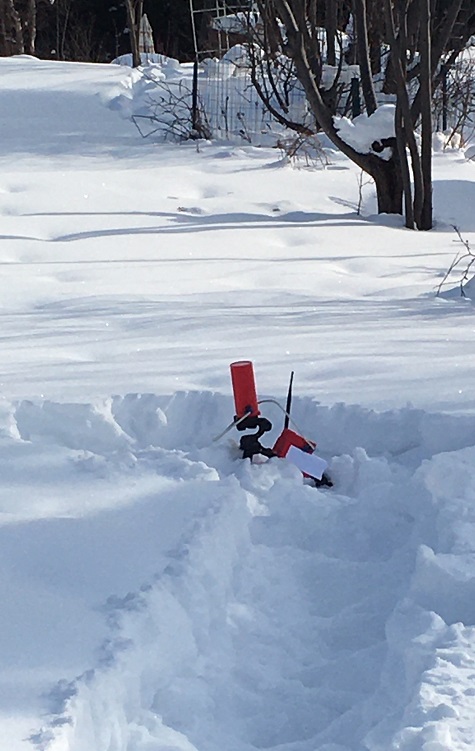 Jeff's magnetometer set behind the lodge in the snow with a wireless transmitter.  Paul Maley photo.
AFTER THE MAIN TRIP
ACTUAL TEMPERATURES EXPERIENCED
FEB 24: 0 TO -30 DEG F
FEB 25: 1 TO -28 DEG F
FEB 26: 4 TO -31 DEG F
FEB 27: -1 TO -31 DEG F
Murphy's Law sometimes kicks in. Bill and Peggy Bechtell remained at the lodge for four additional nights after the four night trip.  They were able to get clear skies on all four nights.  On the second night around 1:30am they saw about a 5 minute decent display of aurora. This result should be considered in terms of two key factors. First, the aurora prediction (first graphic below) showing a very low probability of aurora. This follows the premise that anything can happen at any time.  The next image from an all sky camera shows how aurora can appear without warning despite a poor prediction and if you are watching it from inside the lodge, you do not necessarily need to wait outside in -30 degree F temperatures. Never trust either the weather forecast or the aurora forecast even when they are provided on the day in question!
FEBRUARY 25, 2020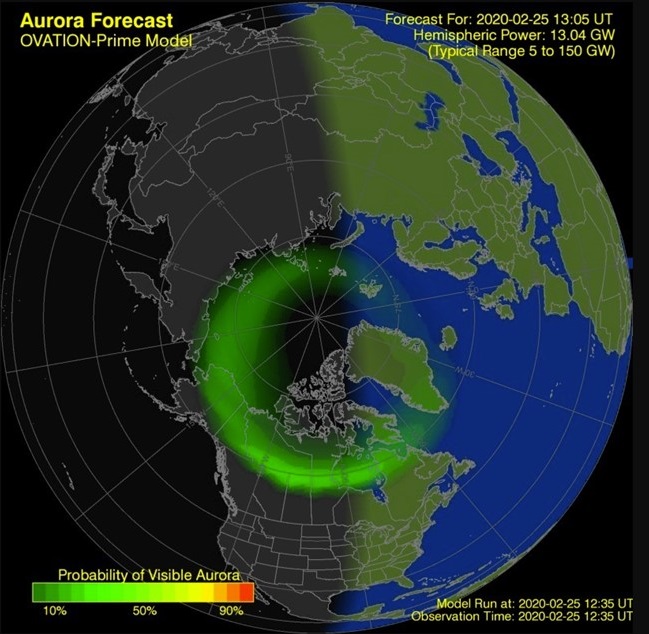 Ovation model showing a prediction of low activity for Alaska during Feb 25 night as the aurora oval progressed from east to west.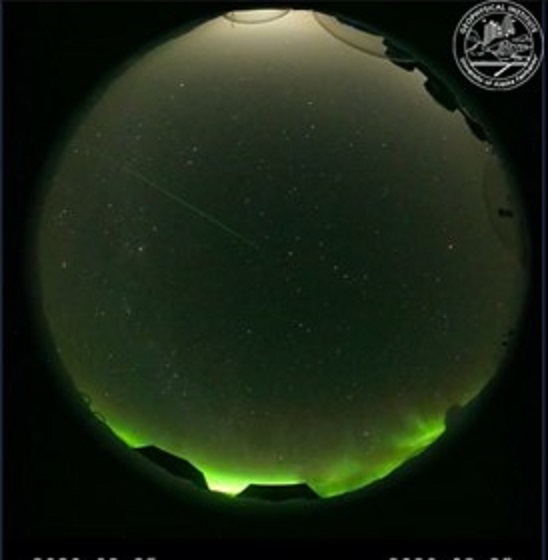 A capture of one replayed video frame around 1:15am when Peggy Bechtell captured the Lights.  You can see the intense brightening low in the northern part of the sky as seen from Poker Flats, Alaska.

Photo by Peggy Bechtell. Olympus OMD EM1 Mark ll camera, Olympus M. Zuiko Digital 17mm f/1.8 lens; ISO 1600, 7.1 sec. Live View was used for all exposures.
FEBRUARY 26, 2020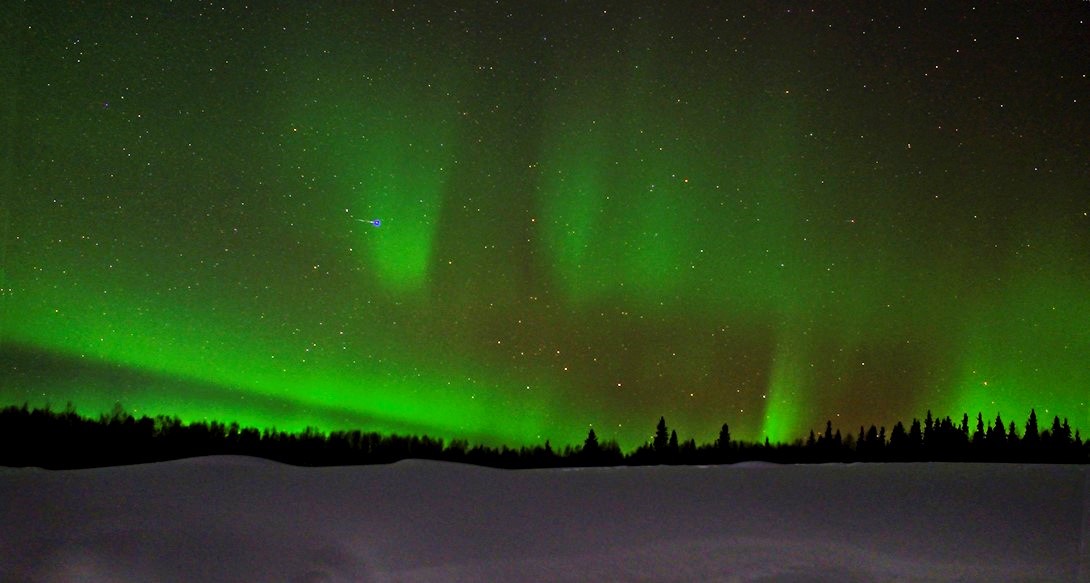 Photo by Peggy Bechtell. Same camera and lens as above. ISO 1250, 6.6sec.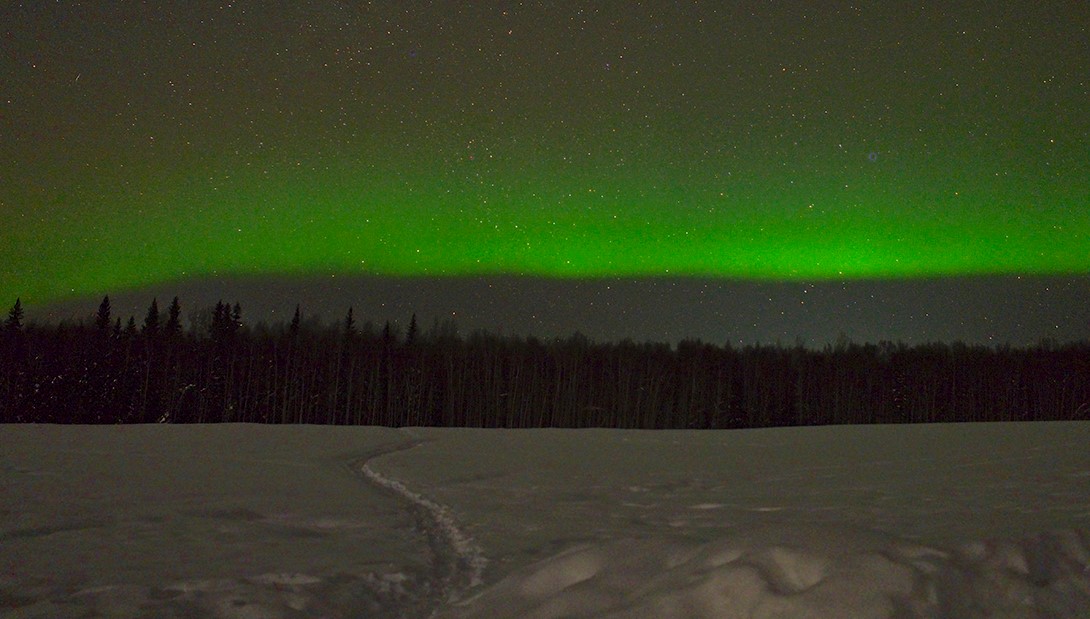 4.6 sec – 1250 ISO – f1.8 – Live View speed. Photo by Peggy Bechtell.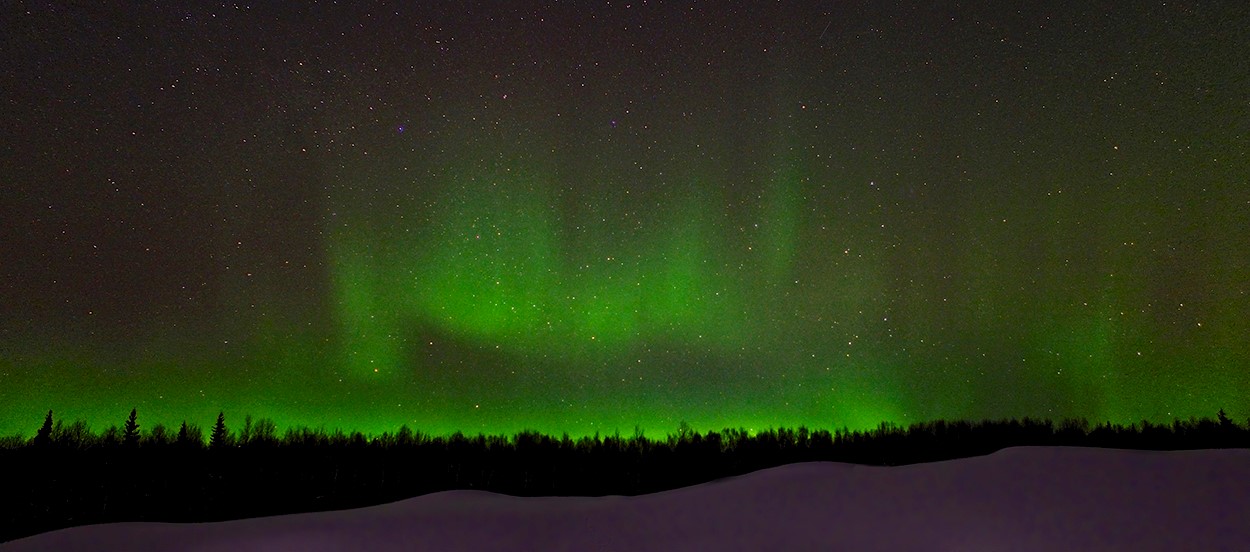 5.6 sec – 1250 ISO – f1.8 – Live View speed. Photo by Peggy Bechtell.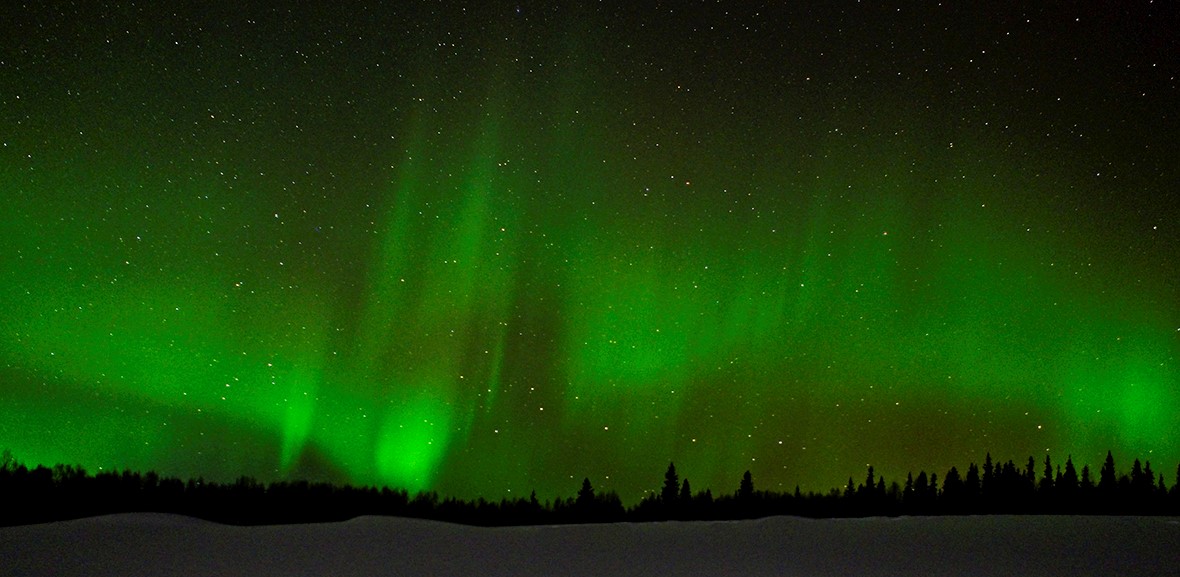 6.4 sec – ISO 1250 – f1.8 – Live View speed. Photo by Peggy Bechtell.
FEBRUARY 27, 2020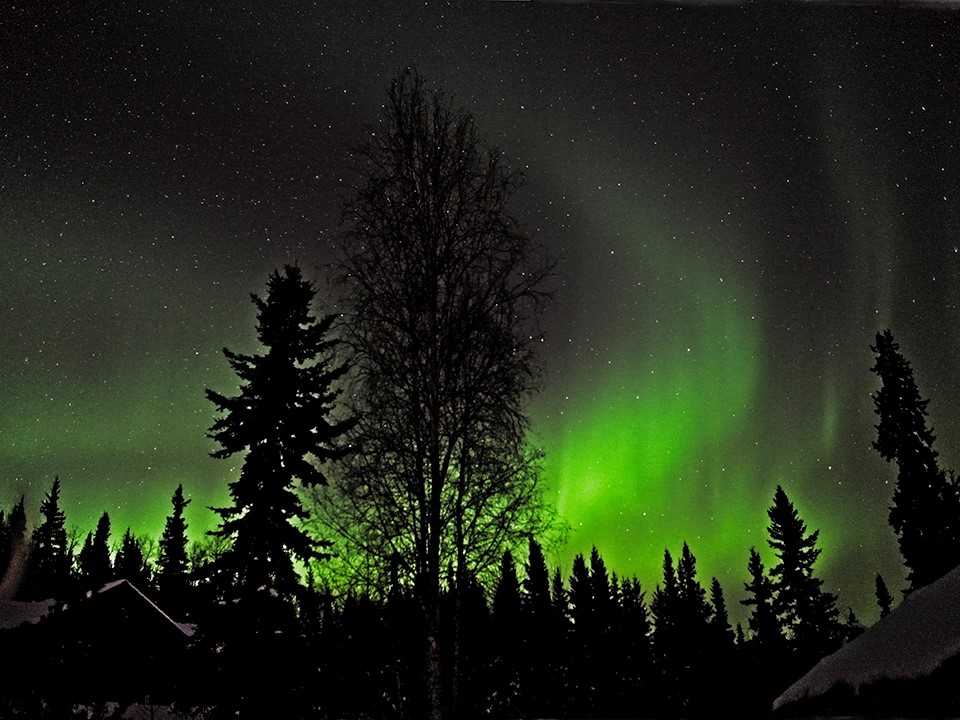 Photo by Peggy Bechtell. ISO 1250, 3.5 sec.  Photo by Peggy Bechtell.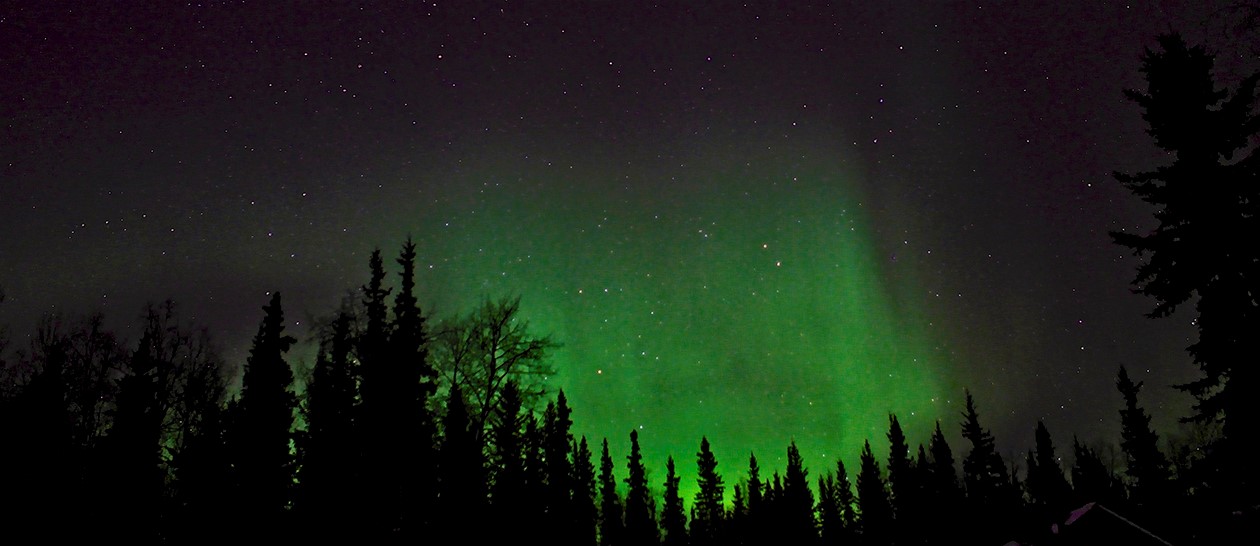 3.5 sec – 1250 ISO – f1.8 – Live View Speed. Photo by Peggy Bechtell.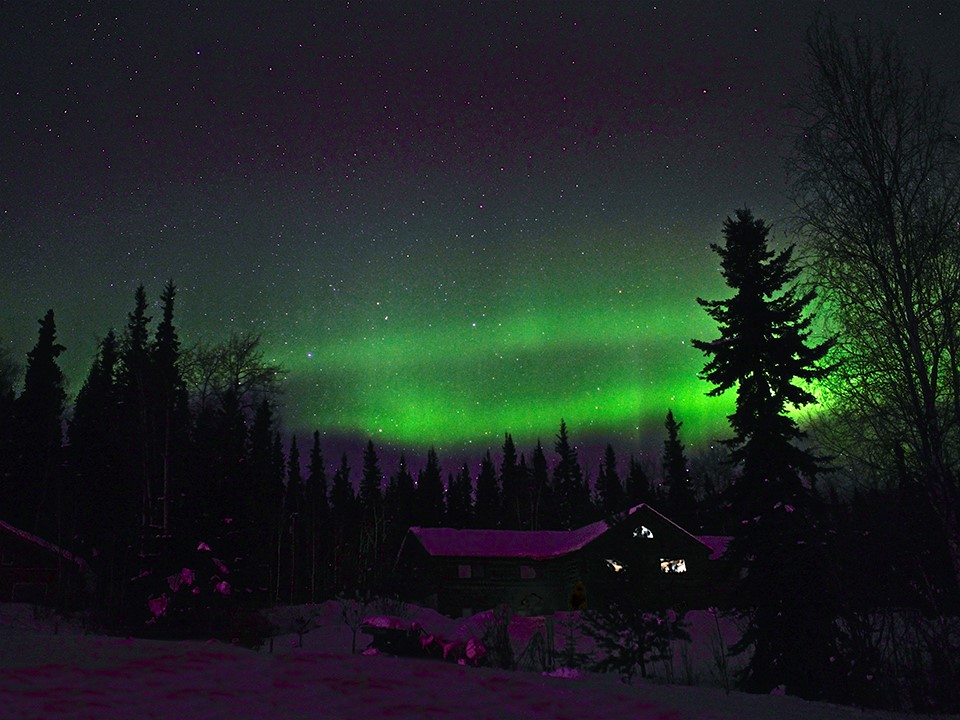 4.0 sec – 1250 ISO – f1.8 – Live View speed. Photo by Peggy Bechtell.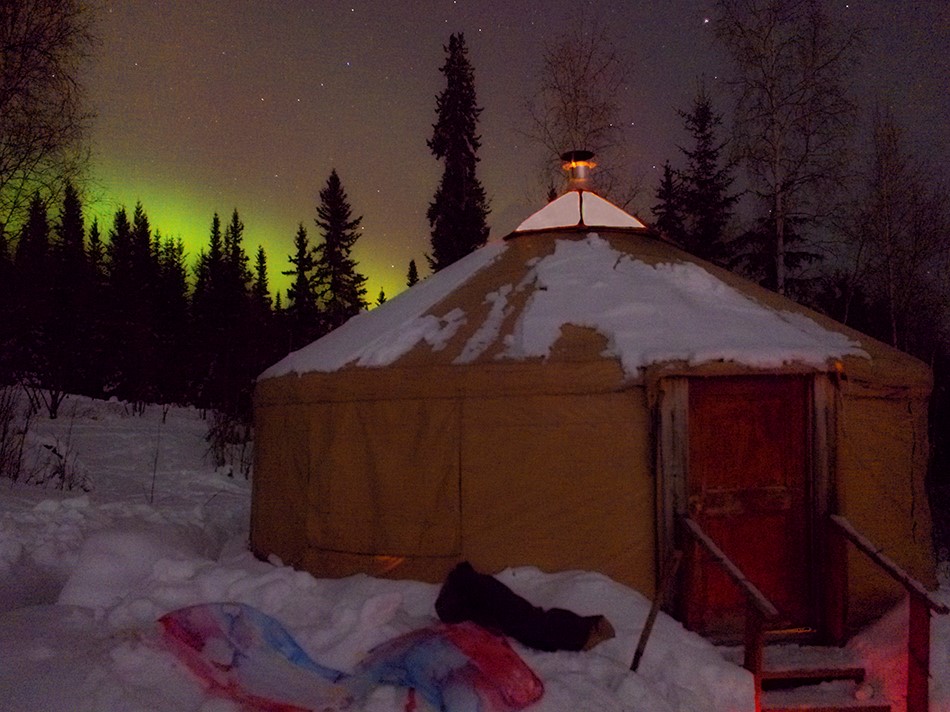 4.3 sec – 1250 ISO – f1.8 – Live View speed. Photo by Peggy Bechtell.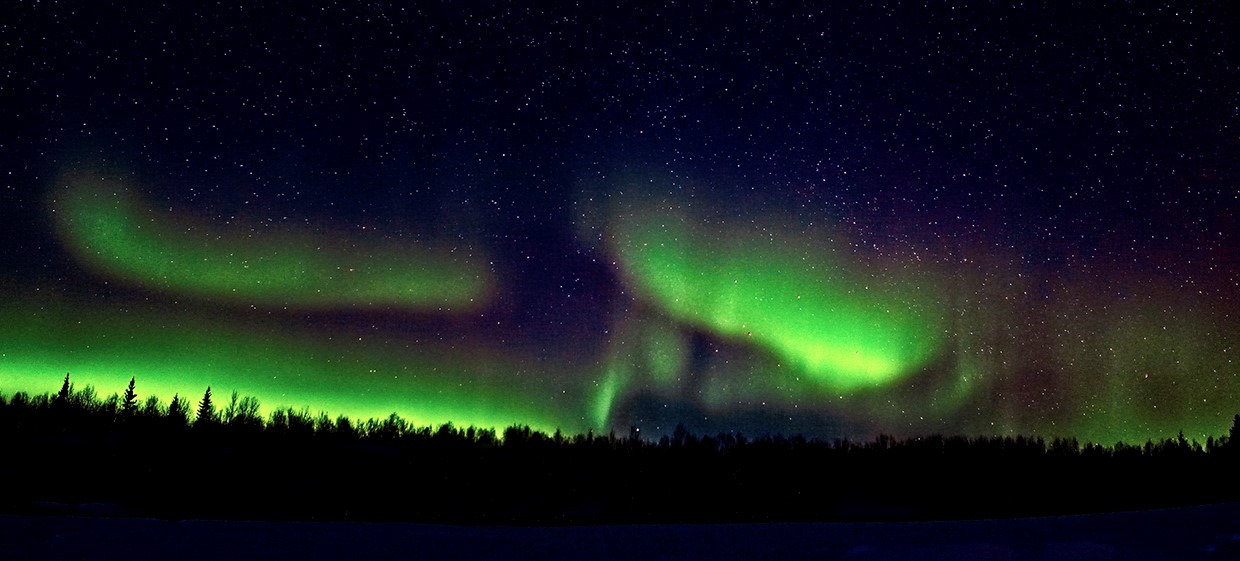 7.2 sec -1600 ISO – f1.8 Live view speed. Photo by Peggy Bechtell.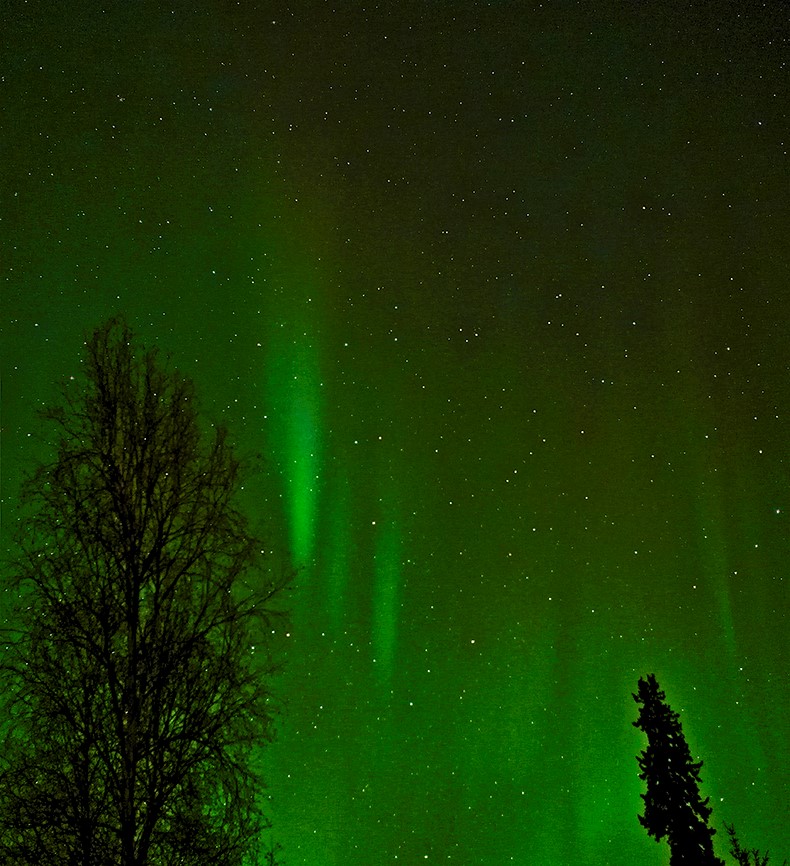 5.1sec – 1250  ISO – f1.8 – Live View speed. Photo by Peggy Bechtell.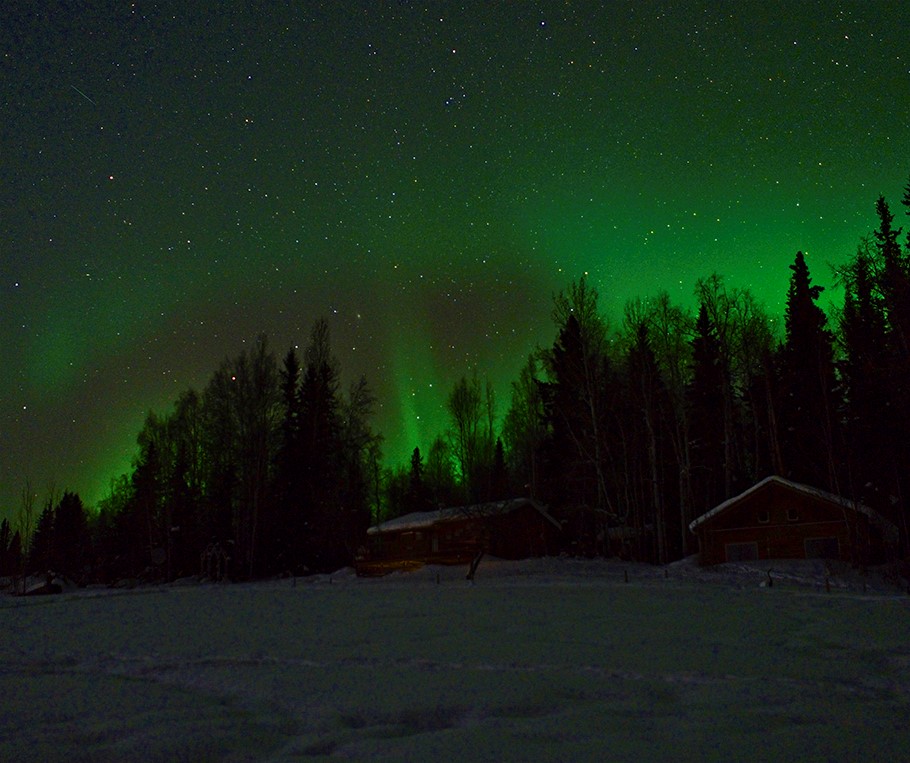 6.6sec -1250 ISO – f1.8 – Live View speed. Photo by Peggy Bechtell.