2019 TOTAL SOLAR ECLIPSE IN TAHITI RESULTS
by Paul D. Maley, NASA Johnson Space Center Astronomical Society
The 48th solar eclipse expedition of the NASA Johnson Space Center Astronomical Society ended spectacularly with our ship being not only the first people to see this eclipse, but the only ship to see totality completely! We chartered the 146 passenger ship MSY Wind Spirit and set up our cruise to go straight to the path of totality without any stops.  Then we returned to Tahiti with a brief stop on day 10 at the island of Moorea. It was the most unusual cruise that we have ever done since every cruise of this nature involves multiple island stops.
Totality as photographed by Bob Hulse and finder chart for key objects in the photo. You can see the cone of the Moon's shadow, the planet Venus (top); more difficult to see are Sirius (UPPER RIGHT) and Rigel (top enter right).
Eclipse path closest to French Polynesia. Courtesy X. Jubier.
Eclipse circumstances at our actual location. Courtesy X. Jubier.
Members of our eclipse team were primary from the USA but nationals from five countries were also present, the largest contingents being from Australia and Canada.
All Rights Reserved[/caption]
How happy were people to have seen the eclipse? Brian and Lisa Siegel provide a great example. The post eclipse rainbow is in the background. Bob Hulse photo.
Our final position was not too far from our orginally planned location where 2 minutes 43 seconds of total eclipse were witnessed by all 146 members of our expedition and 102 members of the ship's crew. In order to plan this properly we sailed through the centerline to the south edge and then backed up to the center.  This was possible because of high seas expected to move in from the southwest. As a result we had 5.5 meter waves and the ship was bucking almost constantly. Our original plan to turn the ship was made useless by wind and waves.  Everyone was challenged to find a position on deck and stance if they were photographing to maximize their chances for good images.
Chart of our cruise path. GPS track by Paul Stewart.
A closer look at the ship's position at different points during the eclipse from C1 to C4 showing how the ship had to maneuver. Note the jogs near the point marked "Mid actual'.  This is where I had to direct the ship to avoid cloud. GPS track by Paul Stewart.
ACTUAL SHIP COORDINATES AT CONTACT POINTS
C1  @ 1659:25 UT  29.3953 S  142.8418 W
C2  @ 1807:52 UT  29.2760 S  142.8519 W
Mid @ 1809:14 UT  29.2734 S  142.8513 W
C3  @ 1810:36 UT  29.2710 S  142.8503 W
C4  @ 1929:05 UT  29.0802 S  142.8750 W
In addition to the graphics above, Paul Stewart compiled the precise locations from C1 to C4.
Chart depicting brighter objects that might be seen during totality. The sky was not universally clear so we were limited by what the clouds would allow us to spot.
The Texas flag, symbol of Ring of Fire Expeditions, flies during the eclipse.  Audrey Konow photo. 
Cloud issues bothered us in 2016 when we observed the total eclipse in Micronesia; these were mainly high clouds. None were predicted for this eclipse but just before totality I noticed some high cloud that did not cause any problems. Most clouds were low altitude.
Mostly low clouds at totality but a few higher ones formed as a result of cooling temperatures. Notice the shadow cone soft edges at the bottom. P. Maley photo. 
All Rights Reserved[/caption]
More low clouds made it necessary to steer for clear sky. This was the technique I had to use in order to get us out of cloud cover. Bob Hulse photo.
The evasive technique worked. See clouds behind Chris Melling and Edanili Lacar. Paul Costello photo.
Dawn breaks at 630am. The partial eclipse began at 700am local time (GMT-10 hours). It looked very promising before clouds started to expand. Lynn Palmer photo.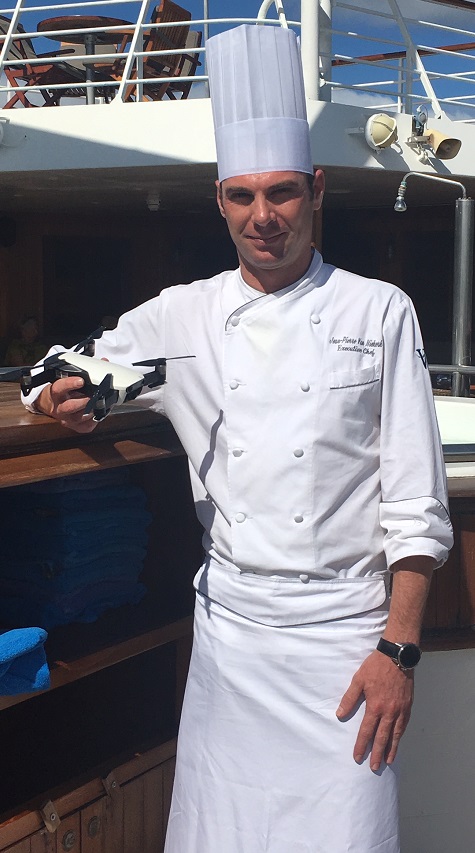 An integral part of my eclipse day plan was to fly a drone. Above is a photo of Executive Chef and drone operator extraordinaire Jean Pierre Van Niekirk who launched the drone shown in his hand briefly before it crashed on deck due to high winds.  P. Maley photo.
IMAGES OF THE ECLIPSE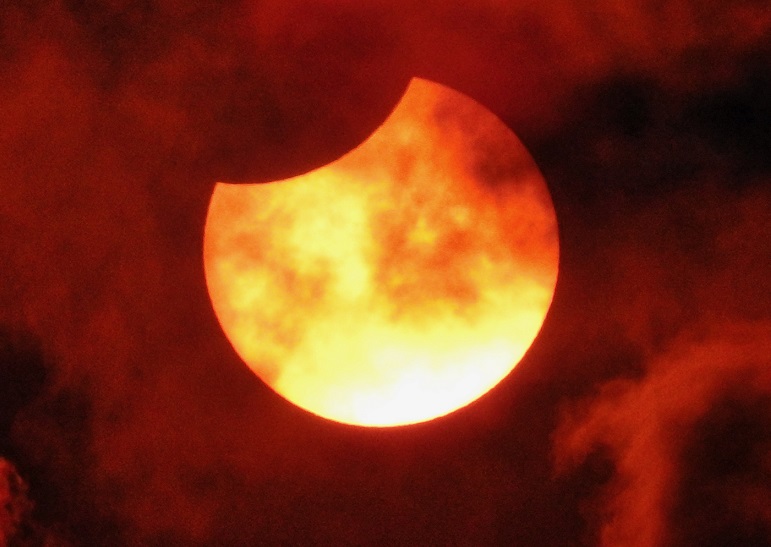 About 10 minutes or so after 1st contact, Deb Bruels (processed by Glen Bruels)  took this shot through passing cloud.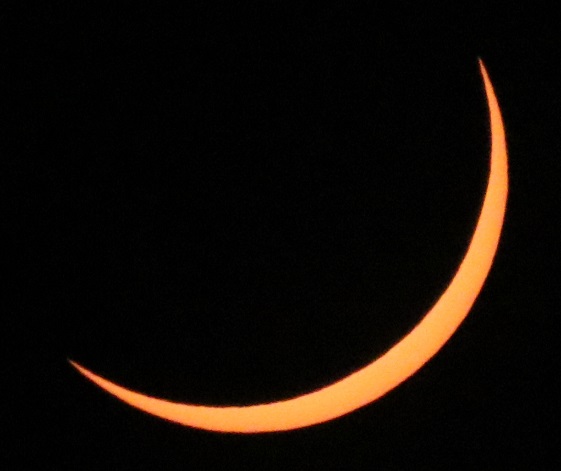 A partial phase photo leading to 2nd contact by Phil West.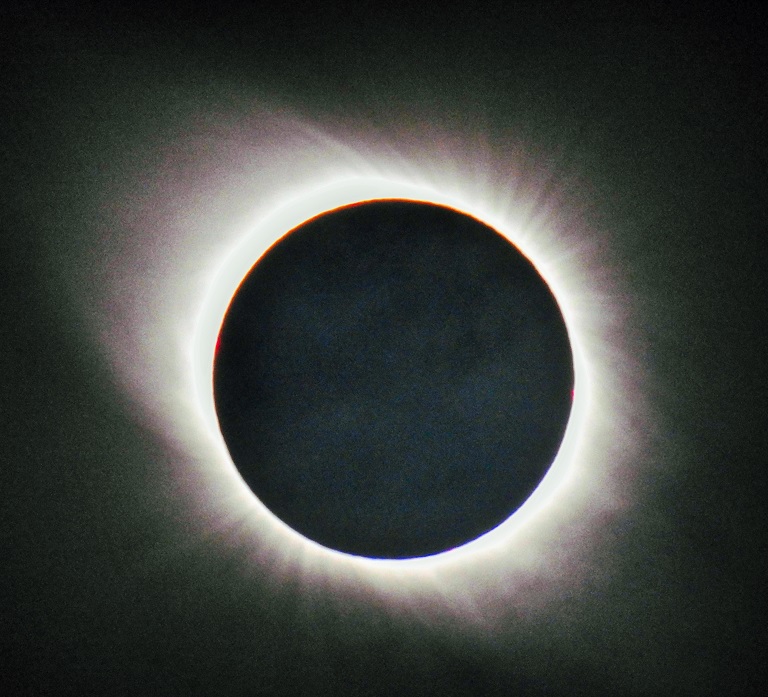 Totality photo by Deb Bruels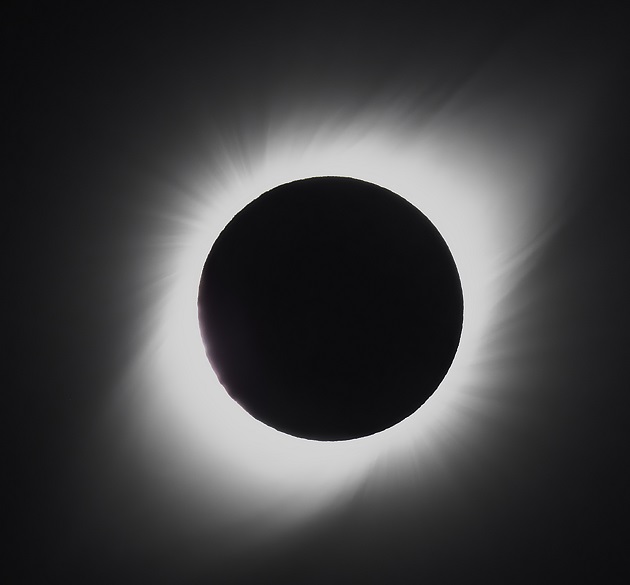 Compare this shot (above) taken from the beach location in Chile with Deb Bruels corona prior to that one.  Both have roughly the same coronal extent.  Photo by Eliot Herman. Notice the angle orientation difference due to our being near the sunrise position of the eclipse while La Serena, Chile was near the sunset position.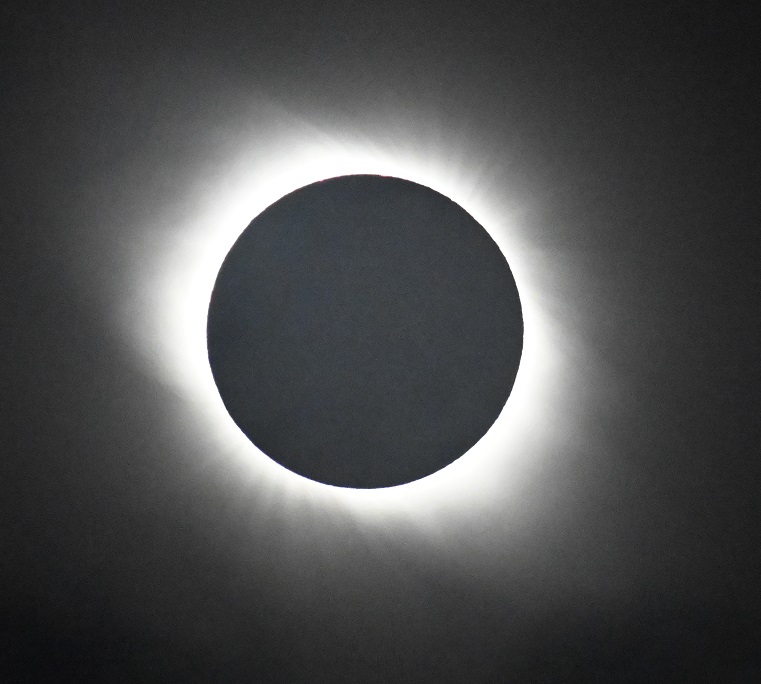 Inner corona photo by Brian Siegel
3rd contact revealed as photographed by Bob Hulse. But notice the very faint parallel lines tangent to the contact point and the small prominences at 3 o'clock as well as the pinkish chromosphere to the left and right of the start of the Diamond Ring. The faint parallel lines are thought to be from shadow bands in the air as photographed at many previous eclipses close to or on the water.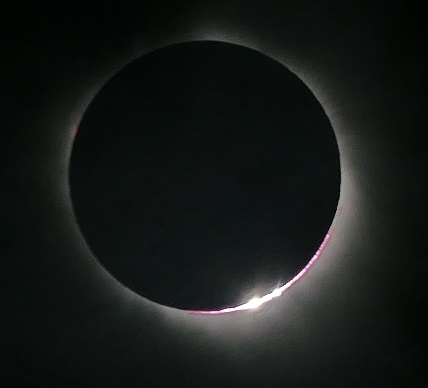 In this photo by George Fairey, you can see 3rd contact in a slightly different perspective with Baily's Beads more clearly forming and the pink chromosphere.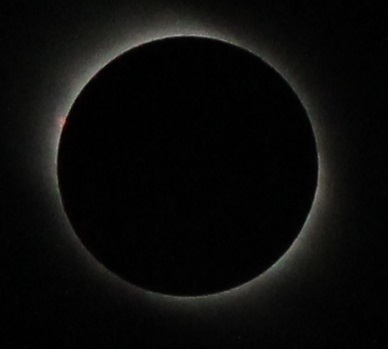 The inner corona is shown in this shorter exposure by Michael Parry. Note the prominence at the 9:30 position.
At 2nd contact you can more clearly see the apparent shadow banding, Baily's Beads, chromosphere and a couple of prominences at the 1100 and at 1 o'clock positions.  Bob Hulse photo.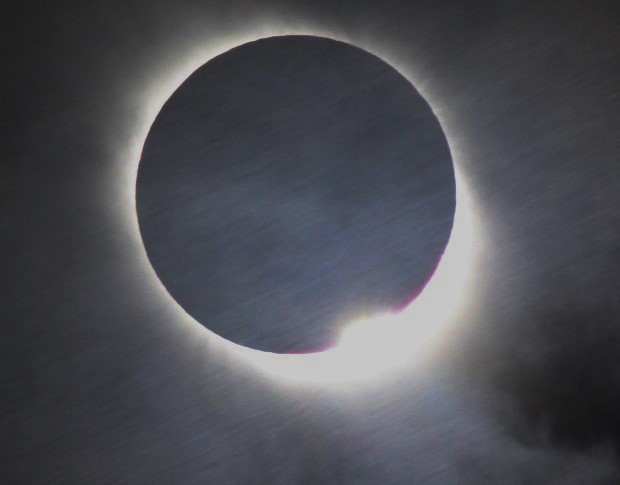 3rd contact shadow banks and overexposed Diamond Ring in order to bring out the bands more clearly. Notice how all the shadow band images in this and other photos are tangent to the contact point.  Photo by Tamara Ledley.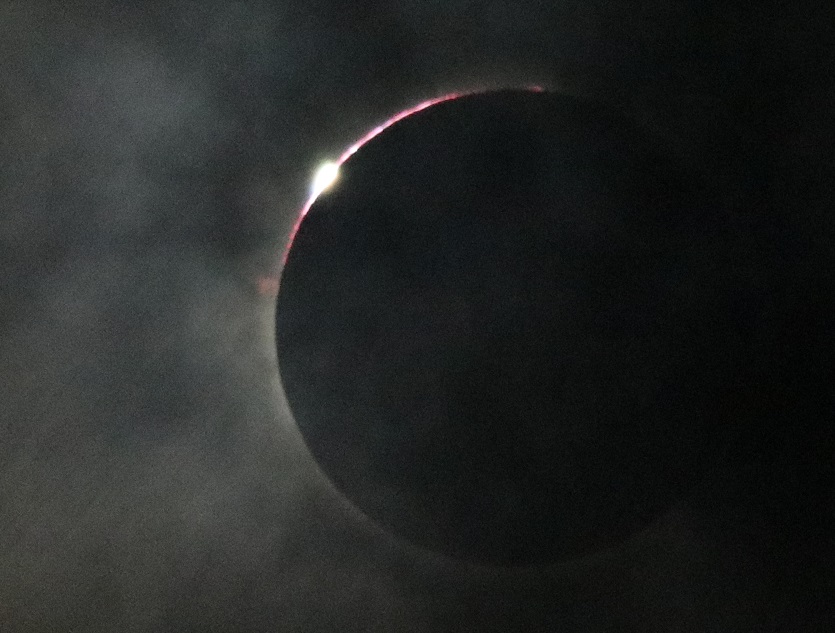 2nd contact with faint shadow bands, DiamondRing and chromosphere photo by Phil West.
The darkness in this photo is overly emphasized but still it gives an idea of how we were able to get into a favorable hole in the sky. Venus is upper left and Iphone photographers in foreground. Elizabeth Warning photo.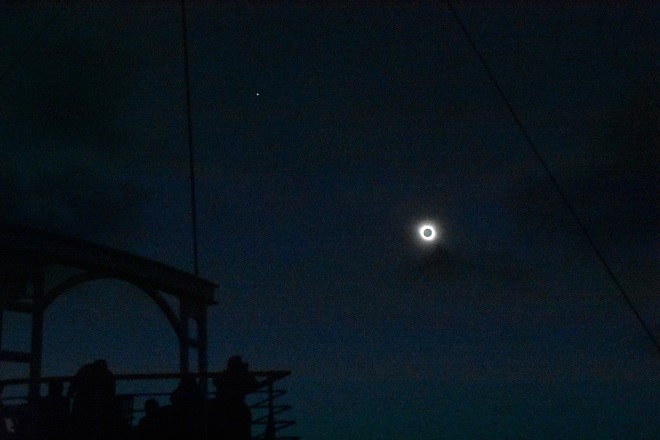 Another photo during totality taken by Gene Torncello. Compare this with the one above.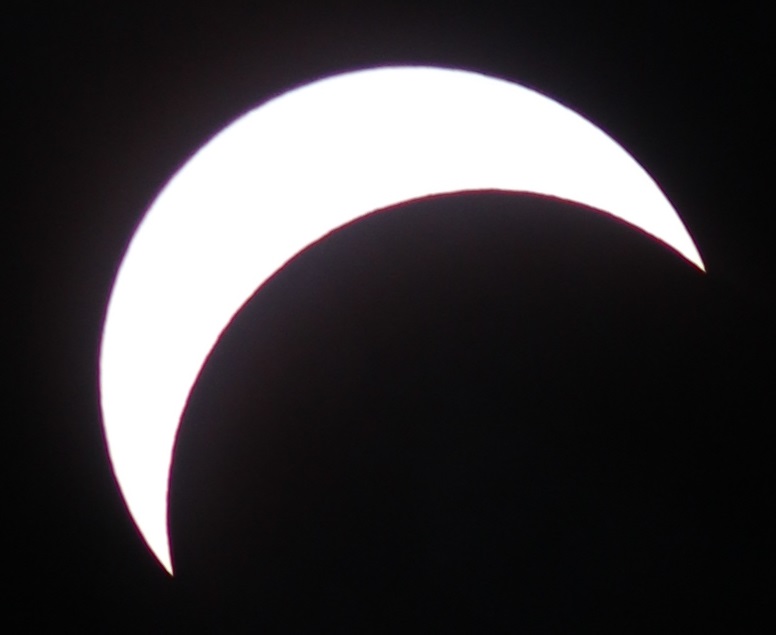 Clarity and focus are the main concerns for all eclipse photographers. This black and white image well after 3rd contact was taken by George Scheck.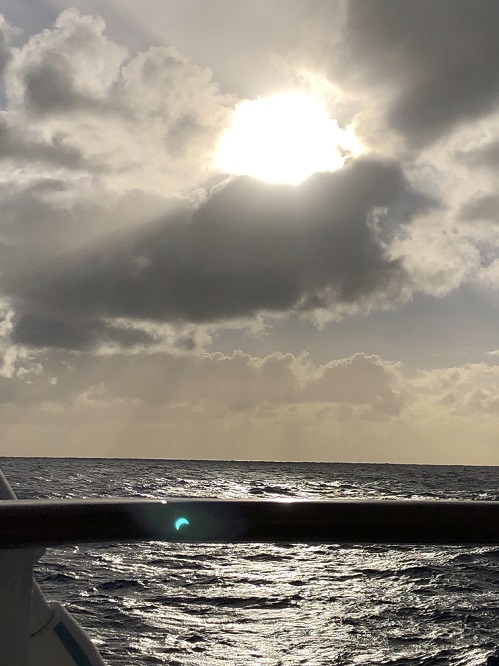 Why is this picture interesting? First, it shows a clear partial eclipse image as a result of internal camera reflection. Second, there is no filter in front of the camera. Sheri Henriksen photo.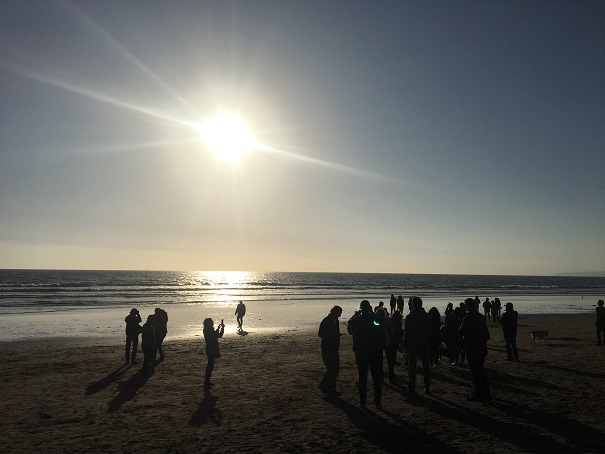 Compare the small reflected partial eclipse Sun image above (low center) taken in Chile by Eliot Herman with the photo preceding that taken on our ship.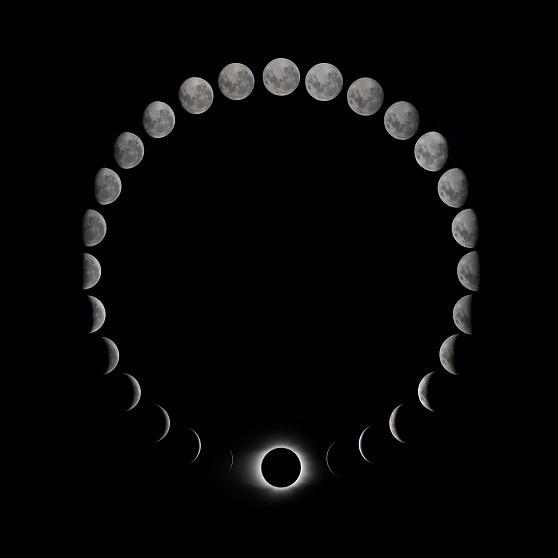 A remarkable composite showing images of the Moon from a new crescent to full moon. Lawrence Tulissi image.

A sequence of images from just after first contact to totality.  Lawrence Tulissi photo.
GETTING TO THE ECLIPSE SITE
We nearly did not make it to the eclipse path. The photo below shows our targeted position and weather charts showing predicted cloud cover.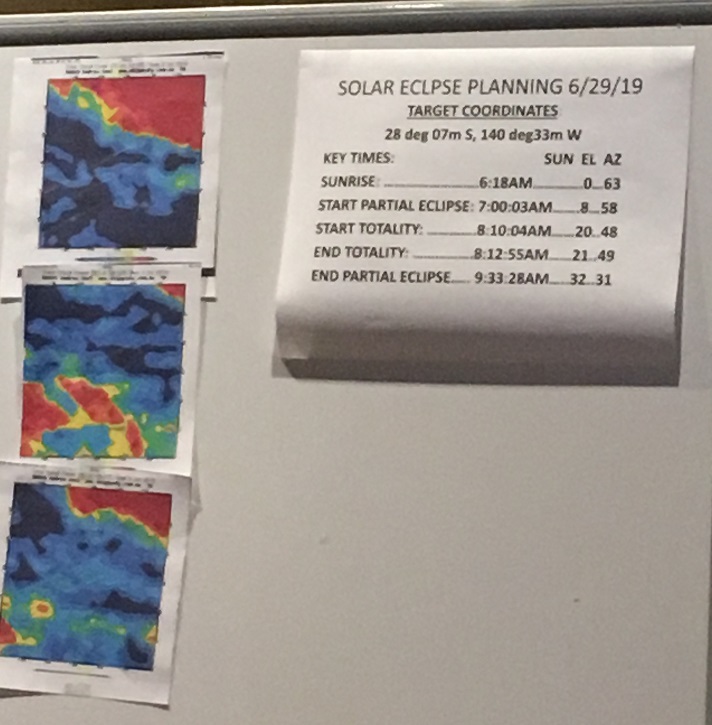 Charts and eclipse target data. Photo by Lynn Palmer.
But the real concern was shown by Captain David Adrian.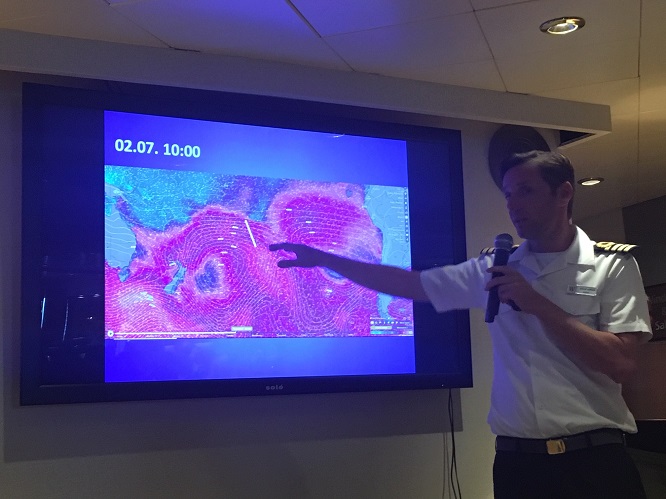 Captain David Adrian illustrating high waves could swamp the eclipse day plan. Lynn Palmer photo.
After the first day at sea it appeared that if we headed slightly more northeast we could possibly beat the high seas and high winds forecasted on July 2 at eclipse time. Initially up to 7 m wave heights were expected.  But we were fortunate that the wave height forecast lowered to where even at the ship's slow speed, we thought we could beat the severe sea state.  Sure enough that is what happened. After the eclipse, the pitching and rolling started and it was challenging to stand up as well as to sit in lectures as chairs slid right and left at times knocking some people to the floor. Fortunately no injuries resulted.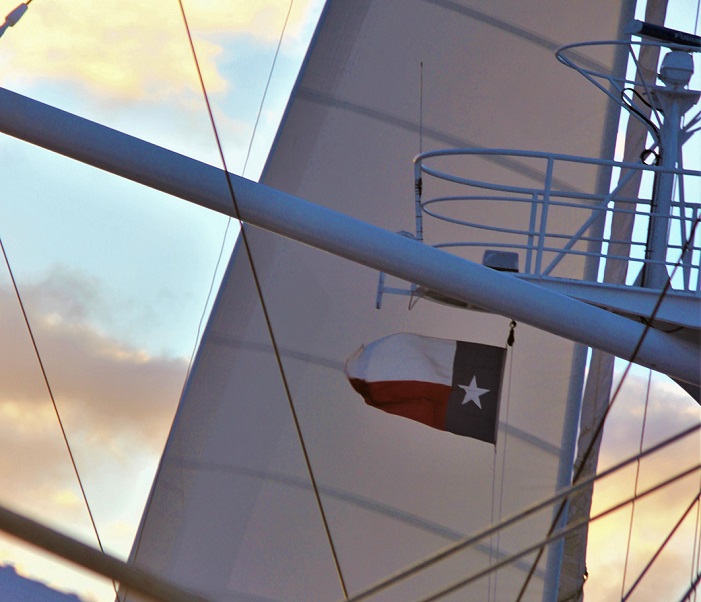 The Texas flag raised on eclipse day July 2, 2019. Audrey Konow photo. 
MISCELLANEOUS IMAGES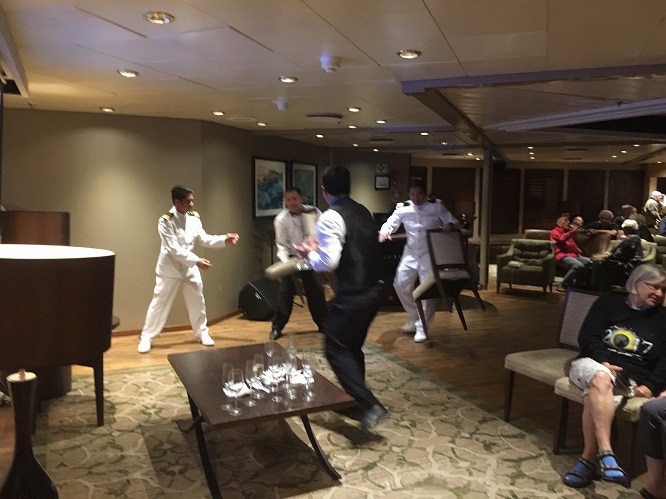 Crew moved 94 chairs every day from the lounge where talks were held back to the restaurant.  Lynn Palmer photo.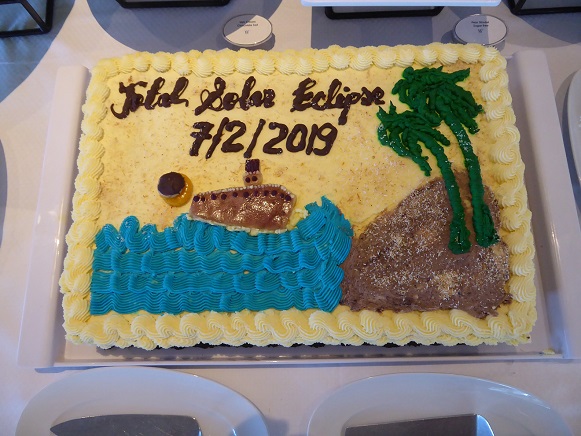 The 'eclipse cake' presented for lunch.  P. Maley photo. 
In this shot taken after totality, Paul Maley on left, Captain David Adrian center and Hotel Manager Jeffery Jack. Bob Hulse photo.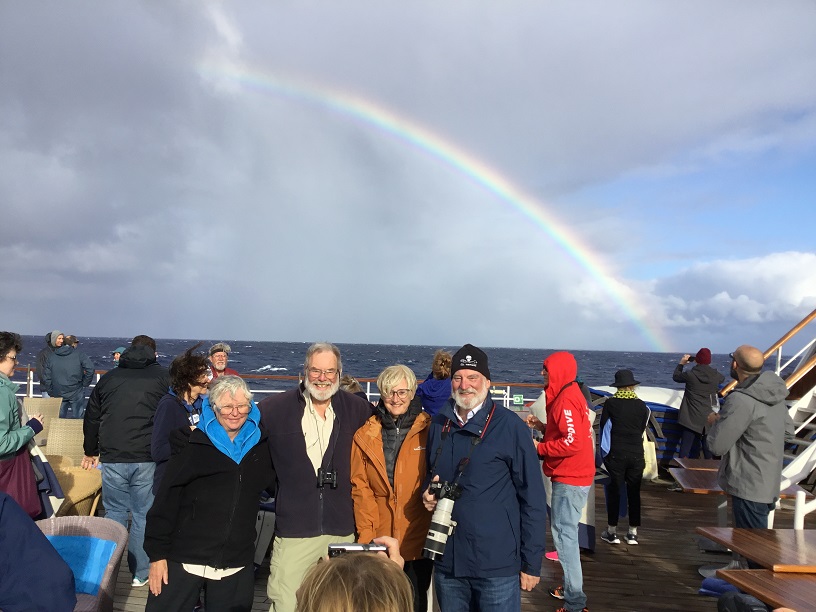 Smiles all around as a brilliant rainbow appears (with a rain curtain) just behind us after totality. Facing the camera from left to right: Ann Bullen, Paul Stewart, Jan West and Phil West.  Michael Devokaitis photo.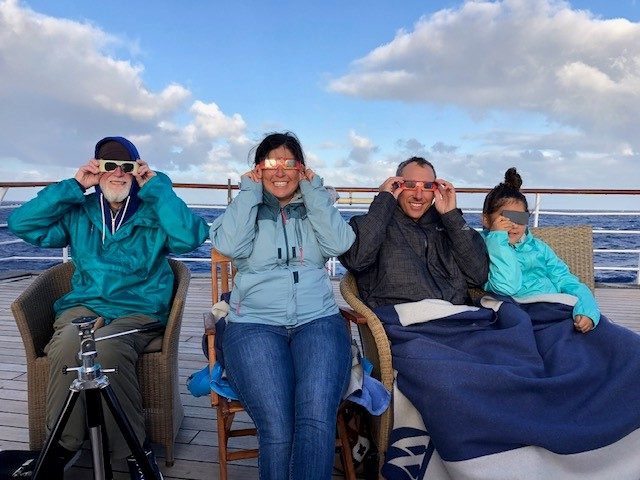 Three generations of the same family observing the partial phases: Dr. Richard Keen, Samantha Kaufman, Joseph Kaufman, Leilani Kaufman.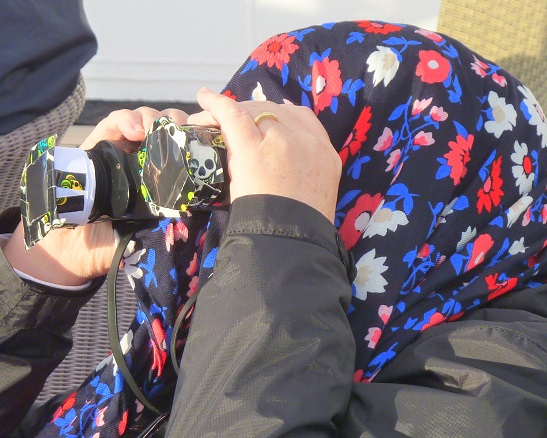 Colorful partial eclipse activity. Paul Stewart photo. 
Bob Hulse took this shot of an observer using partial eclipse glasses to shoot a photo through a smart phone.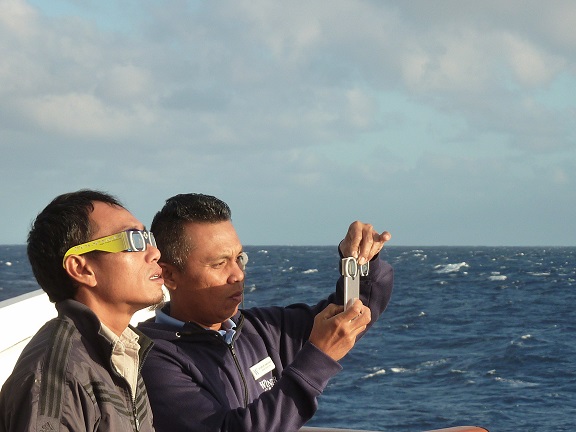 Paul Stewart noticed other crew members doing the same thing.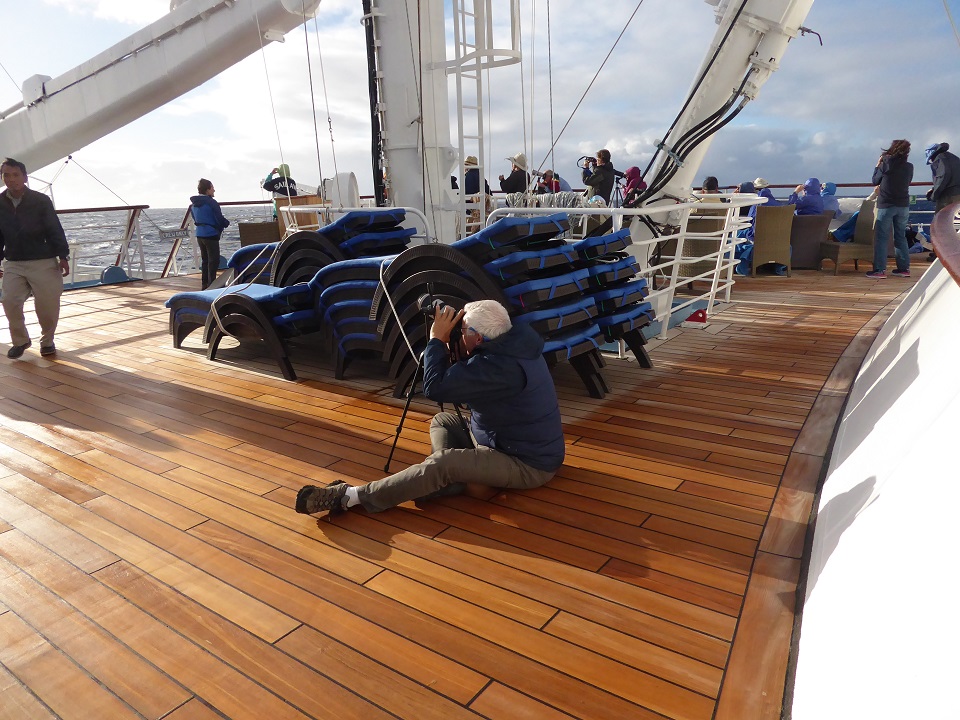 Eclipse watchers take up various positions on deck as the ship changes course to keep out of the clouds.  P. Maley photo.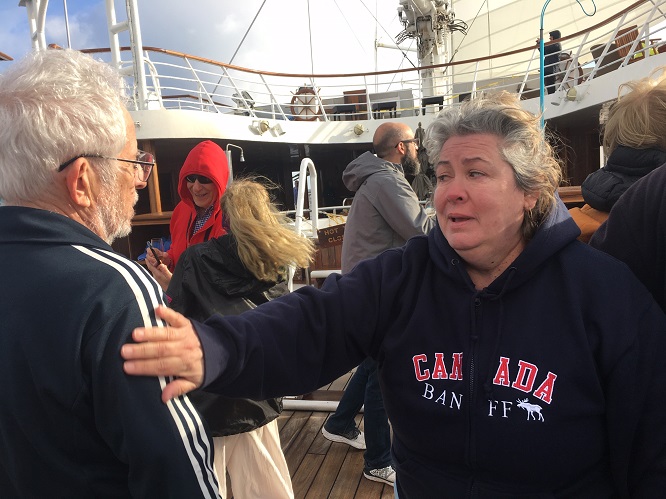 Seeing a total eclipse for the first time made Deb Devokaitis so emotional it was difficult for her to speak.  Lynn Palmer photo. 
Sometimes getting a great photo is compromised by clouds. The above image shows Baily's Beads popping out just at the right time, but focus was impacted by cloud. Audrey Konow photo.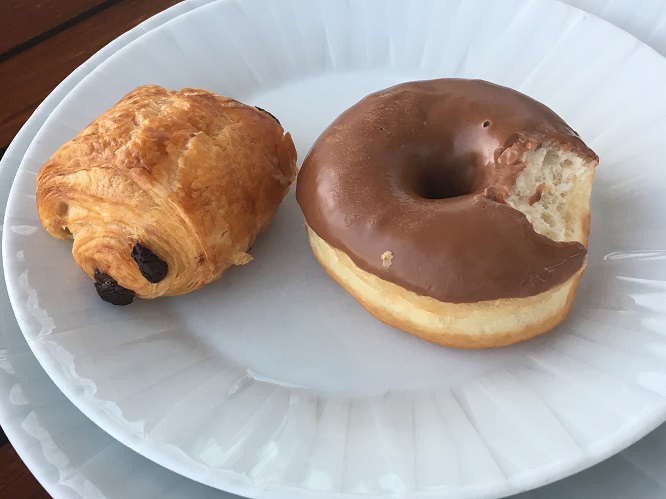 One small pleasure on a ship in the middle of nowhere is to find a good donut. In 2018 Paul Maley sailed on this same ship and instructed them on how to make good donuts. They succeeded in 2019! Lynn Palmer photo.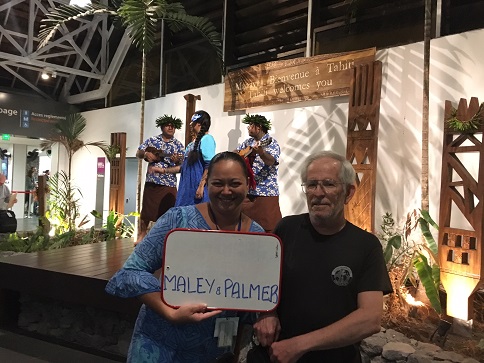 Our welcome at Faa'a airport in Papeete. Lynn Palmer photo.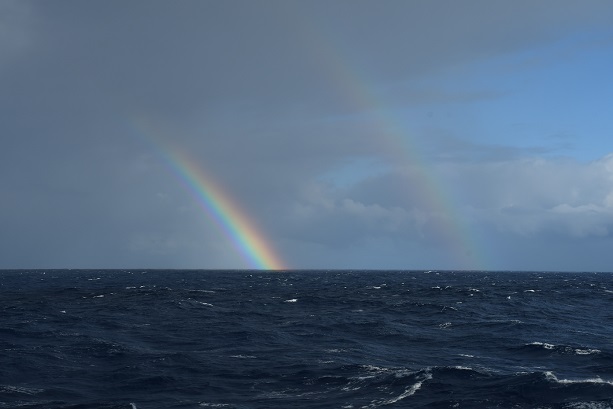 Double rainbow as captured by Rob Mauro.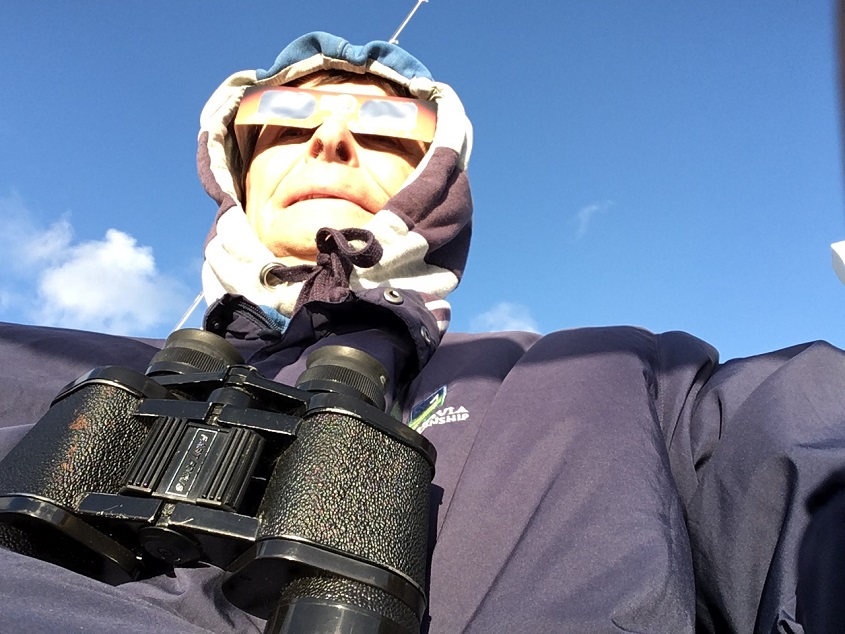 How everyone should be prepared. Note how Michael Devokaitis is wearing the partial eclipse viewing glasses before totality, then binoculars strapped around the neck. During totality one rips off the glasses and uses binoculars to get the best views!  Michael Devokaitis photo.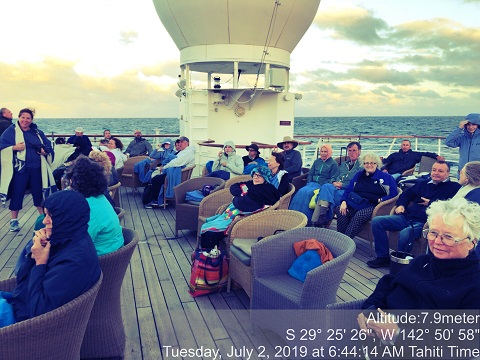 Before the partial eclipse started, Gene Torncello took this shot showing clouds in the distance and a GPS snapshot.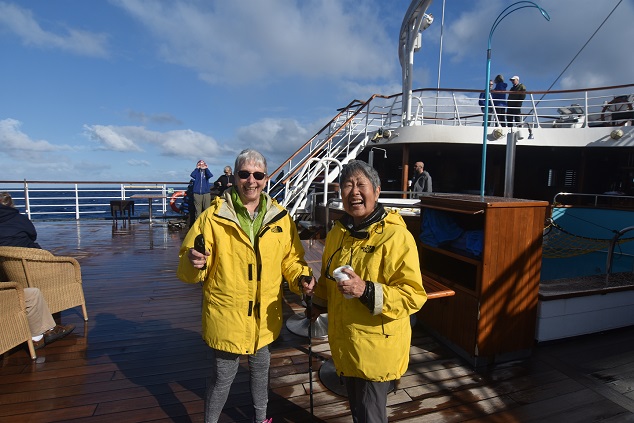 Co-travelers Zina Mirsky (left) and Nancy Okamoto after the eclipse.  Gene Torncello photo.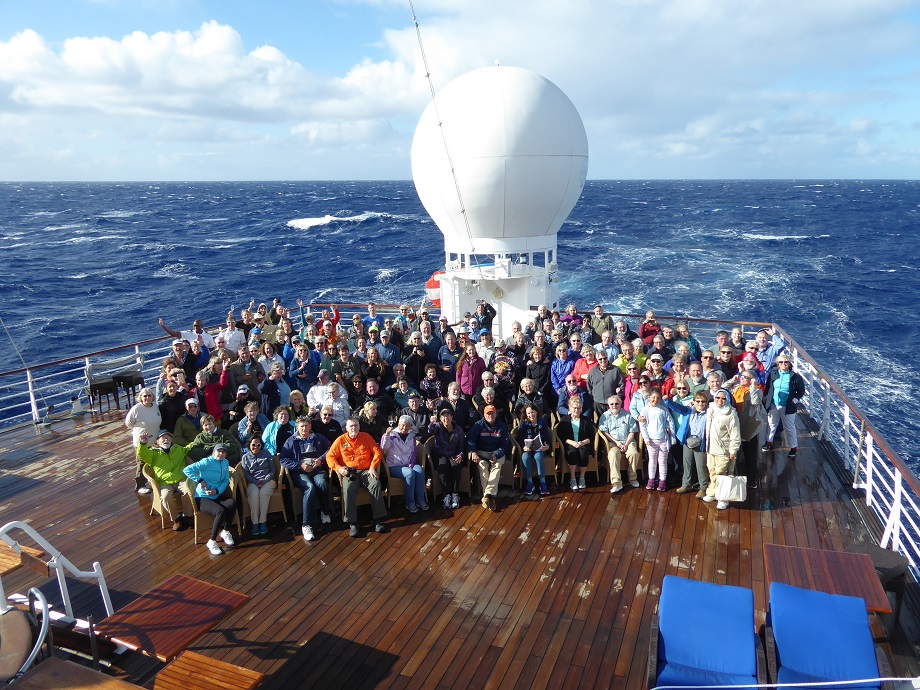 Our eclipse team. P. Maley photo.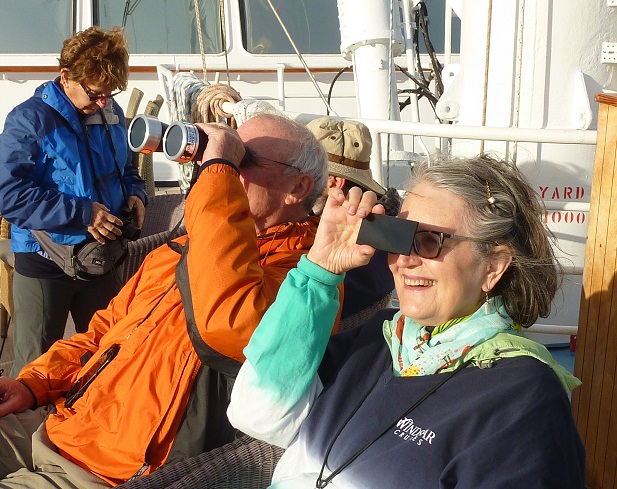 Proper partial phase viewing: binoculars with ND5 filter and No. 14 welder's glass.  Robin Field and Carolyn Mischer.  Paul Stewart photo.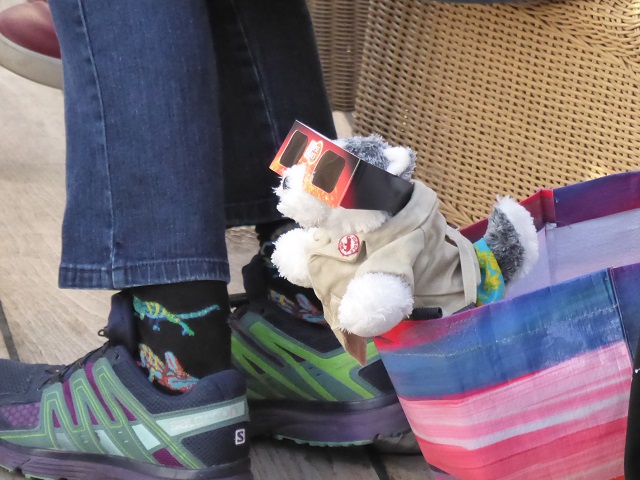 Even stuffed animals eyes are protected in this photo by Phil West.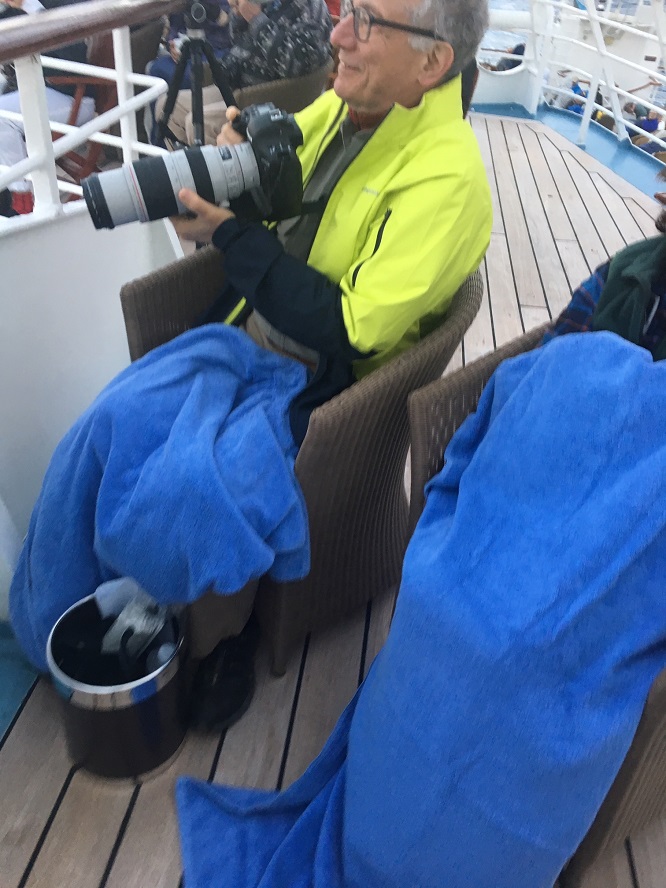 Some observers carried a trash bucket on deck to put items in to keep them from rolling around on deck. Above Harvey Fineberg. Lynn Palmer photo.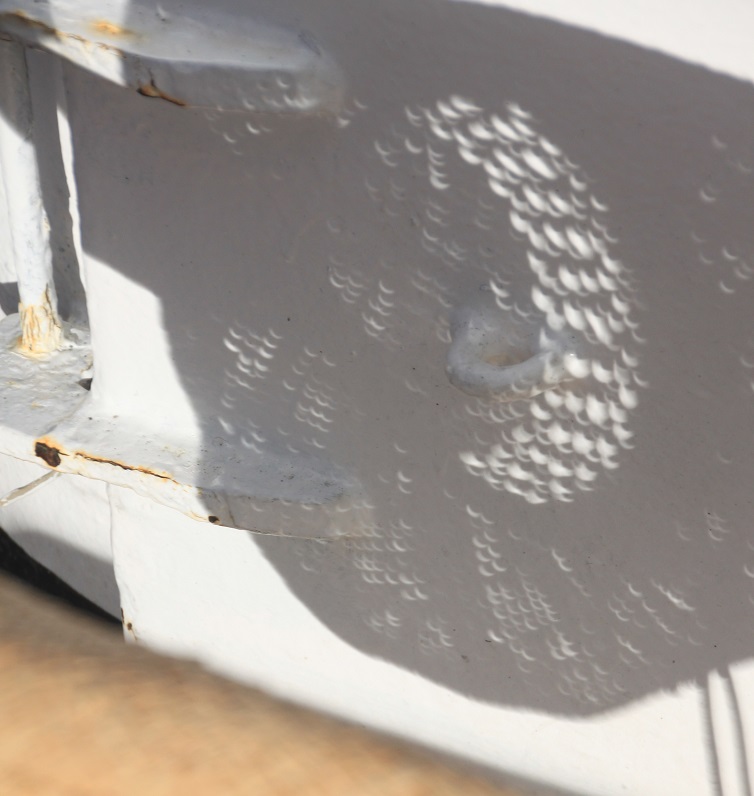 Another way to view the partial phase is to project through holes in a straw hat. Tamara Ledley photo.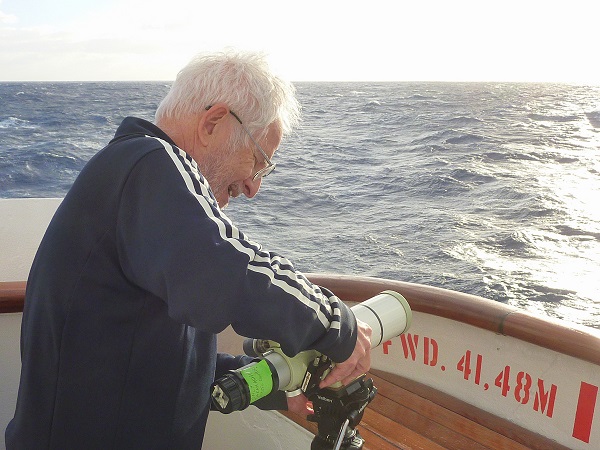 Paul Maley disassembling his telescope during the partial phases. The wave action was so significant it was not possible to use the Takahashi FS60 effectively. Paul Stewart photo.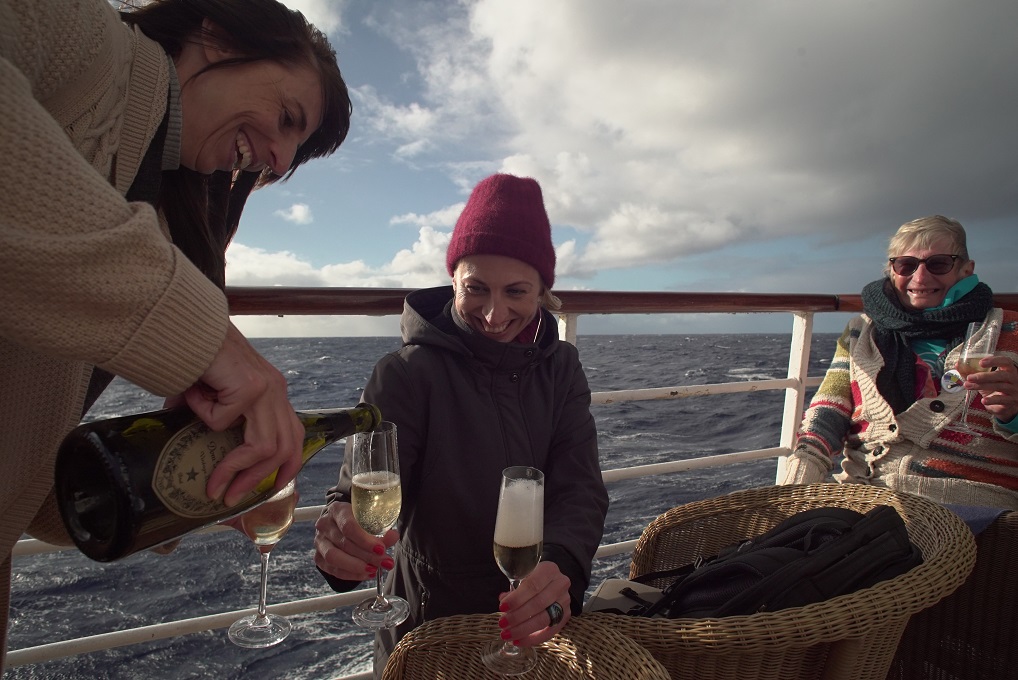 Elizabeth Warning pours champagne post eclipse with Julia Warning (center) and Roxana Warning (right). Paul Costello photo.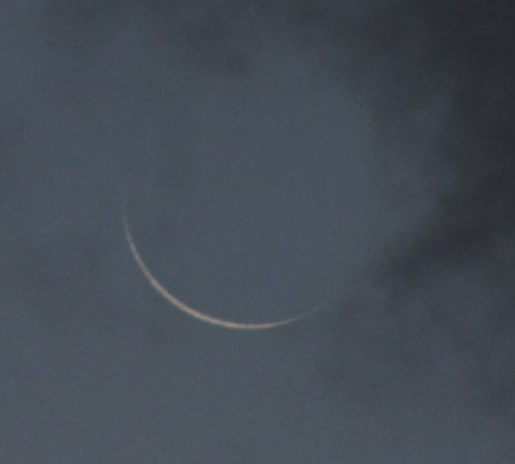 The Moon 33 hours after the eclipse. Michael Parry photo.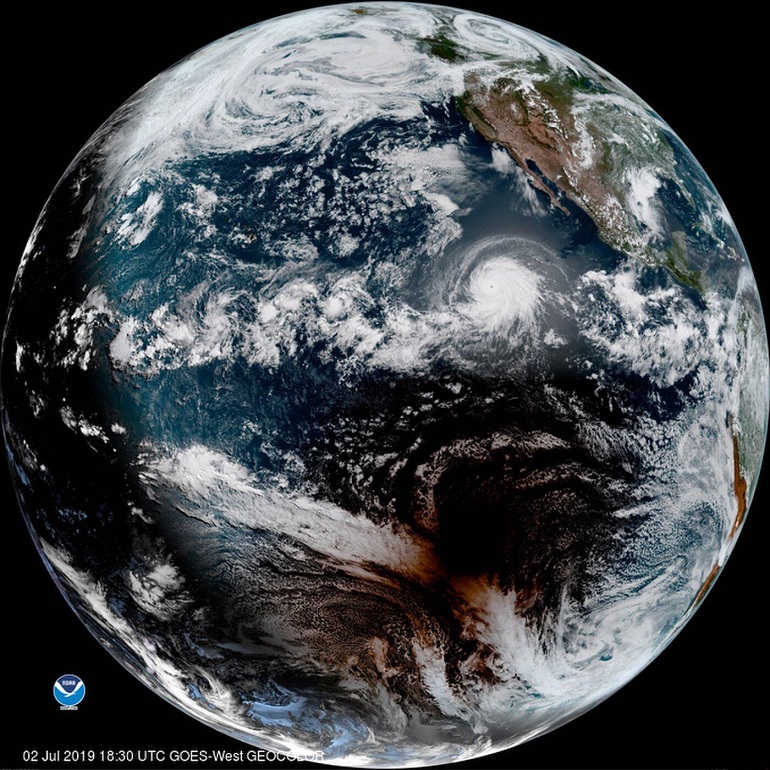 We are somewhere far northwest of center in this image of the Moon's shadow located below Category 5 Hurricane Barbara south of Baja California. Image courtesy of NOAA.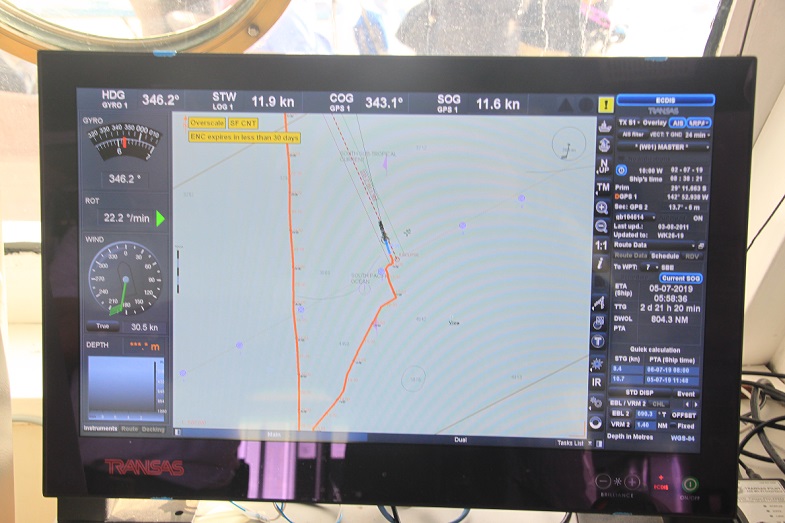 The ship's path as we move away from the eclipse path. Tamara Ledley photo.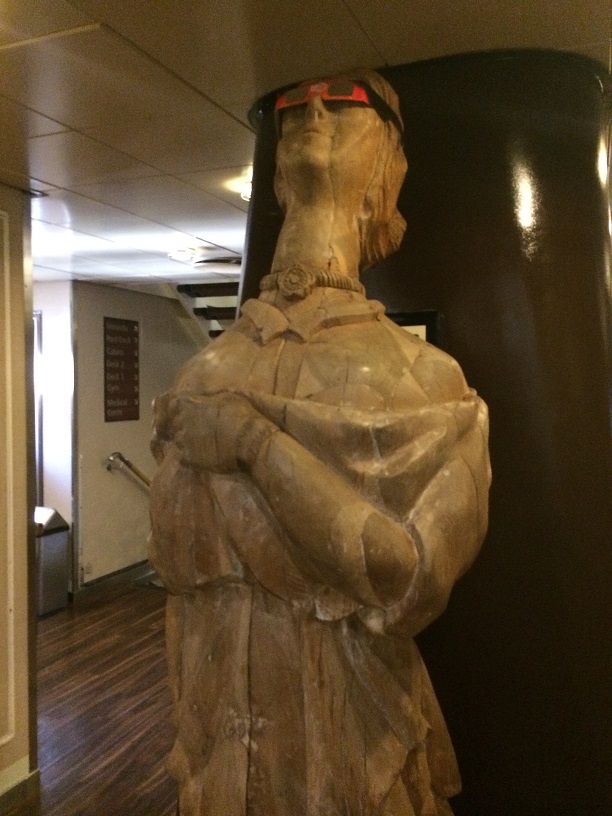 When we gave out partial eclipse glasses one person put a pair on the ship's statue. Jo Ellen Nichols photo.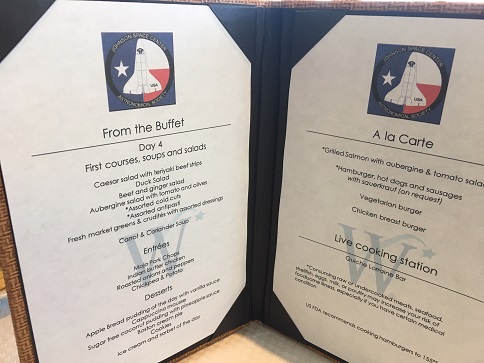 One of the menus showing the NASA Johnson Space Center Astronomical Society logo. Lynn Palmer photo.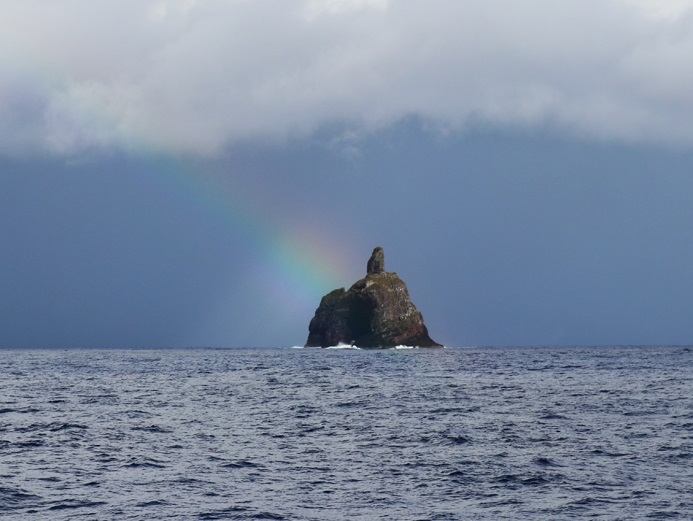 We had hoped to stop at Ahurei (Rapa Iti) but had to settle for observing it at a distance. Brad Brailsford photo.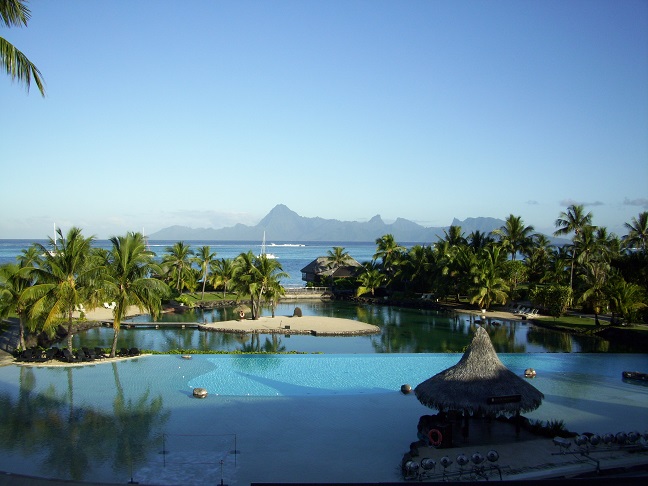 A view of the pool and lagoon at the Intercontinental Hotel in Papeete with Moorea off in the distance. George Scheck photo.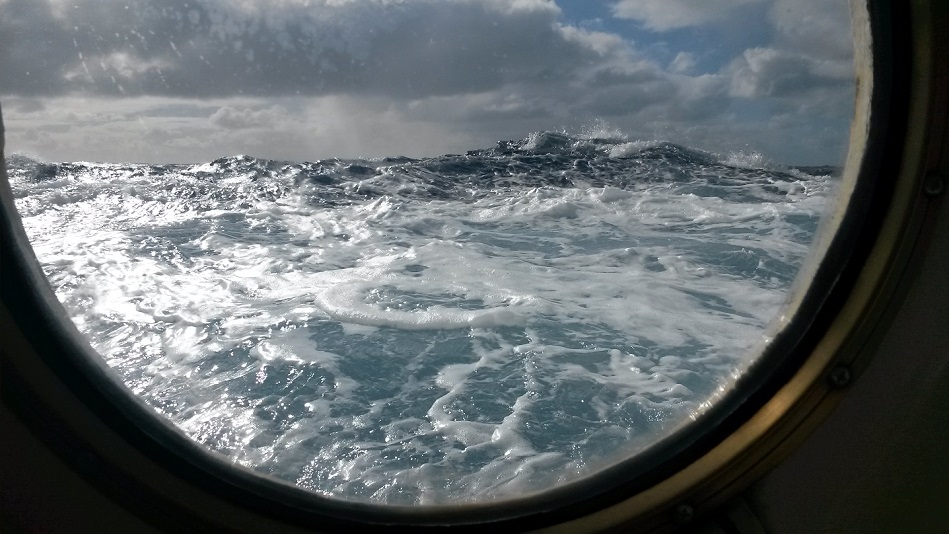 It would be difficult to appreciate how angry the sea was on the way back to Tahiti. There were two passenger decks. This was a shot taken by Jim Shelton from the lower deck before the entire window was covered by waves.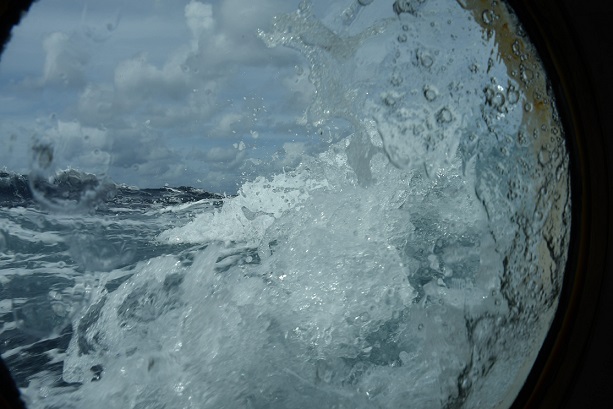 Waves hitting Rob Mauro's cabin.  Rob Mauro image.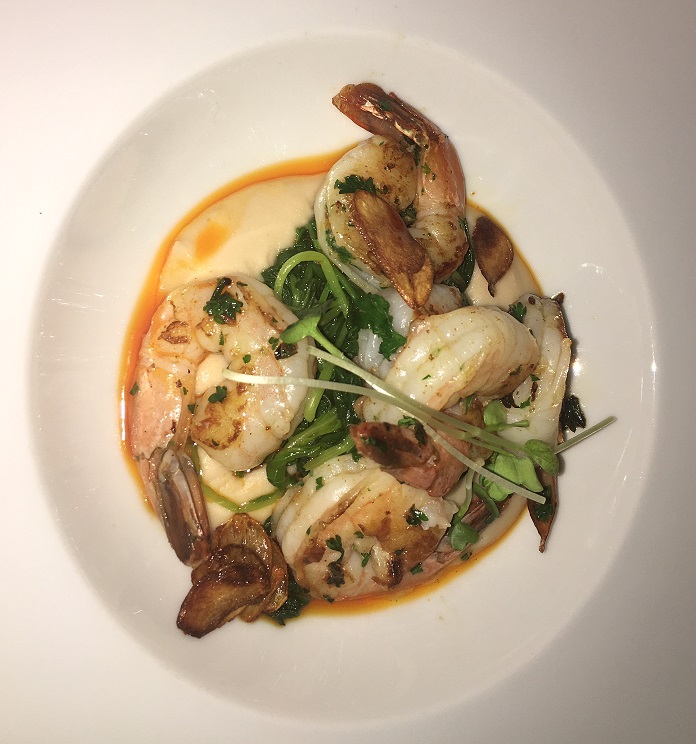 Among the amazing entrees we were served included the above shrimp dish. Lynn Palmer photo.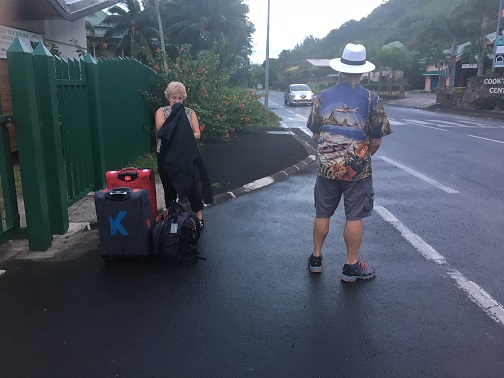 These are not homeless people looking for a free ride. Don and Marilyn Kredel took the first tender off the ship at 615am in Moorea only to find gates padlocked and no taxi to take them to the ferry terminal where they needed to connect to another cruise at 8am.  Lynn found a way over a chain link fence and I jumped it. Don passed his luggage over the top of the green painted metal fence (left) and they were able to get out to the street. I ran down the road, found an English speaking hotel manager who called a taxi. They made it to the ferry on time! Lynn Palmer photo.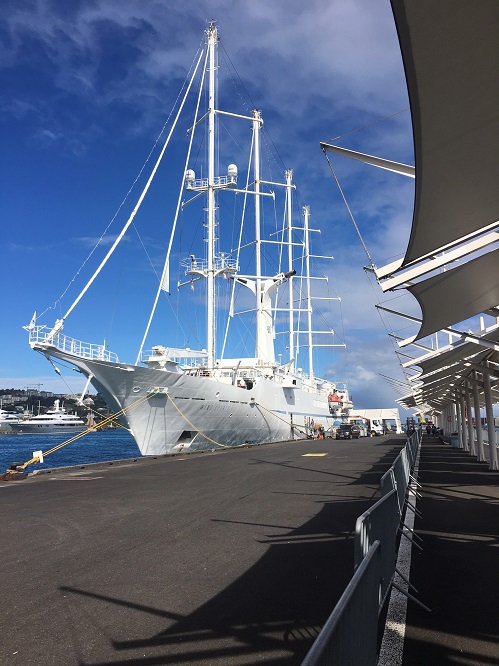 The Wind Spirit in port in Papeete. Lynn Palmer photo.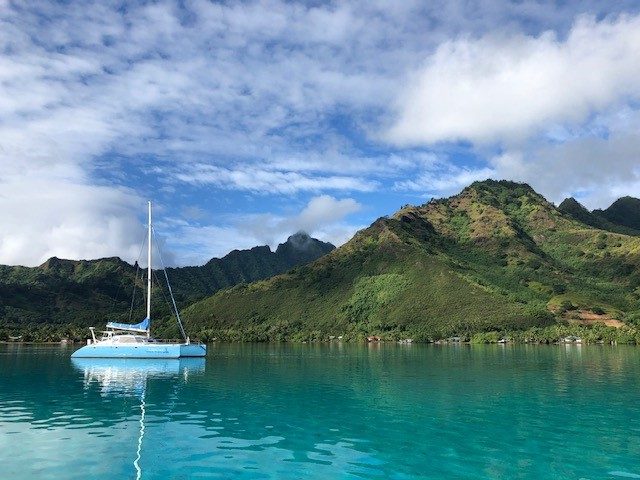 The calm waters of Moorea. Samantha Kaufman photo.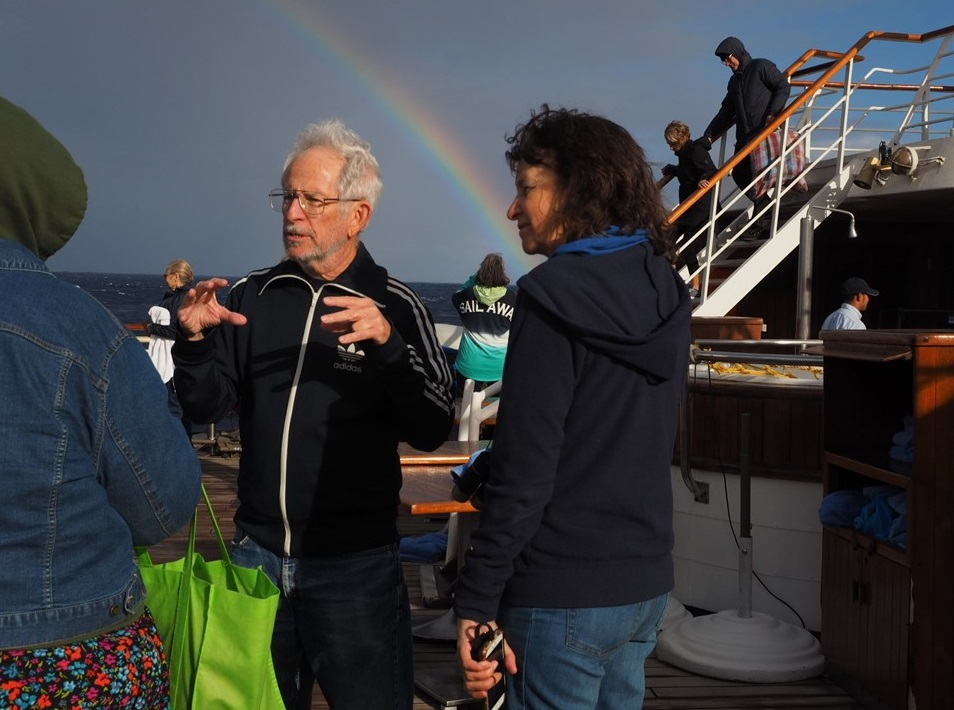 Paul Maley and Lynn Palmer with rainbow in the background after the eclipse. Zina Mirsky photo.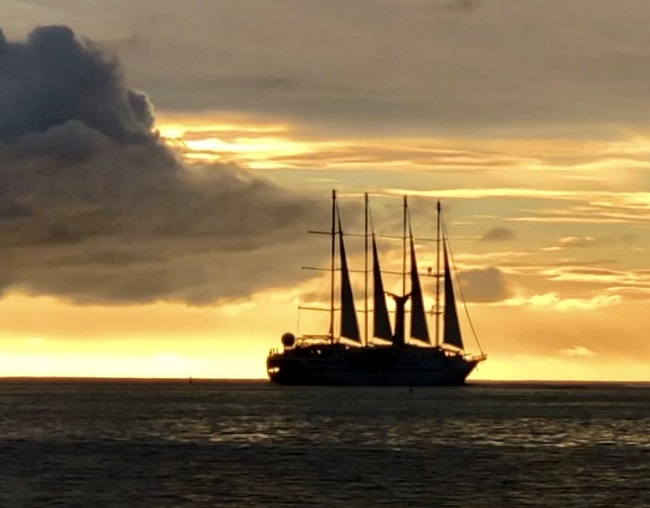 The last photo from our trip as the Wind Spirit leaves Papeete July 7 after disembarking all of our participants for yet another cruise in French Polynesia. Paul Costello's sail away photo.
TALKS
We had a great selection of speakers during the cruise.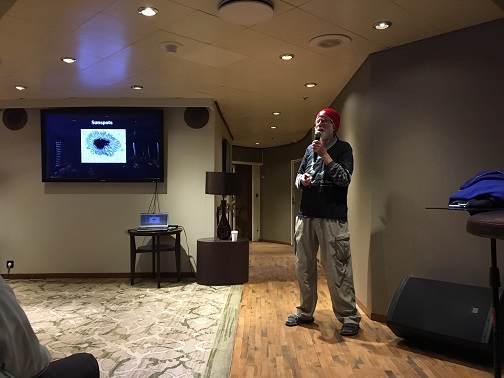 Dr. Richard Keen speaks about solar activity and climate change. Lynn Palmer photo.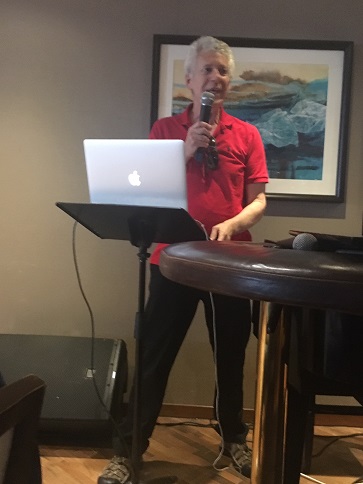 Dr. Mike Shara speaks on the expanding universe, part of 7 talks he provided on the ship. Lynn Palmer photo.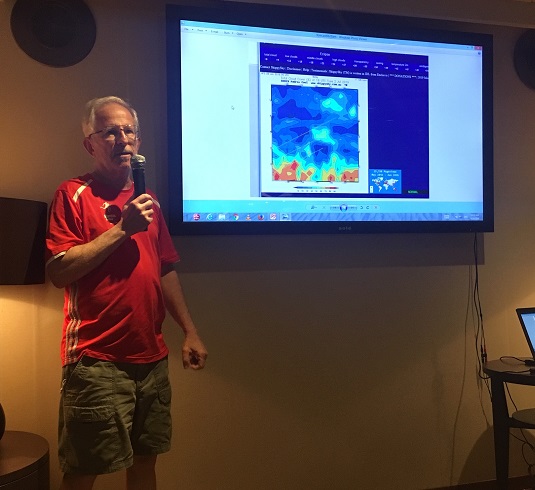 Paul Maley given a talk on the weather as well as providing talks on other topics.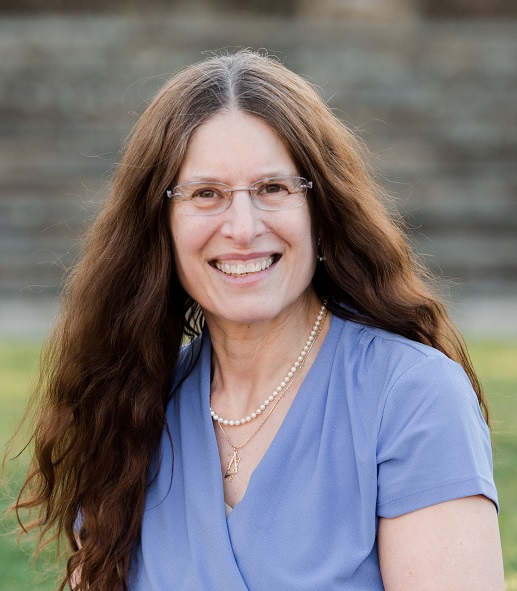 Dr. Tamara Ledley provided a presentation to educate first time eclipse observers on how to properly prepare to view the eclipse.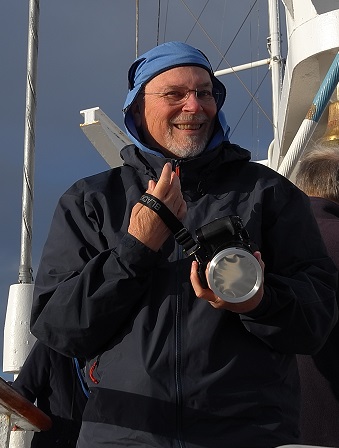 Bob Hulse presented talks on flying squid and other photographic topics.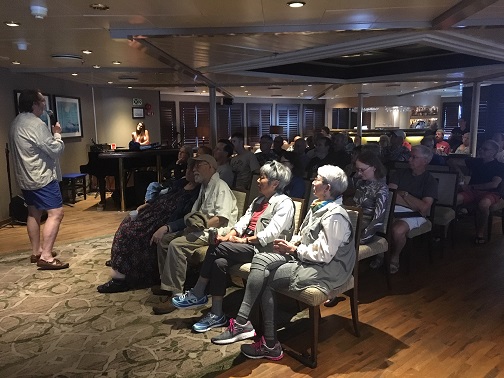 Dr. Fred Ledley speaks about his book Sputnik's Child. Lynn Palmer photo.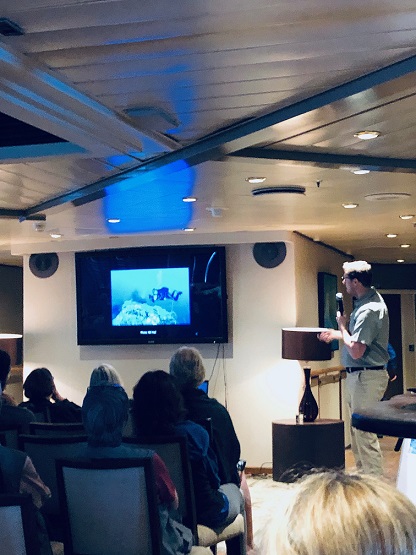 Lawrence Tulissi provided a talk on diving in French Polynesia.  Michelle Weller photo.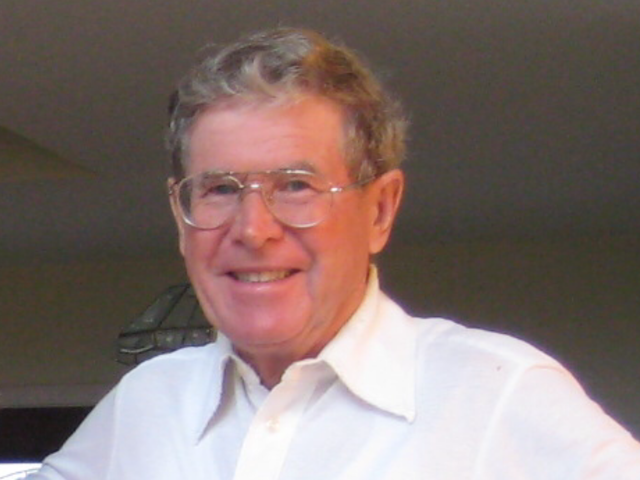 Peter Farrow spoke on the longest echoes.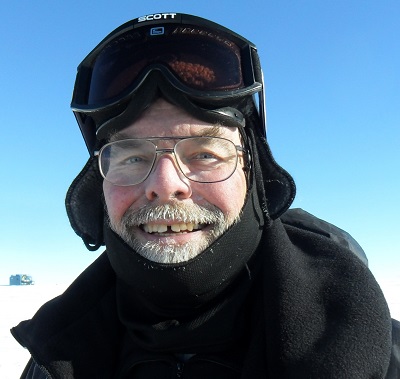 Paul Stewart presented a talk on his South Pole expedition.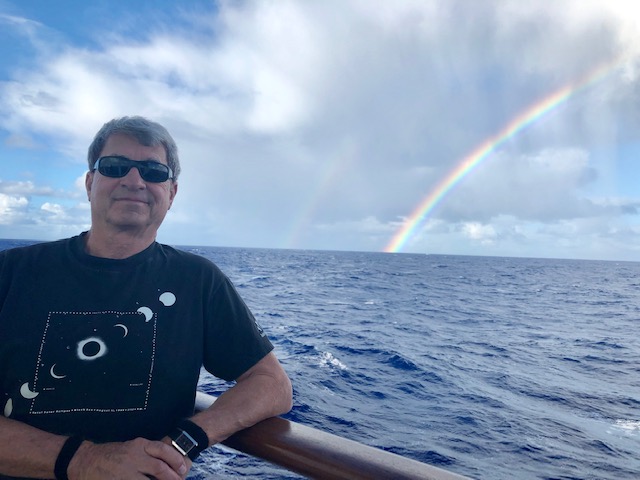 Don Kredel presented a talk on the Niger eclipse expedition.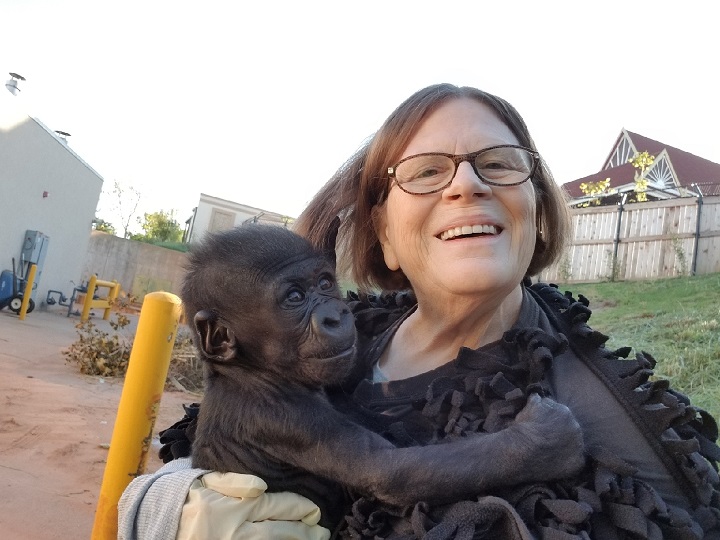 Kathy Shelton spoke on how to raise a gorilla.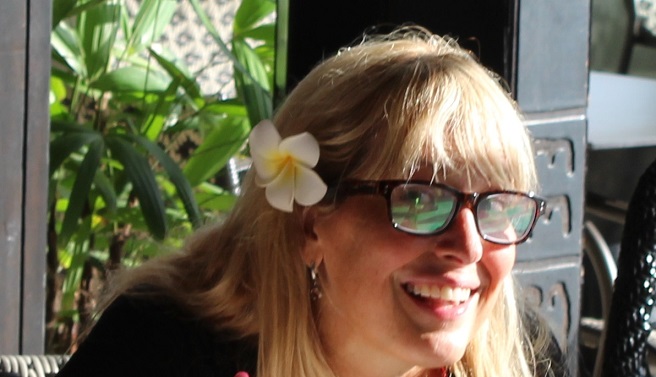 Michelle Weller gave a travel briefing.  George Scheck photo.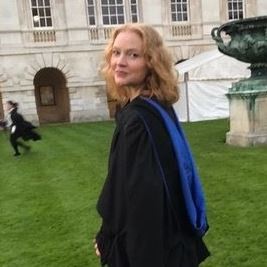 Alicia Stevens provided a talk on Disappearing Atolls.