RESULTS OF OUR 18TH AURORA EXPEDITION OCTOBER 2019
by Paul D. Maley, NASA Johnson Space Center Astronomical Society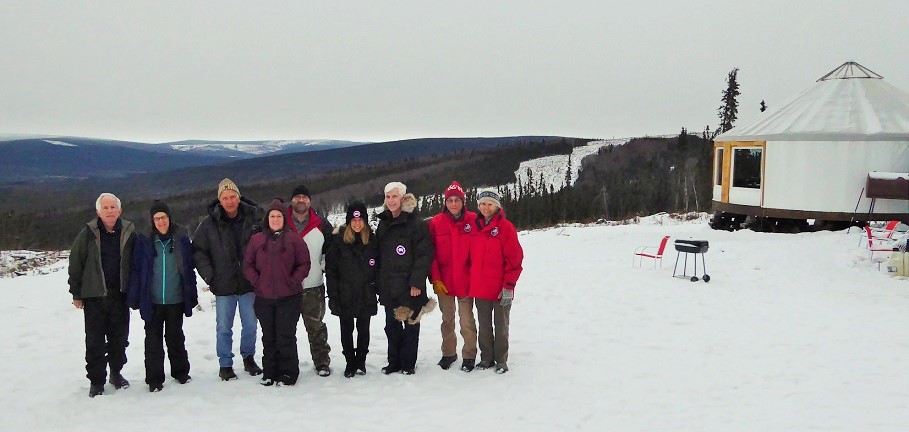 The RING OF FIRE EXPEDITIONS team from left to right Paul D. Maley, Lynn Palmer, Jeff Pohlman, Jennifer Pike, George Gilson, Vicki Steeger, Joe Steeger, Ed Steiner, Joan Steiner.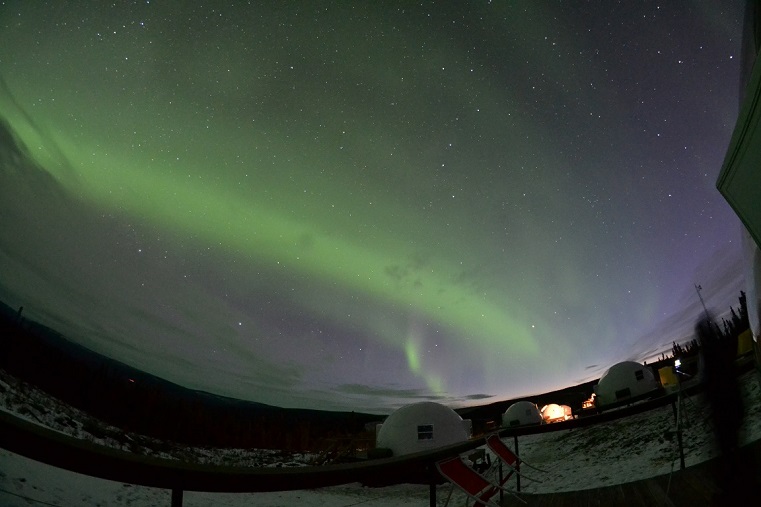 Domes silhouetted with nice auroral arc about 2 hours before local sunrise on the day of our departure October 29. A few clouds are visible. Photo by Lynn Palmer with 8mm lens, ISO1600.
This trip we were able to see aurora once again.  It was our 18th consecutive Northern Lights tour where we saw and photographed the Lights.  Though we had almost solid clouds on certain nights we still had some amazing views at Borealis Basecamp.  There were only a few inches of snow on the ground and in general for this time of year temperatures were much warmer than normal at times over 40 deg F. They were above freezing except for the first night when it dipped to 29 deg F and on the morning of our departure when it was 31 deg F. Otherwise it was above freezing and much of the snow actually turned to slush and ice making walking a bit treacherous in places.
BOREALIS BASECAMP
This was the first time for us to use this lodge. The text here describes the good and bad elements and should be considered a trip review.  For serious aurora viewers it presented the most obvious of challenges.  There were 10 active domes and 5 more under construction. All the domes have white lights inside. Because of the large plexiglass openings that allow viewers inside each dome to check the northern sky without going outside (a very nice feature), any lights turned on (main room light, bathroom light, 2 table lamps) will spill outside and be visible from most nearby adjacent domes when photographing.  But to be fair even with lights on, most of our photos were NOT compromised as you can see from the images that follow.  Guests do not have rules to follow in order to prevent interference with serious aurora photography by other guests. That is, there are no red lights, no guidelines for using red flashlights at night instead of white lights, and there is a mixture of day trippers who have no experience with aurora photography and more serious people who want to take photos. In addition the domes had glare sources (heater, water heater grate, lack of seams in the room wall connecting the bathroom). The first image below this text gives you an example.
On the positive side, the food here was great thanks to the work of Chef George and comfort inside the domes was very good. The heater kept things at the proper temperature; the shower was wonderful; the dry toilet took a bit getting used to but once we knew how it works we found it fine.  A couple of the domes experienced problems with a leaky ceiling, toilet issues but were resolved.  I found a total of 8 plugs in the dome where devices could be charged. Wifi worked quite well though there were a few times when we had trouble connecting. There were blackout curtains on two small dome windows but it depended on the occupants to insure they were completely closed at night.
There was constant ongoing construction activities on the site at all hours. I had to request that one new washer/ dryer facility being built have lights turned out overnight (they left them on normally). Each dome has a CO alarm but not one for smoke! In addition the doors have no locks.  ATVs are used to transport guests at times. The ATVs have white light headlights as do any and all vehicles; it was rather annoying to see even guest vehicles having their lights on at night while we were photographing. Our dome had a tilted floor. Because of permafrost issues, they have to rebalance each dome multiple times per year.
There are no closets or drawer spaces to use. One luggage rack per dome, though 2 would be helpful. They do have a briefing booklet in each dome that gives you basic ideas of features at the lodge. However, the most important instructions on how to use proper lights and how to behave at night are nowhere to be found.  Each dome has a number assigned and it is posted in several places around the structure. However, the numbers should be iridescent and also having one on the front door might prevent someone from accidentally entering your dome by mistake. We had that happen to us! It is good to know that even large suitcases fit under the beds comfortably.
Aurora alarm: there is one in each dome and it is a wireless door bell that goes off if someone on duty sees an aurora. All domes are then notified and residents can decide if they want to get up and view or go outside or stay inside and view the Lights.   That does not happen all the time since staff are not awake during the entire night.  We had two very good hours on Oct. 29 and no alarm was triggered. Luckily Lynn and I were up anyway and we got many good images! There is a hot chocolate/tea maker. Only one actual chair that you can relax in. They need two. In spite of these observations we had a good time especially with the resulting images below.
Comments on building construction: joints are not professionally fitted as we saw in the laundry building that was being constructed. Thus when you look at the wall plugs, e.g. you can see some are lying loosely on the floor. Others are loosely fitted in the wall. Tape covering the plexiglass pieces through which aurora viewing is done is pealing off. Our front door (and others) had a vertical gap allowing cold air to come in. Since our dome did not have a mini fridge we used that gap to cool our Coke Zeros but when the temperature at night is above 40 deg this is of no assistance.  However, in spite of the issues mentioned above, the overall dome experience was fine.
In summary, we are hoping that the lodge will make some changes to the lighting as well as looking at some of our other recommendations.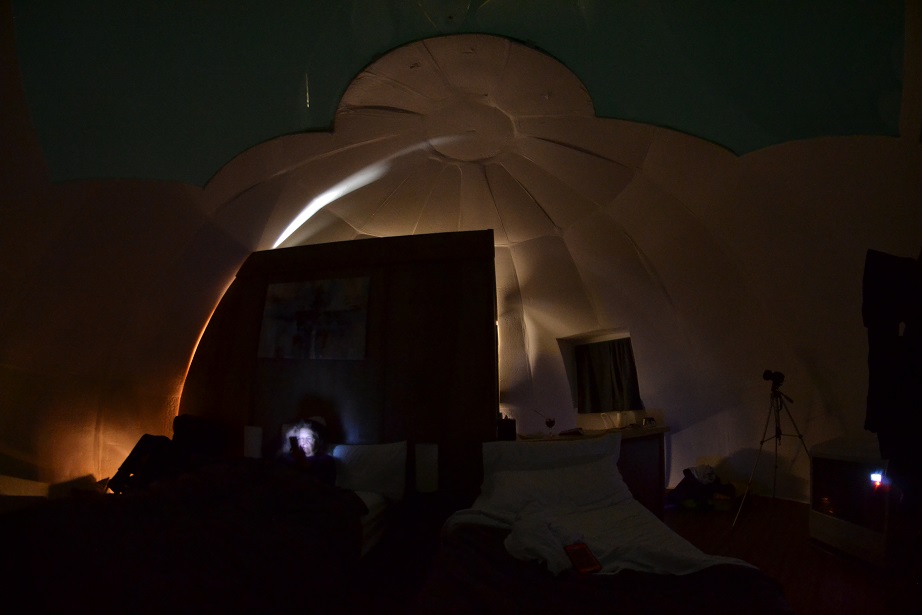 We were in dome 8 but the shot above is taken inside the dome to illustrate the sources of light that would impact taking photos inside the dome with "lights out". 1) Iphone left center, 2) Toyo stove digital readout on right, 3) orange and white glare from water heater grate. The orange arc is really from a gap between in the outer dome wall and inner bathroom wall. P. Maley photo.

Dome layout where North is down and a road is located just above the line of domes. Courtesy Borealis Basecamp. Our group occupied domes 4,5,7,8, and 9.

AURORA BEFORE THE TRIP BEGAN
I experimented with trying to shoot aurora photos out my window. Prior to departing Denver for Anchorage I made sure to have a window seat on the United flight, which left 2 hours late. This was helpful since actual departure was after midnight.  I was able to watch and begin a series of photos using the rather unusual setup below.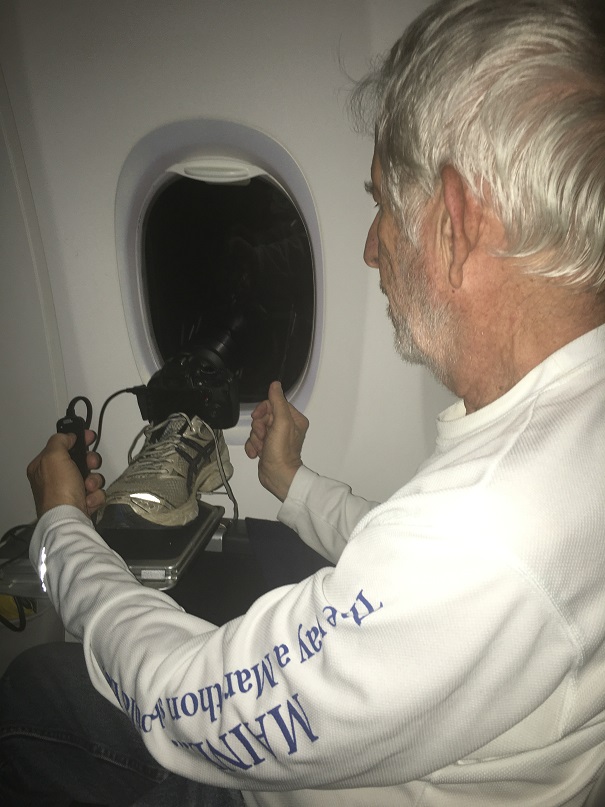 Window setup for aurora photography. Not exactly recommended! Photo by Lynn Palmer.
In the setup image above, I used the food tray that is normally lodged in the seat and placed a tennis shoe on top. The camera (with a tripod adapter at its base) and 14mm lens with shutter release attached is set inside the shoe.  I hope to use Jeff Pohlman's window mount design next year when we return for our 19th Alaska aurora viewing adventure.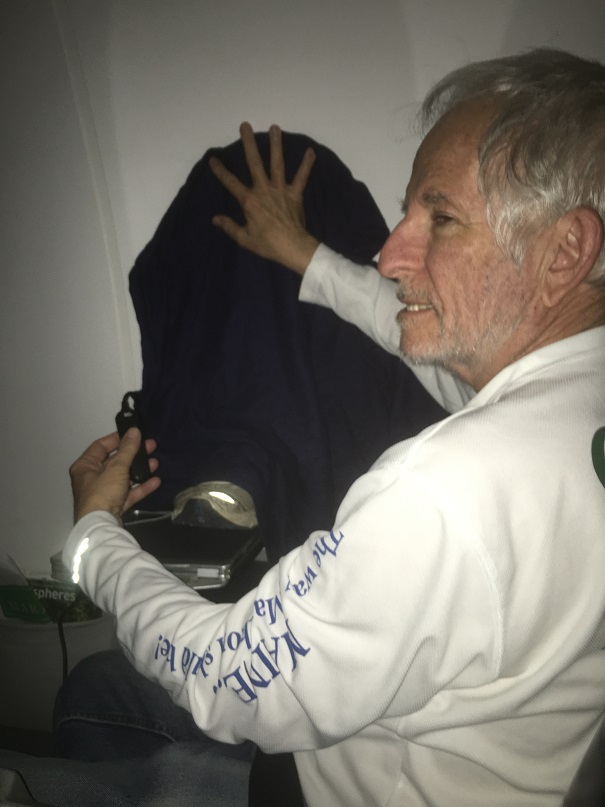 Covering the window and camera with a blanket then shooting the image over a 10 to 13 second interval. Photo by Lynn Palmer.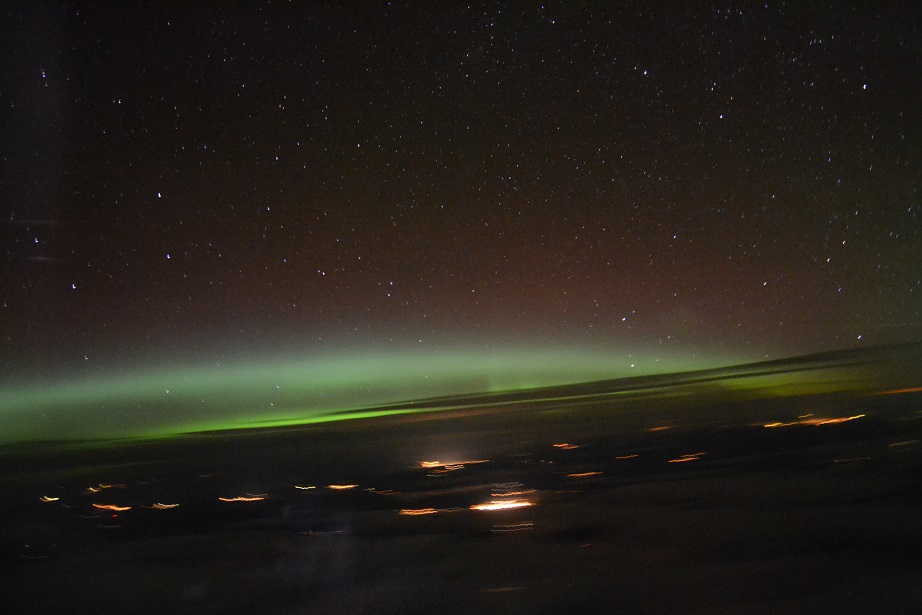 Here is one result. Many shots were compromised by airplane movement and instability of the setup but you can clearly see the first signs of auroral activity.  Stars are points and the streaks are lights on the ground during the exposure with some motion noted.  P. Maley photo.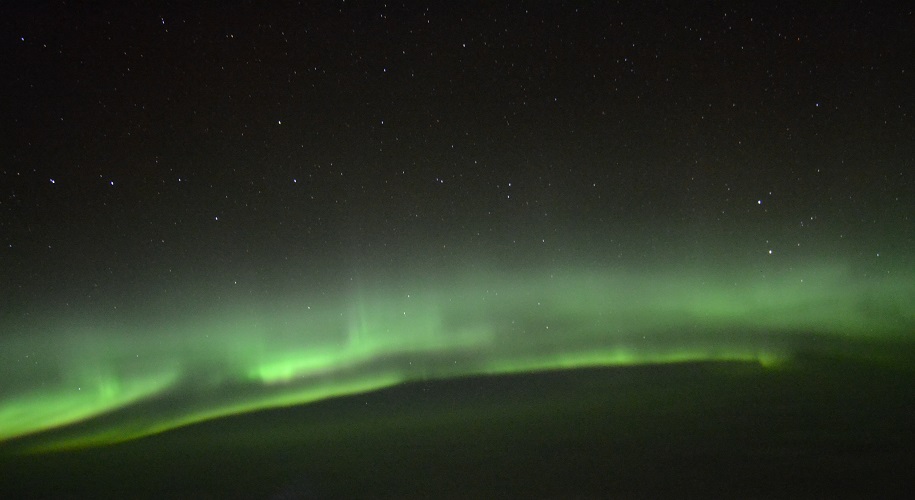 More activity later on in the flight. I shot numerous exposures but only a few were reasonably decent.  P. Maley photo.14mm lens, 10 sec, ISO3200.
OCTOBER 24 IMAGERY
It was possible for the brighter aurora to actually capture them on smart phones as in the first image below!  But it is also important to acknowledge certain issues relating to the use of smart phones for this purpose. I include just one image below. Comments from Vicki Steeger are as follows:
"Joe has an iPhone and really couldn't get it to take any workable pictures even with the Northern Lights camera app download (only available for iphones). We did meet one person who was using an iPhone to take aurora pictures just using the phone camera without an app but said it only worked when she used her flash to take the picture ( and was therefore hugely annoying and destroying of night vision for the rest of us – hence I think the problems with focusing for us all on that night)."  For references on how to take smart phone pictures, consult the following:
https://www.nightcapcamera.com/aurora-photography-photograph-the-northern-lights-on-your-iphone-with-nightcap/
https://grayline.is/blog/photographing-northern-lights-your-smartphone
https://www.tourradar.com/days-to-come/how-to-photograph-northern-lights/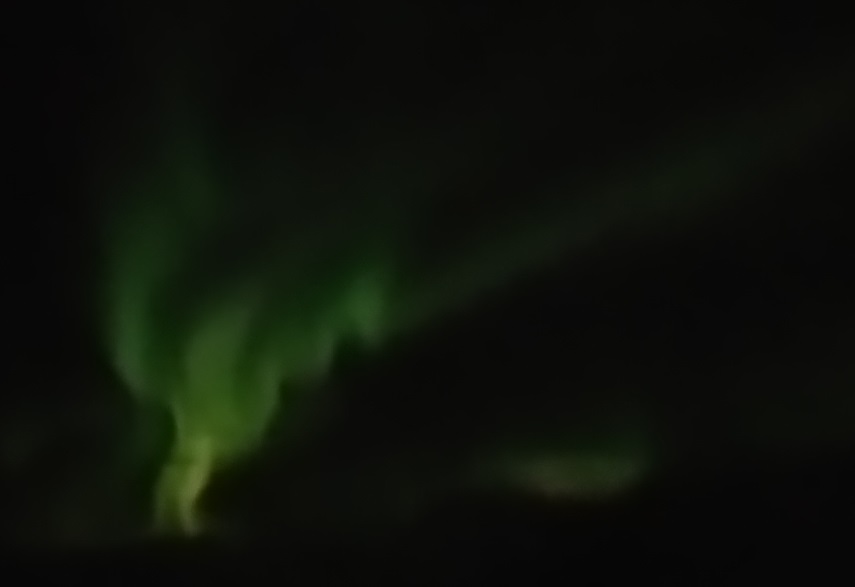 LG G6 Android phone image by Vicki Steeger.  She used the regular android camera app set to manual mode and also switched on night mode and turned off the flash. The picture was taken with an ISO of 1600, exposure time of 10 seconds using the manual mode to adjust to those settings.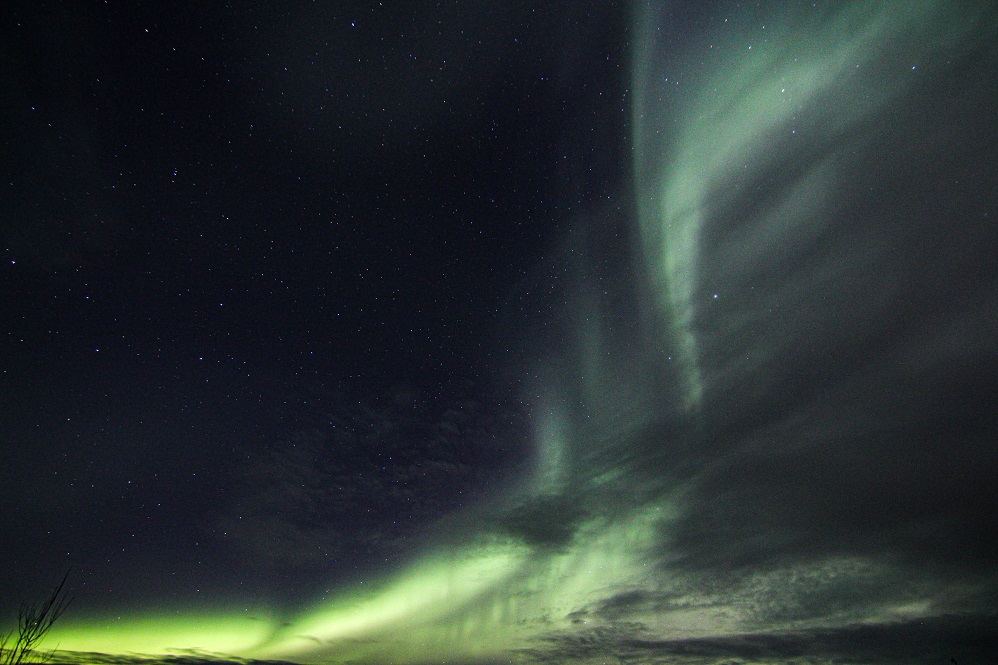 Joe Steeger photo.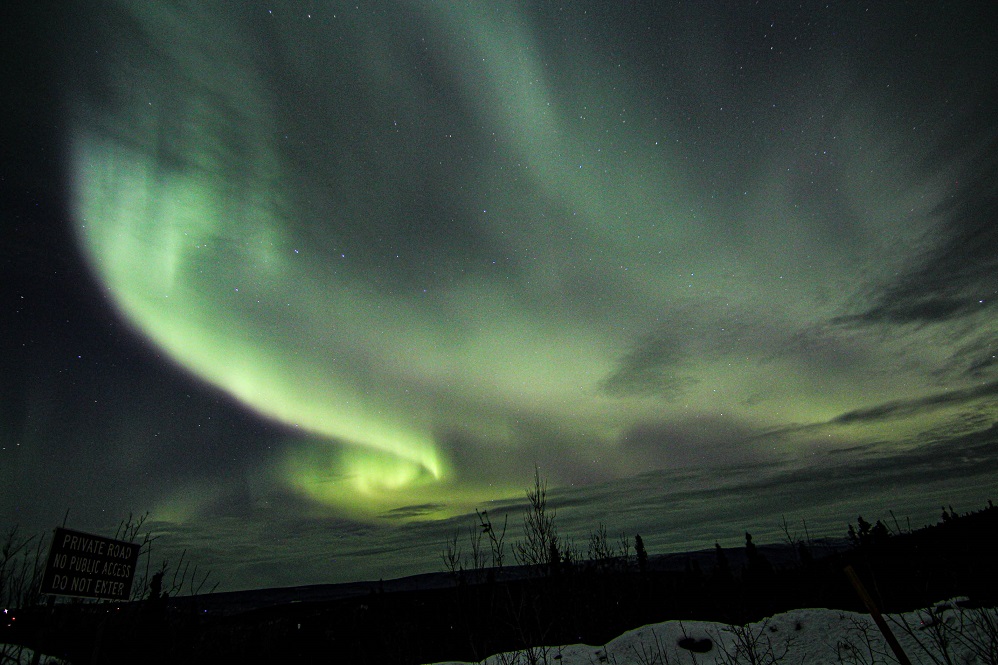 Joe Steeger photo.  You can see the wonderful swirl in this photo.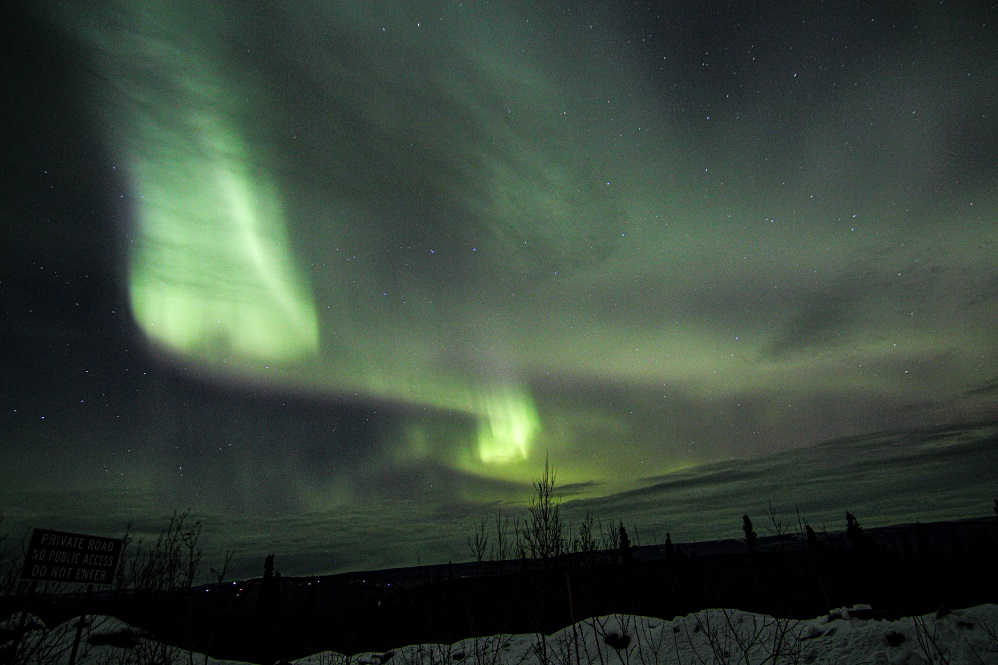 Joe Steeger photo. The swirl evolves with time as auroras do not always stay the same.
AURORA DURING THE TRIP
OCTOBER 25 IMAGERY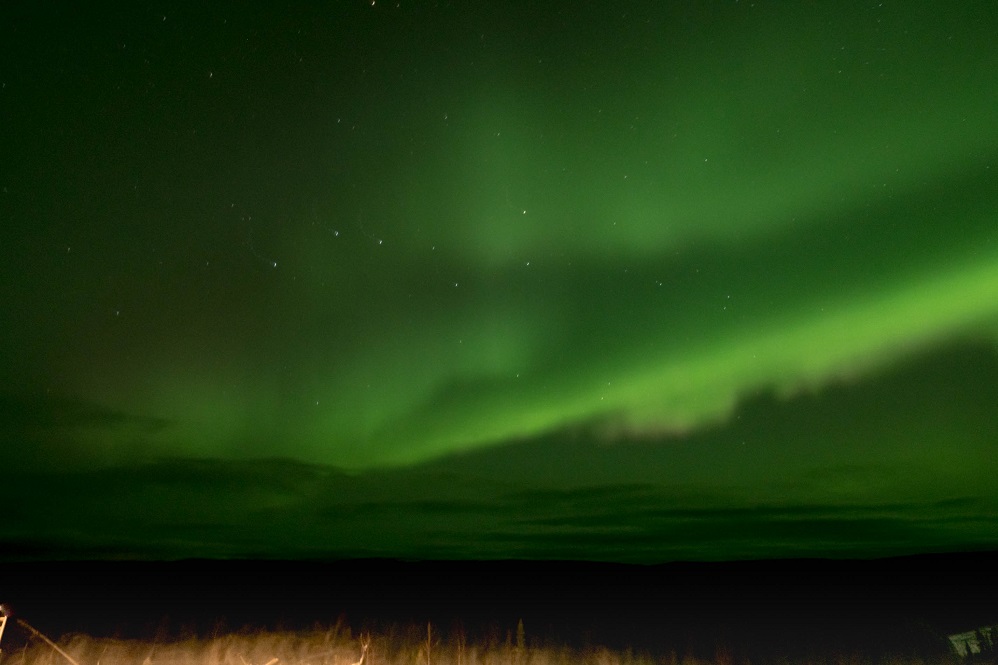 Jeff Pohlman photo. This photo shows aurora covering the Big Dipper.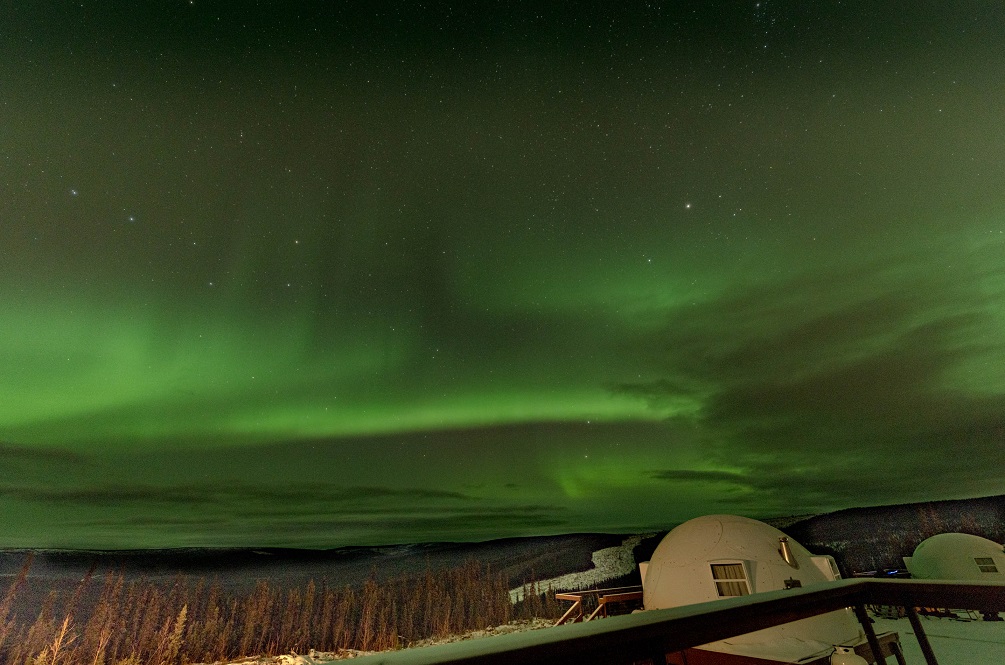 Jeff Pohlman photo.
OCTOBER 26, 27, 28 IMAGERY: NONE AS IT WAS CLOUDY THE ENTIRE TIME.  This is why we schedule 4 nights in case of bad weather continuing.
OCTOBER 29 IMAGERY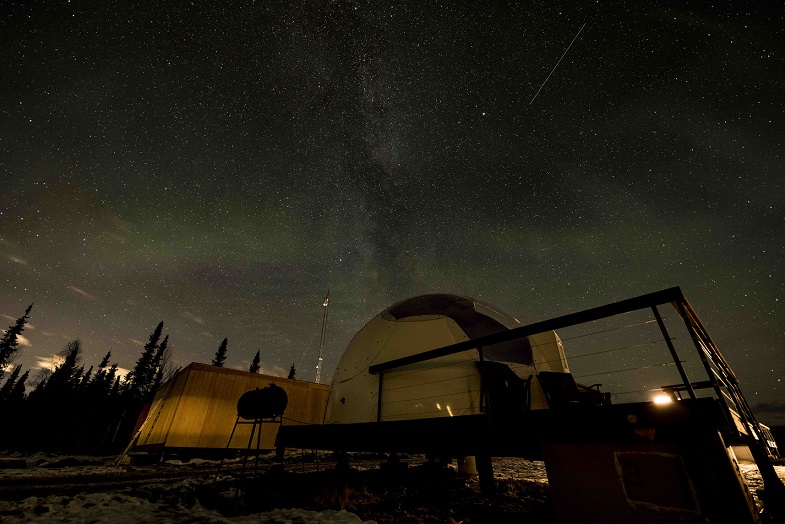 Jeff Pohlman photo.  See the satellite track, Milky Way and faint greenish aurora.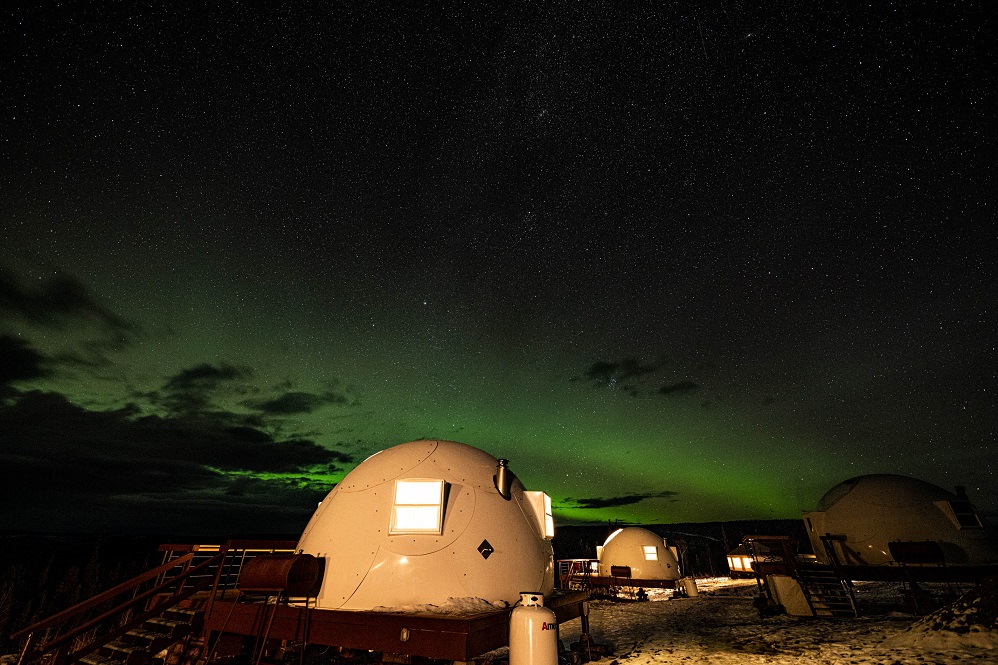 Jeff Pohlman photo. Dome illumination from someone not in our group who left their dome lights on. Yet the aurora are basically unaffected.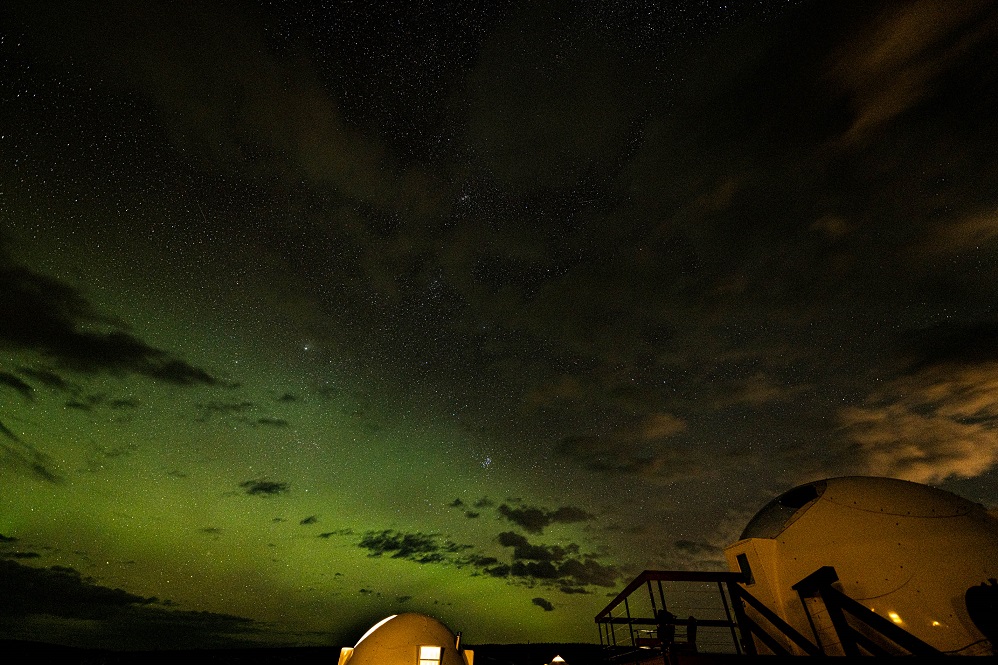 Jeff Pohlman photo.  Broad auroral areas in the sky mixed with some cloud.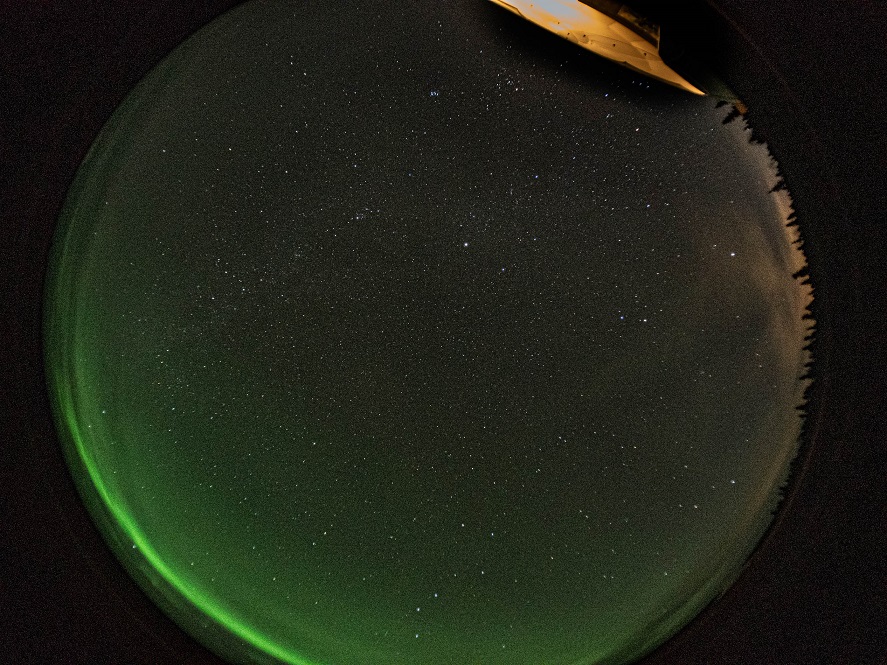 Jeff Pohlman photo. A full frame all sky view showing the northern auroral arc , Big Dipper (bottom), Auriga (top)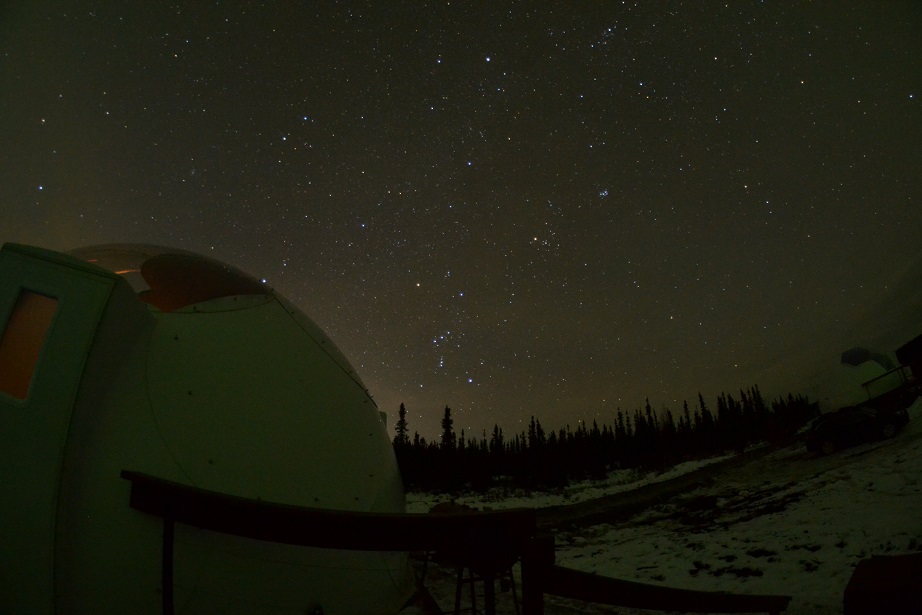 Gemini, Orion, and Auriga behind our dome. Lynn Palmer photo. The glow behind the dome is from Fairbanks.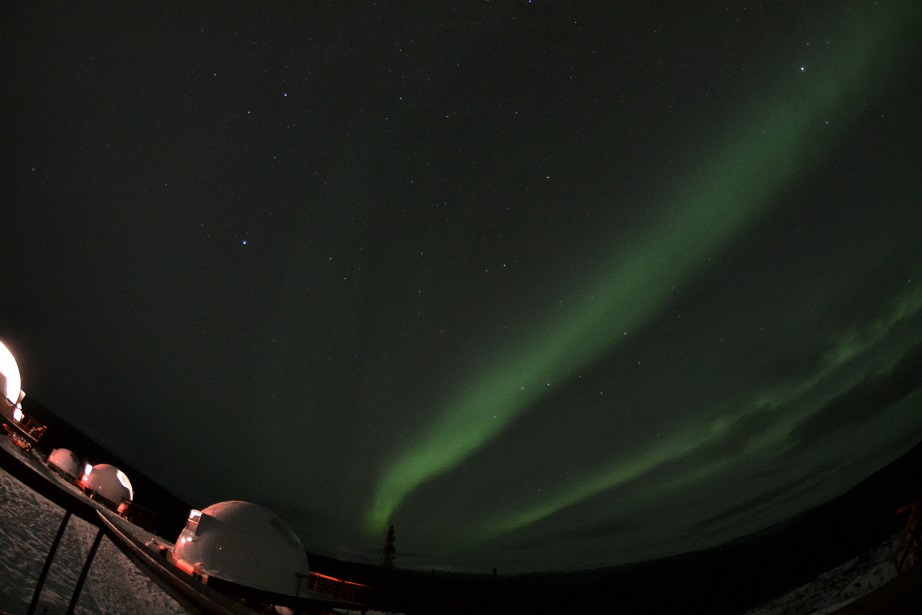 Things starting to percolate on the morning of October 29 BUT ONLY AFTER 5AM. Lynn Palmer photo.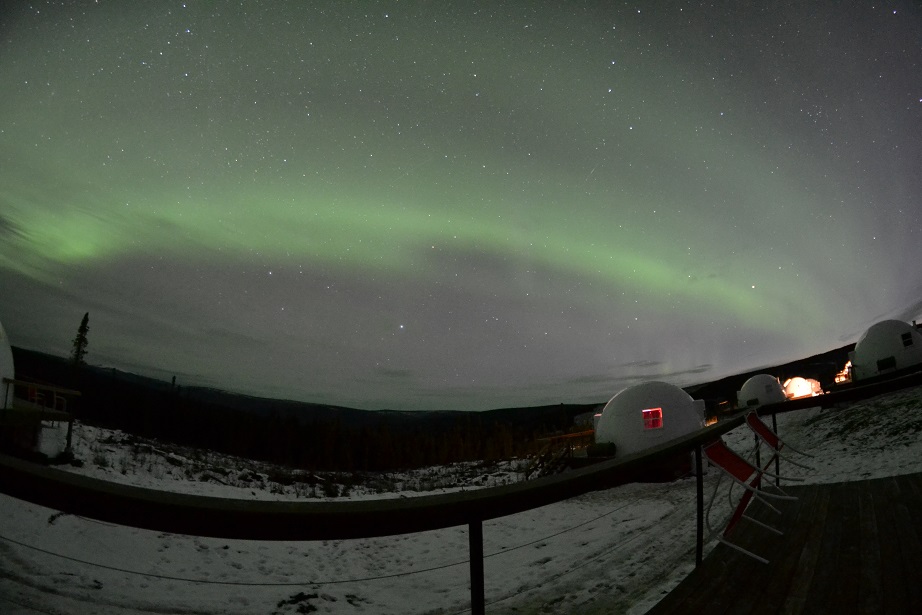 Multiple arcs with beams developing underneath. Lynn Palmer photo.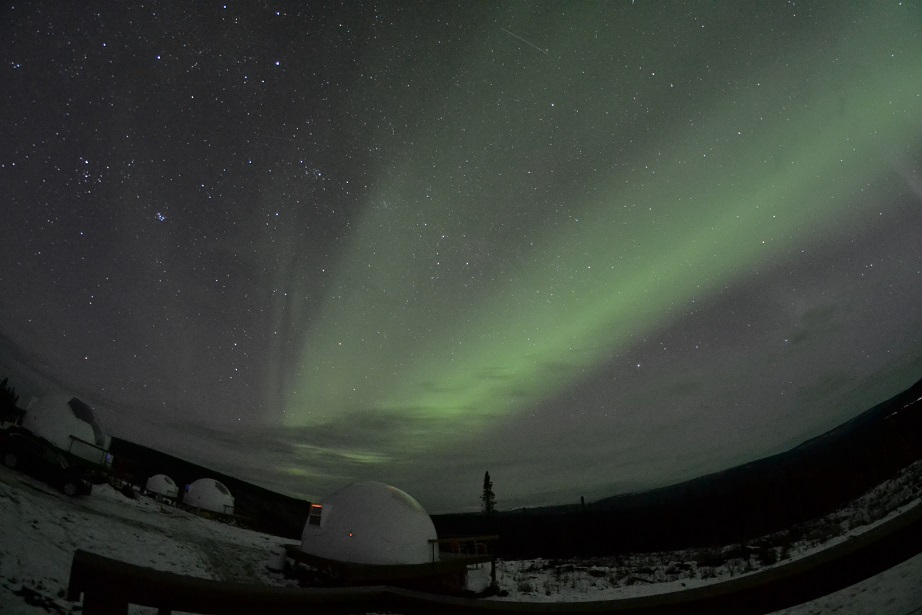 A huge band expands to the west. Note Taurus, Pleiades and a satellite in this view.  Lynn Palmer photo.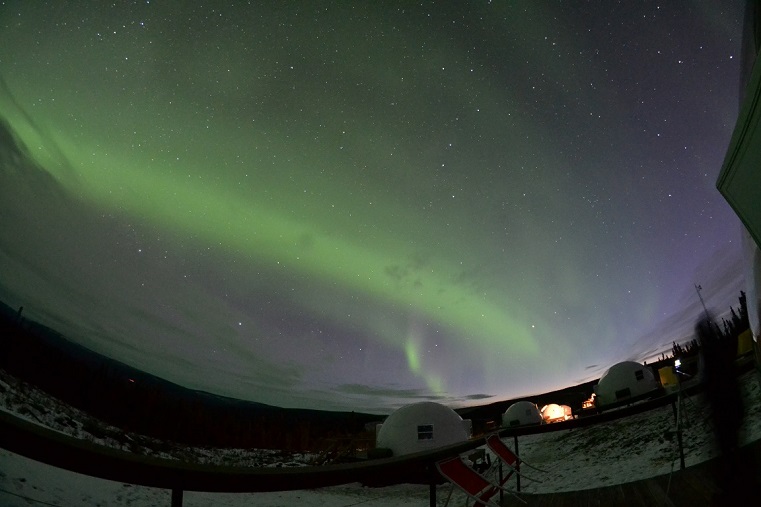 Twilight becoming visible as the large green arc in the North maintains its structure with beams forming underneath and migrating to the east. Lynn Palmer photo.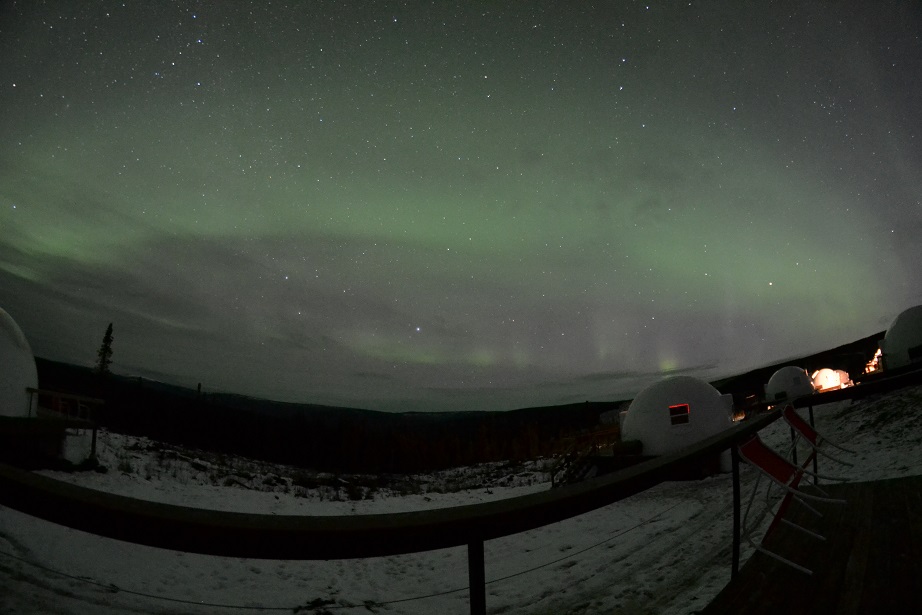 Additional beams build, move and disappear and are replaced by others. Lynn Palmer photo.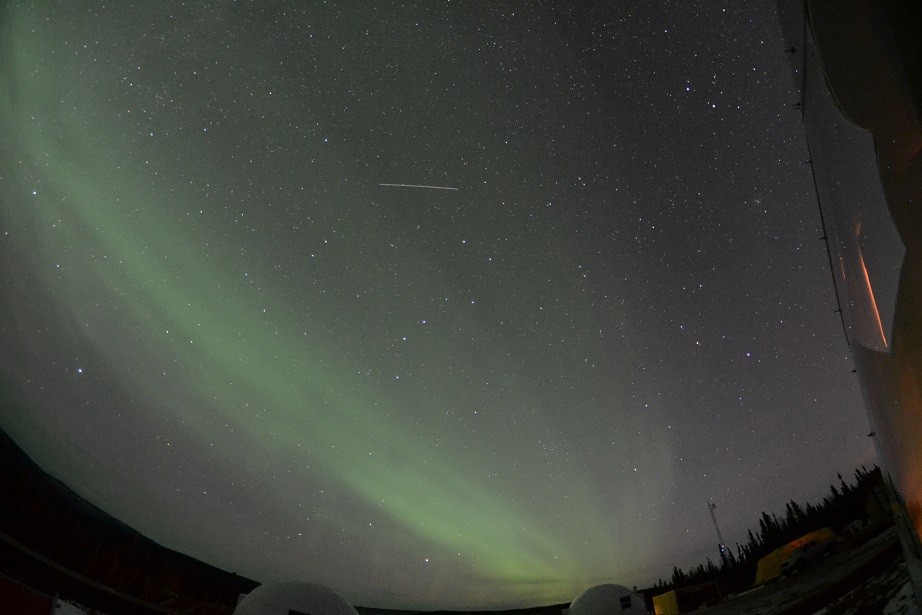 A wider scale expansion of the northern arc breaks into parallel pieces. Note the satellite trail passing between the North Star (upper left of track) and the Big Dipper (just below). Leo is to the lower right. Our site was at latitude 65 degrees making the North Star 65 degrees above our north horizon. Note the glare of a light on our dome to the right from another dome's light.  Lynn Palmer photo.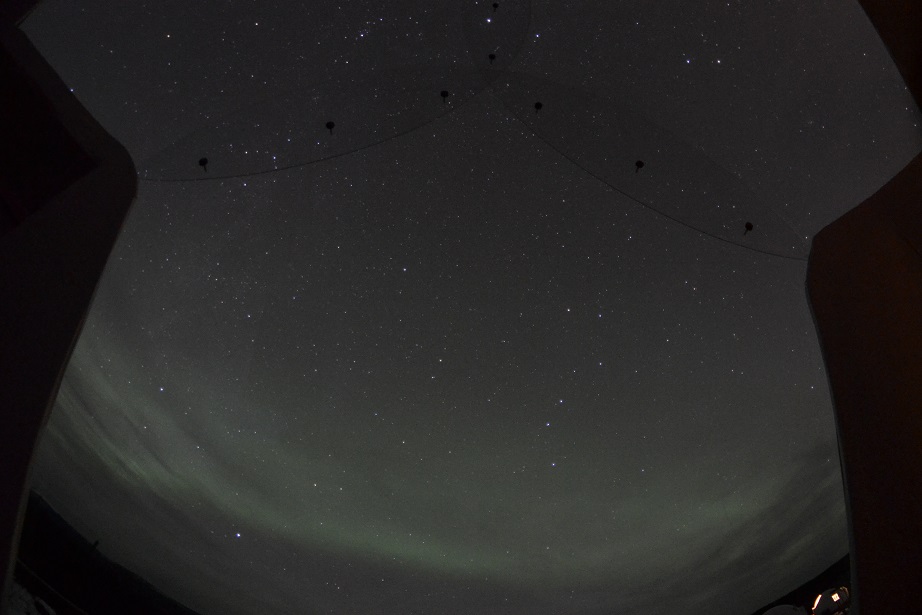 A photo shot from inside the dome after all light sources were covered. You can see the bolts in the plexiglass dividers in the upper part of the screen.  Paul Maley photo.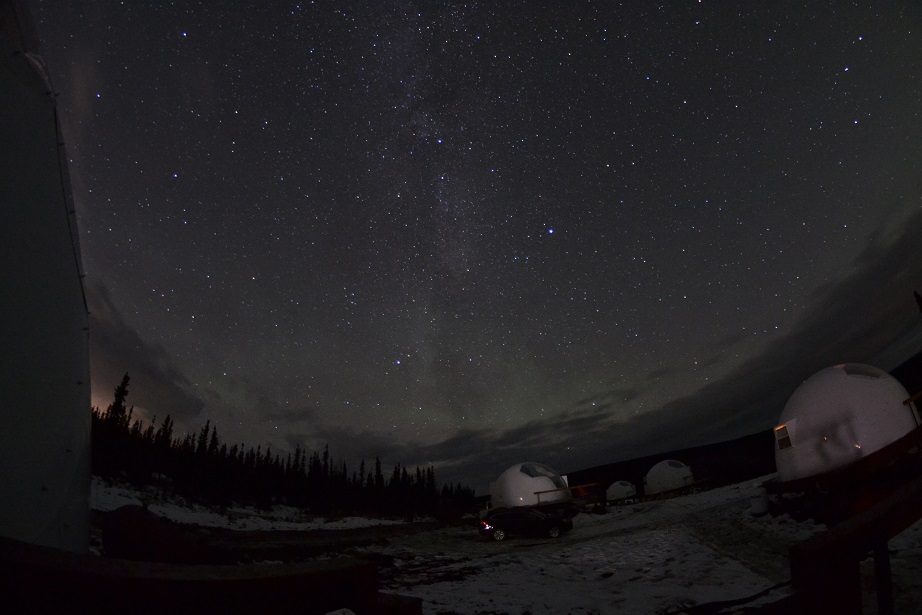 With no Moon up, the Milky Way is visible running from top to bottom showing Aquila, Lyra, Cygnus, Pegasus and other constellations. Glow at left is from Fairbanks city lights.  Lynn Palmer photo.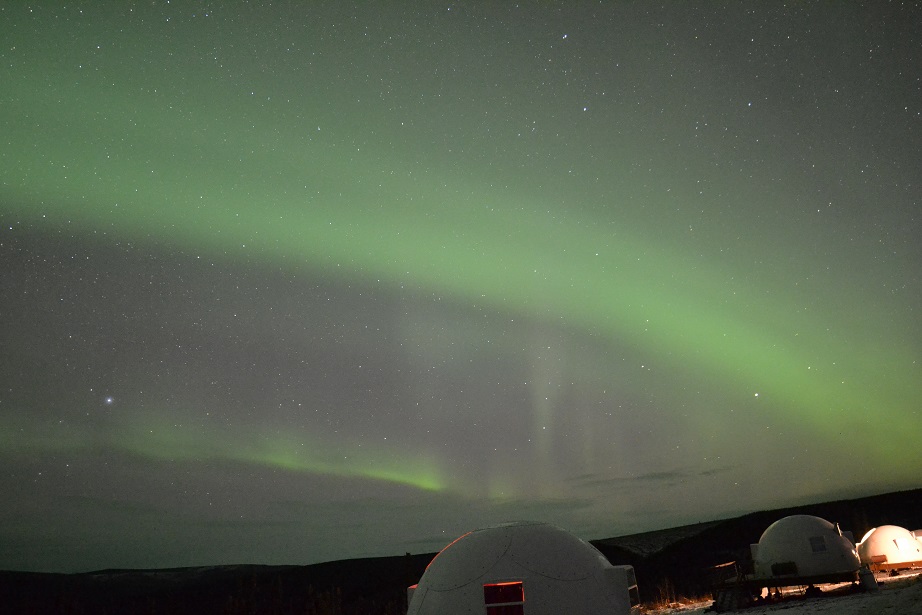 Beam migration below the main arc.  Paul Maley photo.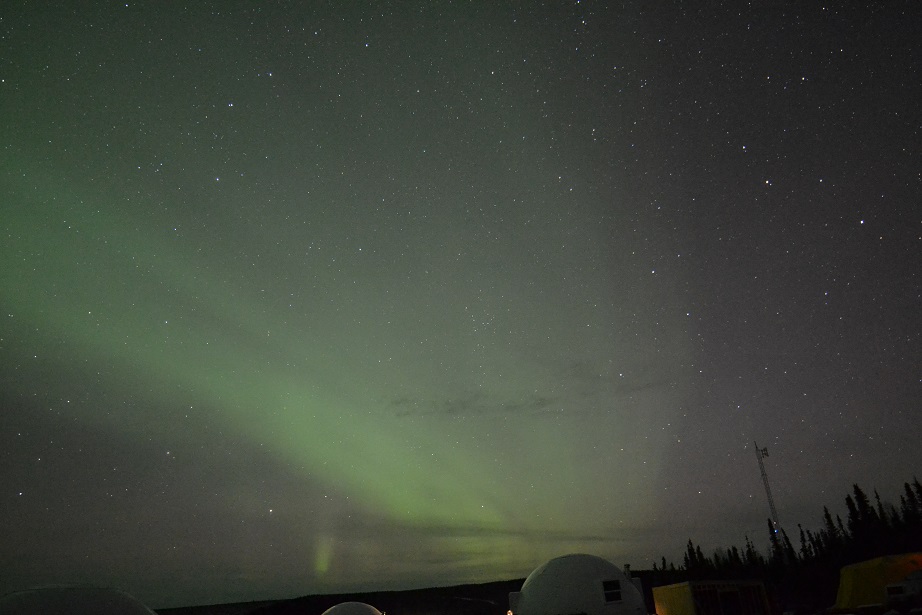 Beam to the left of the main arc with southward expansion of the arc to the right. Paul Maley photo.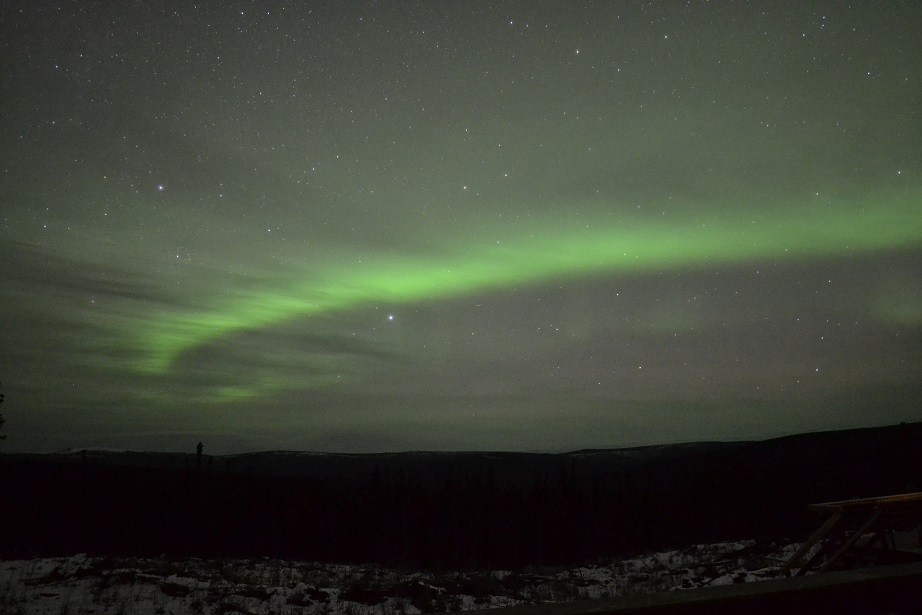 Westward arc expansion. Paul Maley photo with small beams developing underneath. Paul Maley photo.
AURORA AFTER THE TRIP
Taking off from Anchorage for Denver on United flight 1104 we left after midnight on the morning of October 30. This time I got a seat on the opposite side of the plane by the window and saw a really outstanding display of Northern Lights.  But, I had packed my shutter release so had to use the same technique but using my finger to press the exposure button.  Nearly all had stars that were not really points but the intention was to capture some of the displays. See below. The display lasted about 1.5 hours as we moved farther away from Anchorage.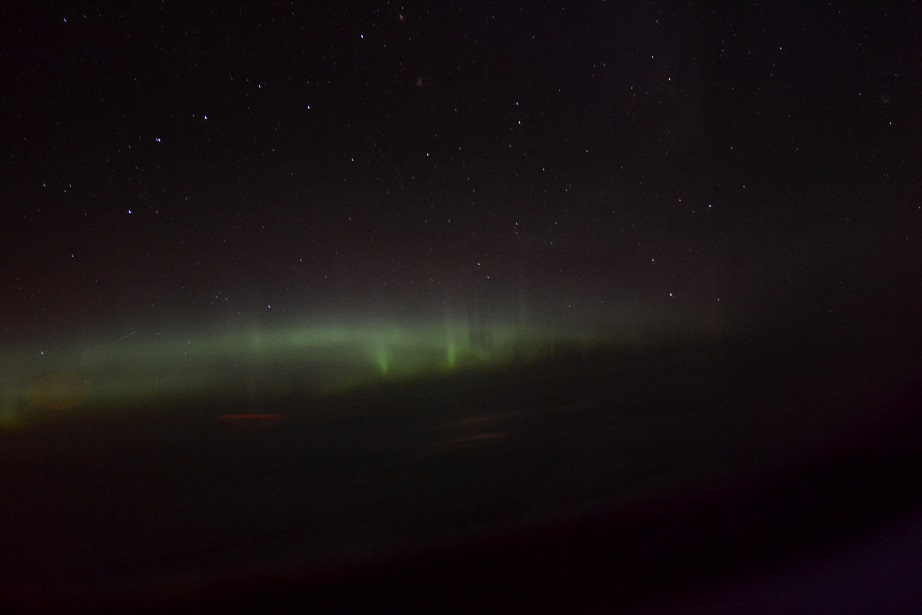 Start of activity. Paul Maley photo.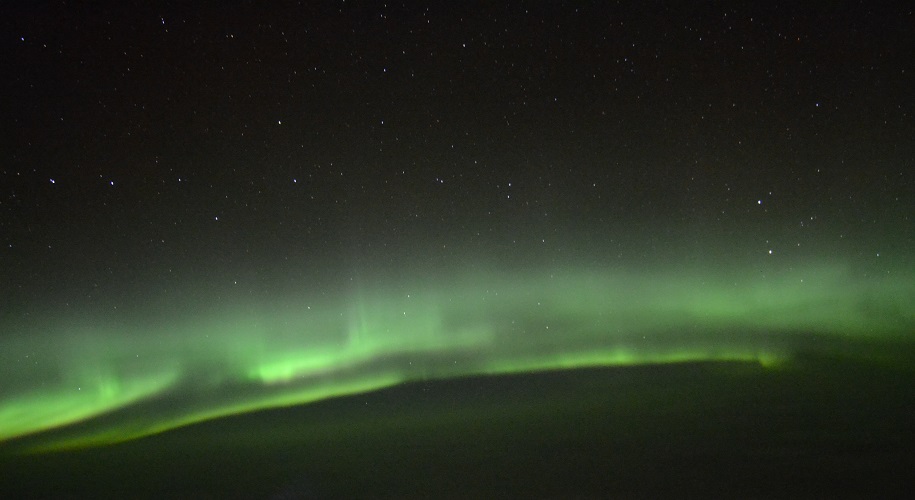 Two auroral arcs just below the Big Dipper. Paul Maley photo.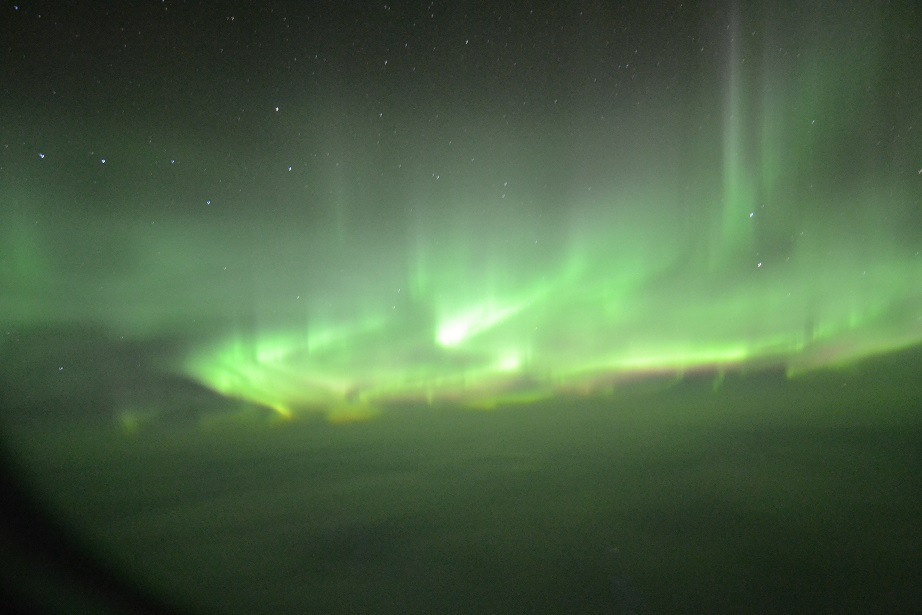 Wow! Spectacular intense curtains.  Paul Maley photo.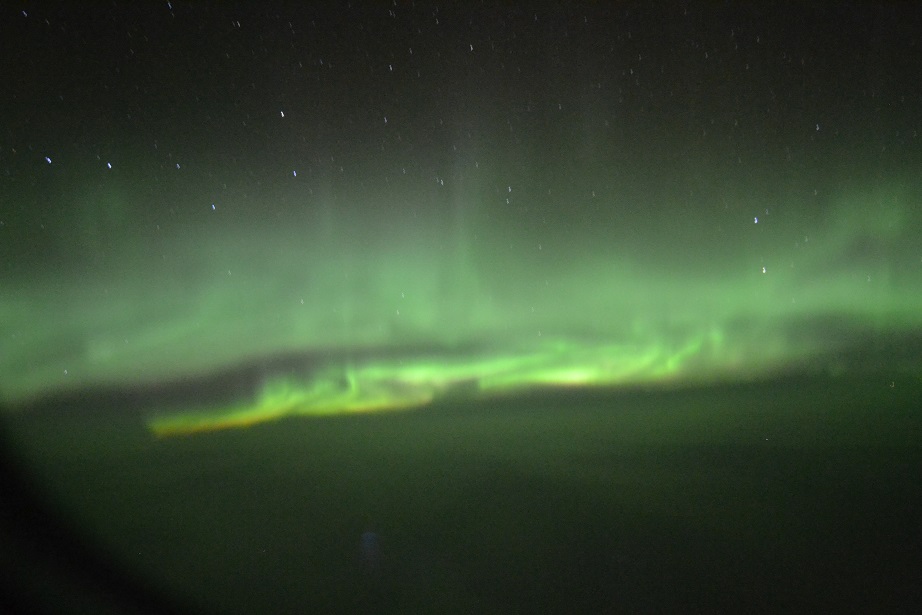 Complex and quickly changing Northern Lights. There were many more images like this.  Paul Maley photo.
MISCELLANEOUS PHOTOS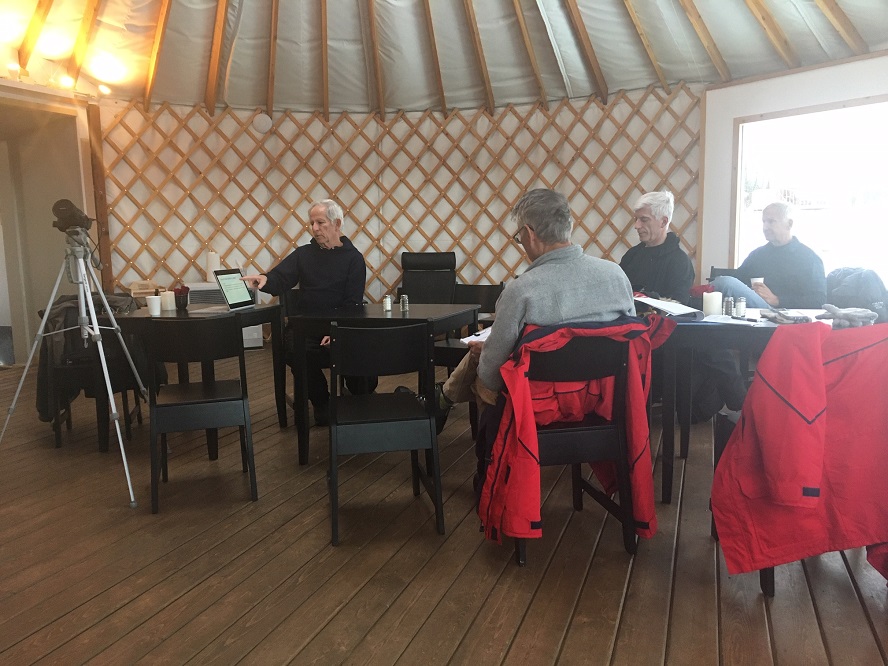 My briefing on how to take proper aurora images to the group inside the restaurant. Lynn Palmer photo.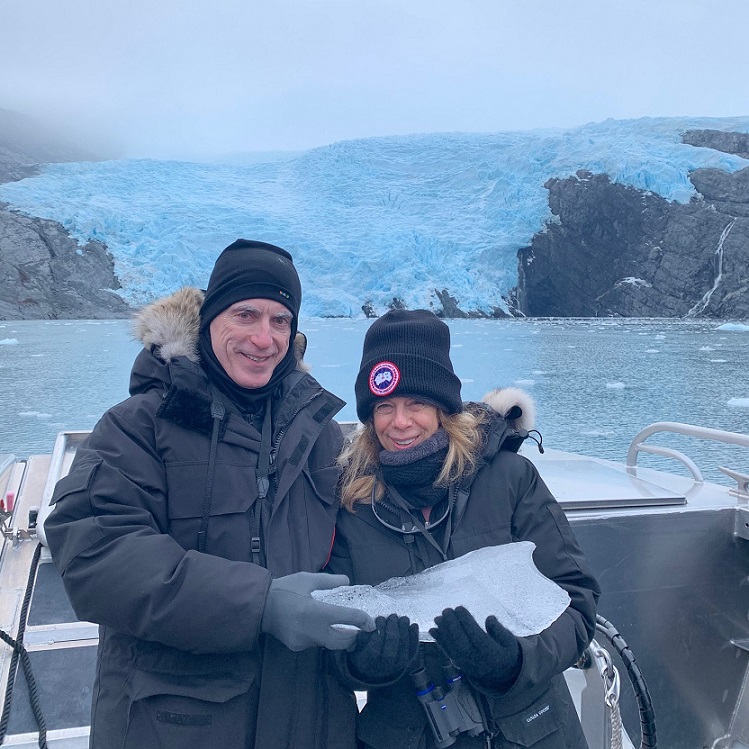 Vicki and Joe Steeger at Blackstone Glacier after the trip.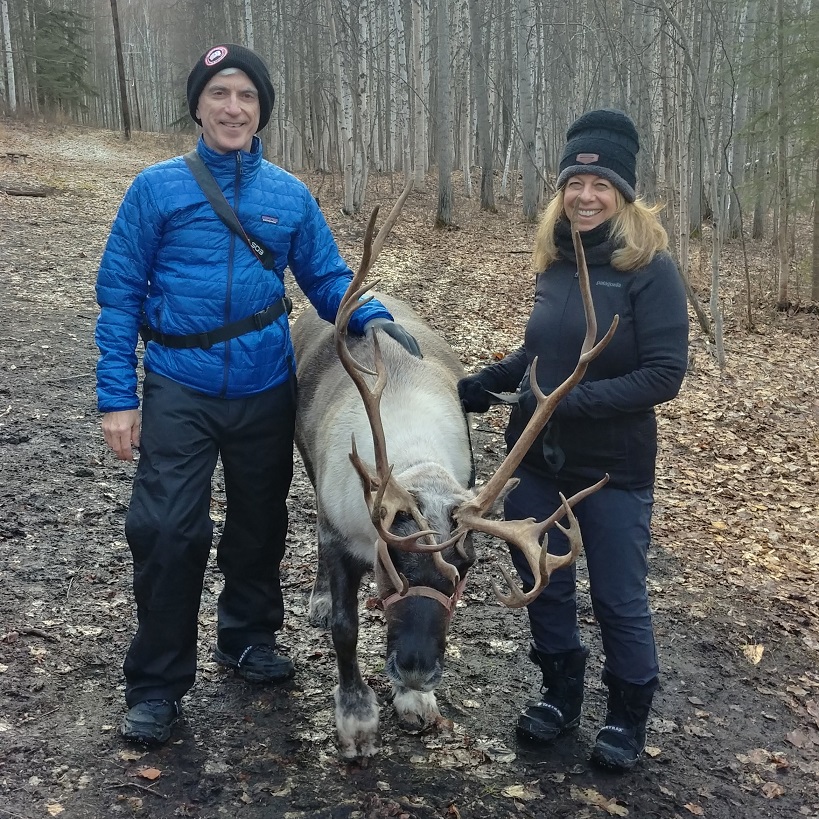 Vicki and Joe at Reindeer Ranch.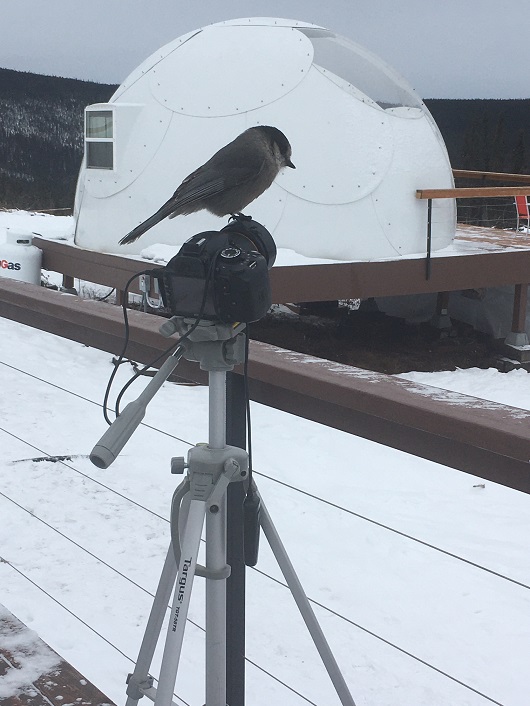 Bird on camera.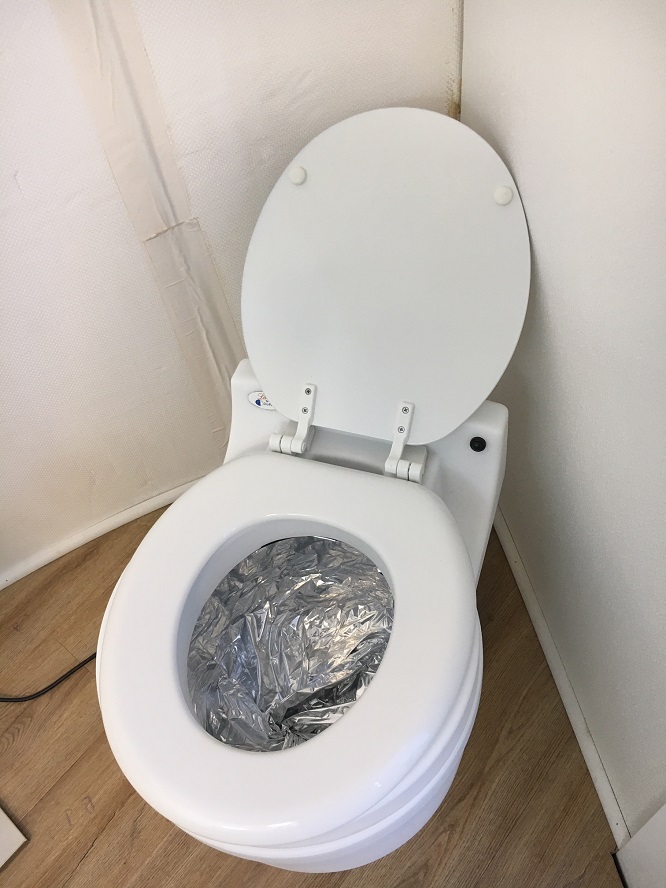 The dry toilet in each dome.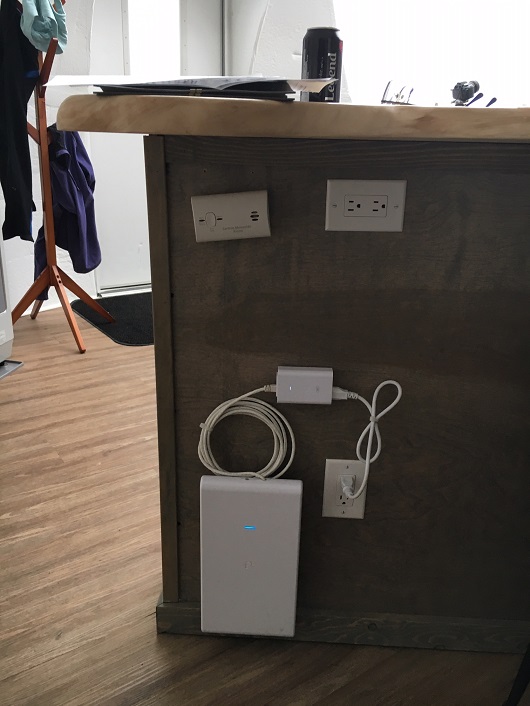 Carbon monoxide alarm and router location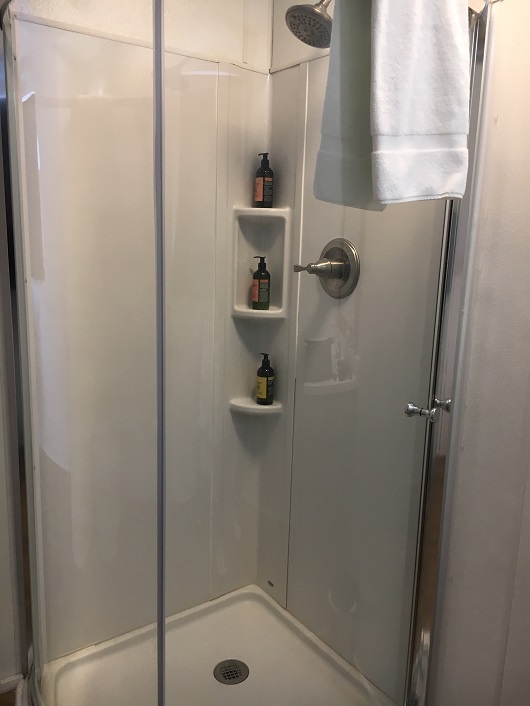 The really nice shower with shampoo, conditioner, body wash.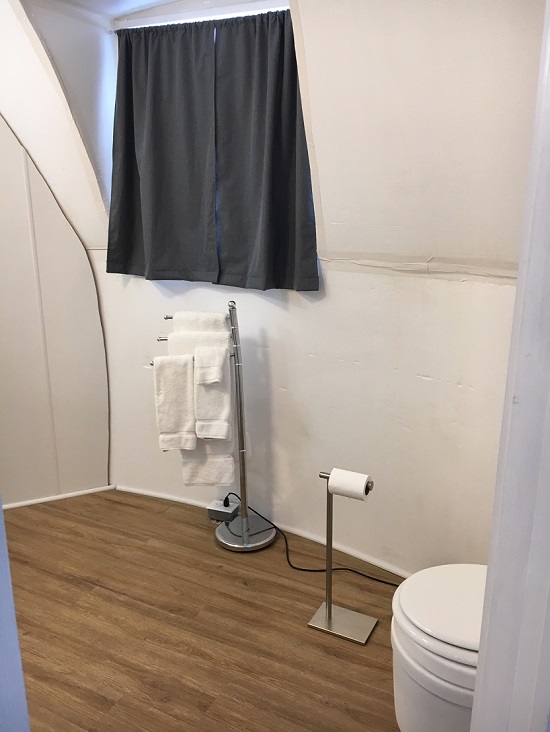 Bathroom blackout curtains, towel, dry toilet.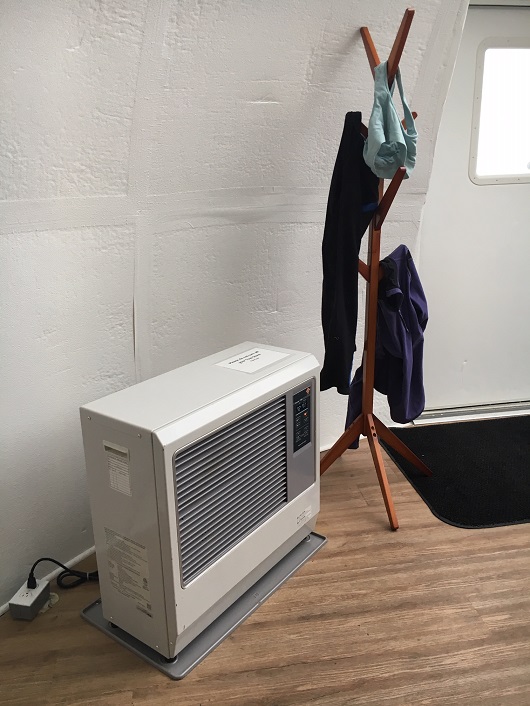 Heater and coat rack in the dome. Note the tape used to cover seams inside the dome.