RESULTS OF OUR 17TH AURORA EXPEDITION MARCH 2019
by Paul D. Maley, NASA Johnson Space Center Astronomical Society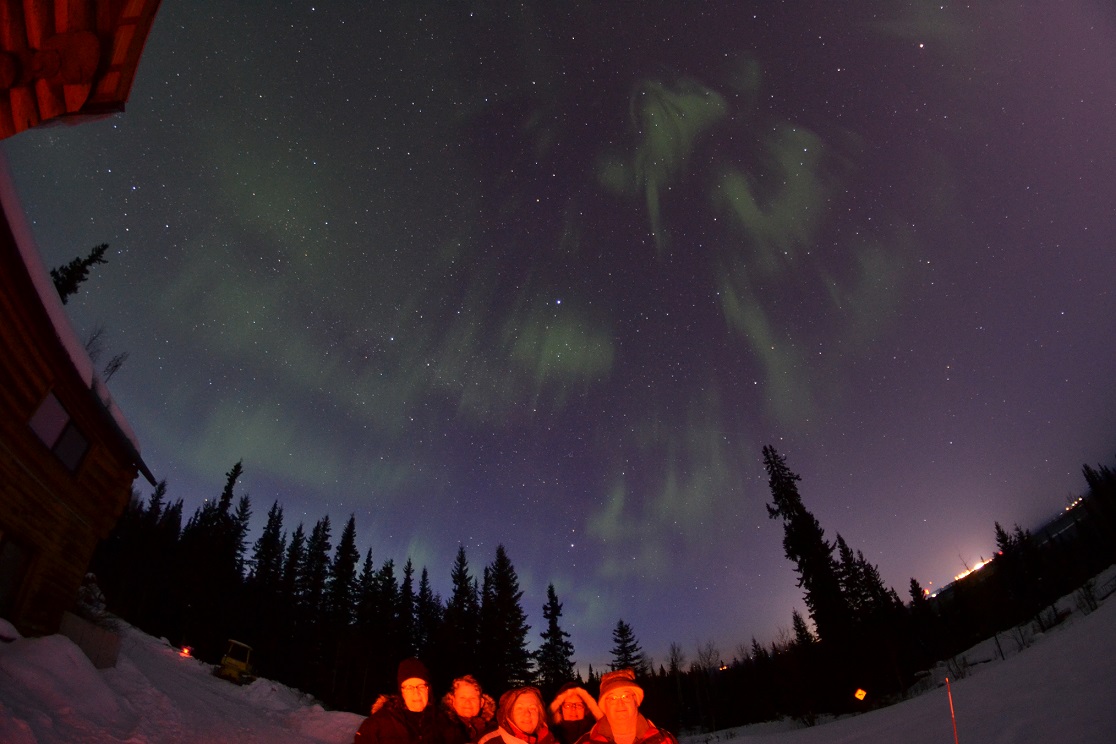 A partial group photo with Lynn Palmer, Rose Kress, Connie Haviland, June Mirecki, and David Haviland on March 5, 2019.  Note the constellations of Cassiopeia on the left, Lyra in center, Cygnus left of center and Aquila at the lower edge.  P. Maley photo under aurora.
Our 17th aurora viewing expedition completed in Fairbanks with 11 out of 15 people participating. Unfortunately due to a serious illness in the family four of our team had to drop out at the last minute.  The weather in Alaska during this trip was not very good. Our first night of the four night trip was the only decent night with 100% clear skies. But the next three nights were cloudy, sometimes with snow, with only a brief period on the final night where one tour member saw a green glow on the horizon.  Nevertheless everyone had a good time and we will look forward to a different venue on our next expedition in October.
The team this time consisted of Paul Maley, Lynn Palmer, Jeff Pohlman, David and Connie Haviland, Rose Kress, June Mirecki, Bridget and Bill Panco, Carl Christensen and Jo Ann Novoson. Temperatures during our trip were quite moderate this time given that it was March. The lows ranged from -1 to -8 and highest +20 to +30 deg F. This compares with the normally expected temps of -25 to 0 deg F.
On our first night (March 4) we were able to see a brilliant Iridium flare as shown below.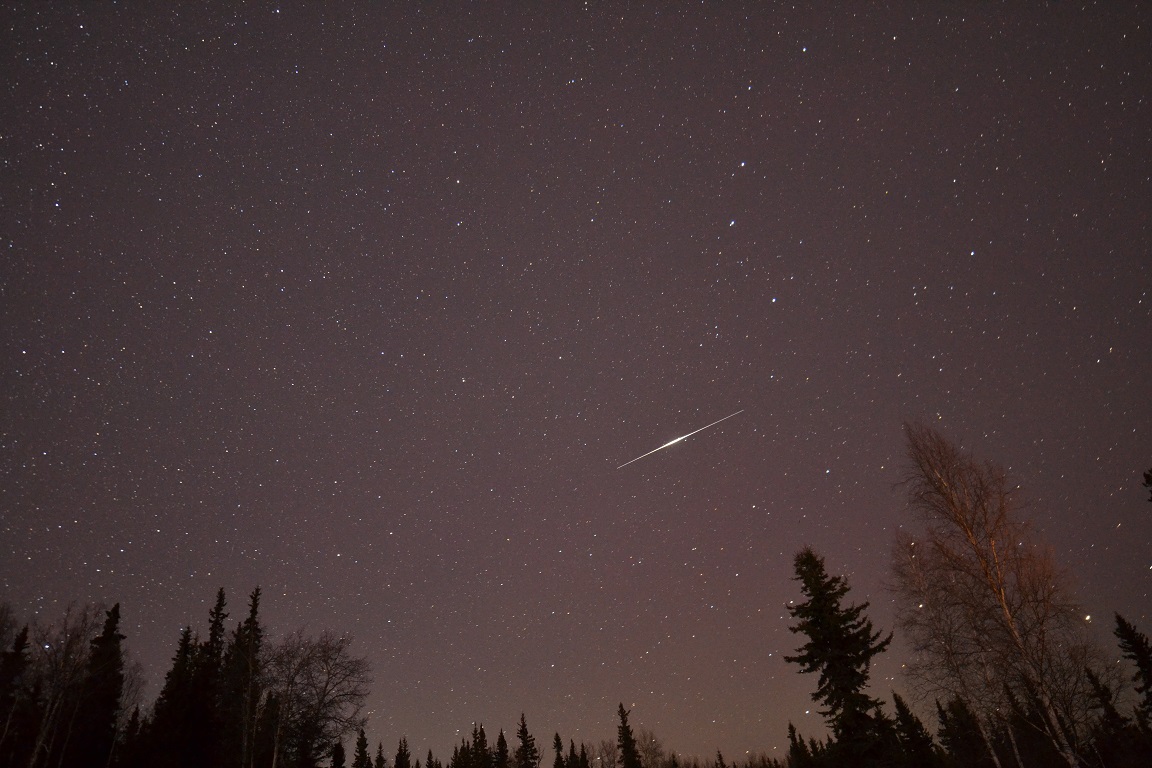 This brief exposure shows a -7 magnitude Iridium 64 flare that occurred at 9:39pm Alaska time on March 4 as the satellite passed through our northeastern sky.  Three stars in the handle of the Big Dipper appear just above the right edge of the trail with both Mizar and Alcor split.  A 14mm lens was used.  P. Maley photo. 
Around 2:30am March 5 there was a brief period where moderately bright green aurora was seen. A few members of the group were out and managed to capture the following images.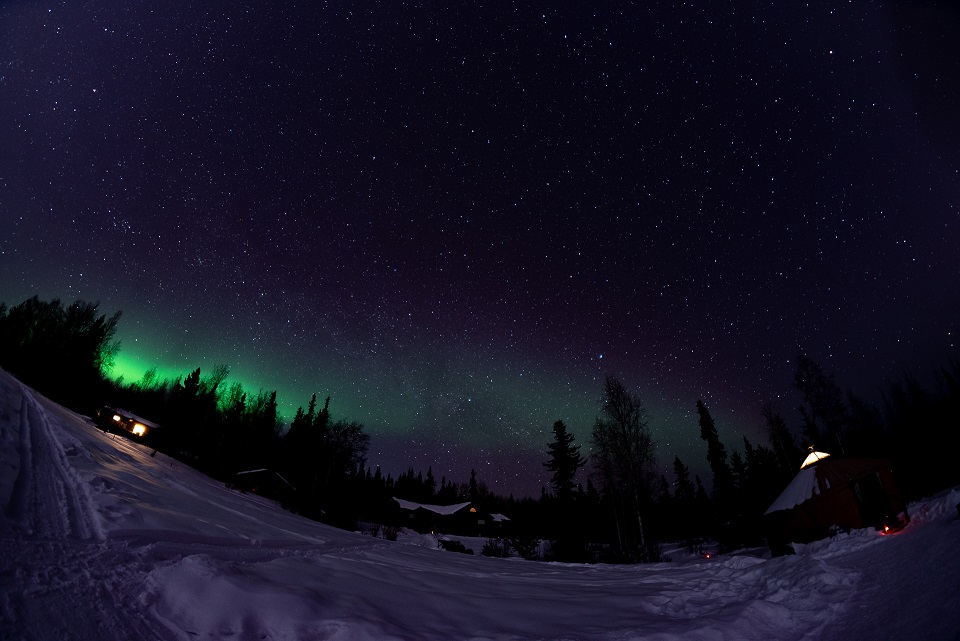 Start of activity 2:11am. J. Pohlman photo.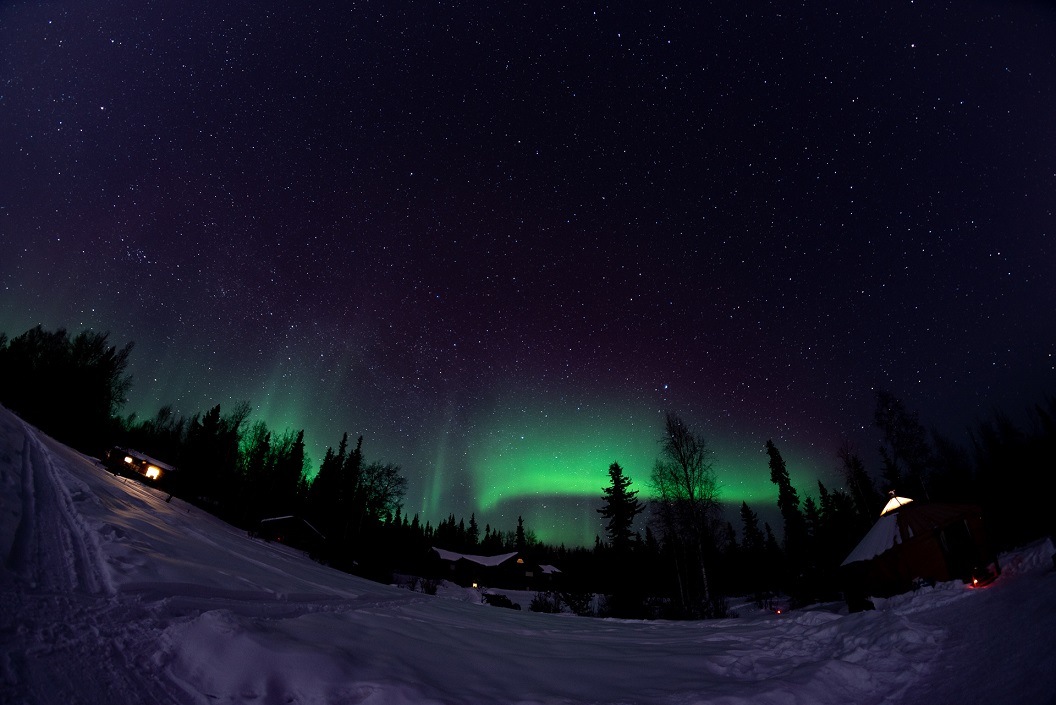 Middle of activity 2:16am. J. Pohlman photo.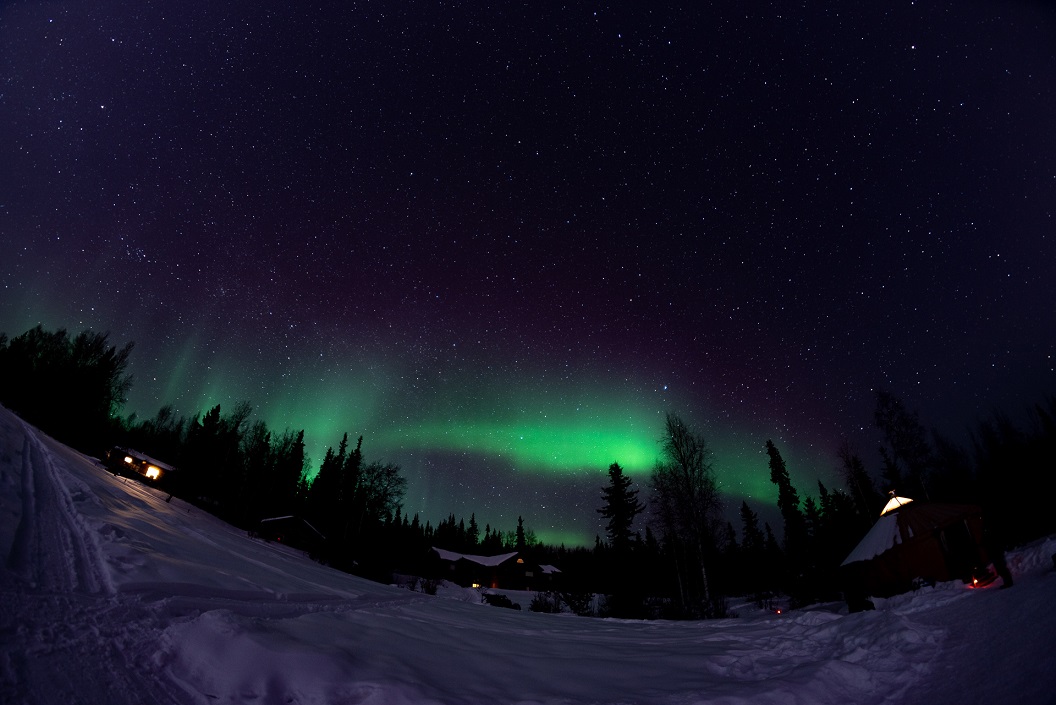 Near the end of activity 2:17am. J. Pohlman photo.
Around 5am I looked out and saw some faint aurora and banged on everyone's doors to get them to come out.  Because it is winter, it took some people longer than others to get their winter gear on and come outside: between 5-20 minutes.  Carl Christensen obtained the following representative image.  These are what I call level 1 aurora. That is, they appeared white to the naked eye but with a time exposure they showed as light green depending on the length of the exposure.
 Aurora in the eastern part of the sky. Exposure by Carl Christensen.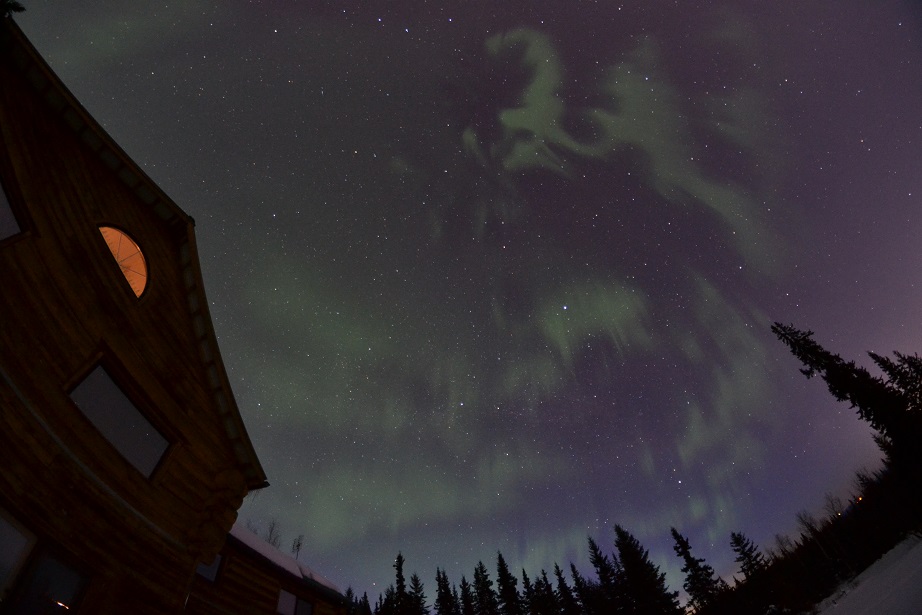 These patchy aurora appeared somewhat like ghostly Halloween images at times.  The constellation Lyra is just to lower right of center.  P. Maley photo.
The faint level 1 aurora stayed in view until just before dawn when the impending sunrise wiped them out.
A most important effort is being made by Jeff Pohlman to correlate his magnetometer with actual auroral activity.  He planted a magnetometer (next photo) in the ground to record a large amount of data with the goal of eventually capturing magnetic deviations from the background to large episodes of Northern Lights action.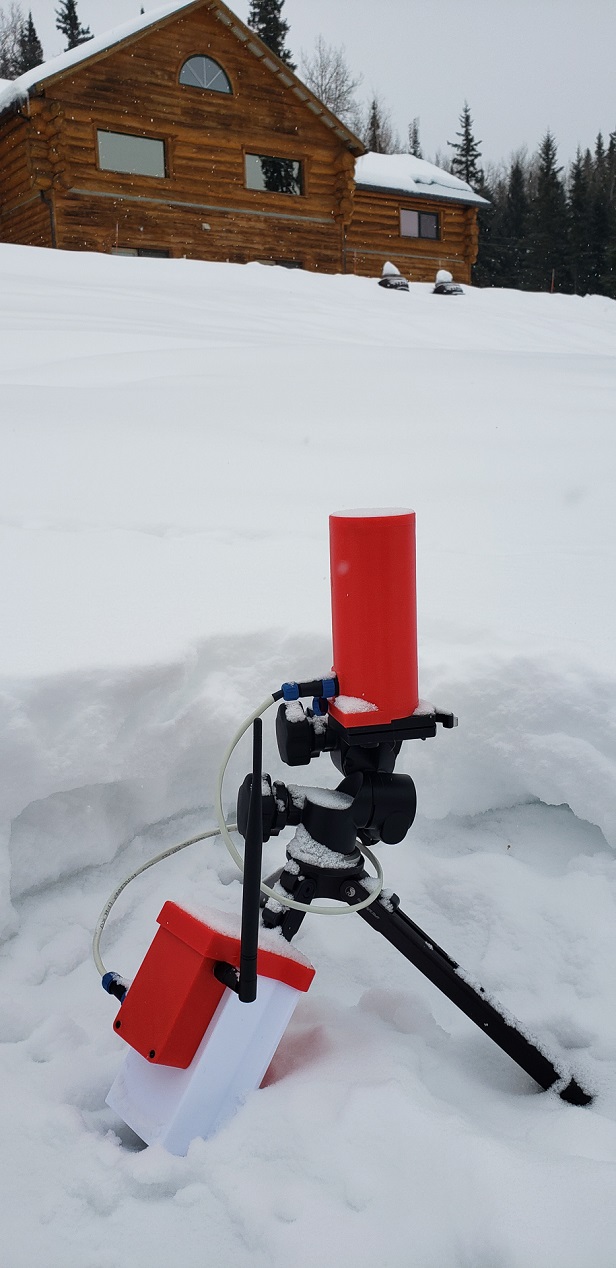 Magnetometer in the snow.  J. Pohlman photo.
A magnetometer measures the magnetic field of the Earth at ground level in three directions.  Jeff's magnetometer output showing the three typical components which include the magnitude of the vectors in the perpendicular directions of North, East and nadir.  Magnetism is a quantity measured by both direction and strength.  Deviations are measured in nano Tesla, where the magnitude of the Earth's magnetic field is approximately 50,000 nano Tesla and a Tesla is a unit of magnetic flux density.
MISCELLANEOUS TRIP IMAGES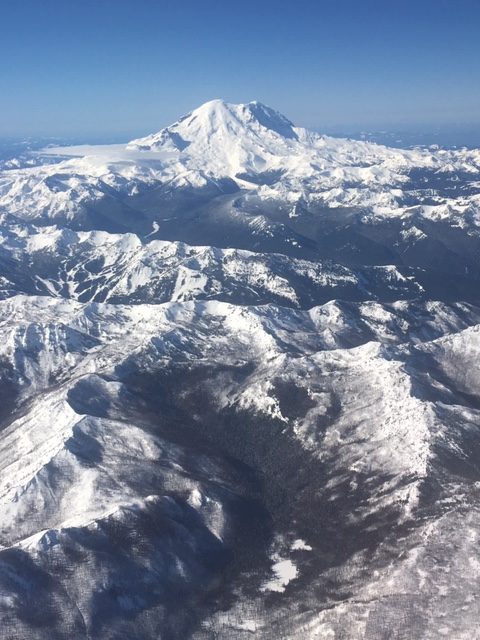 Mount Denali (formerly McKinley) from the air on the way to Fairbanks. L. Palmer photo.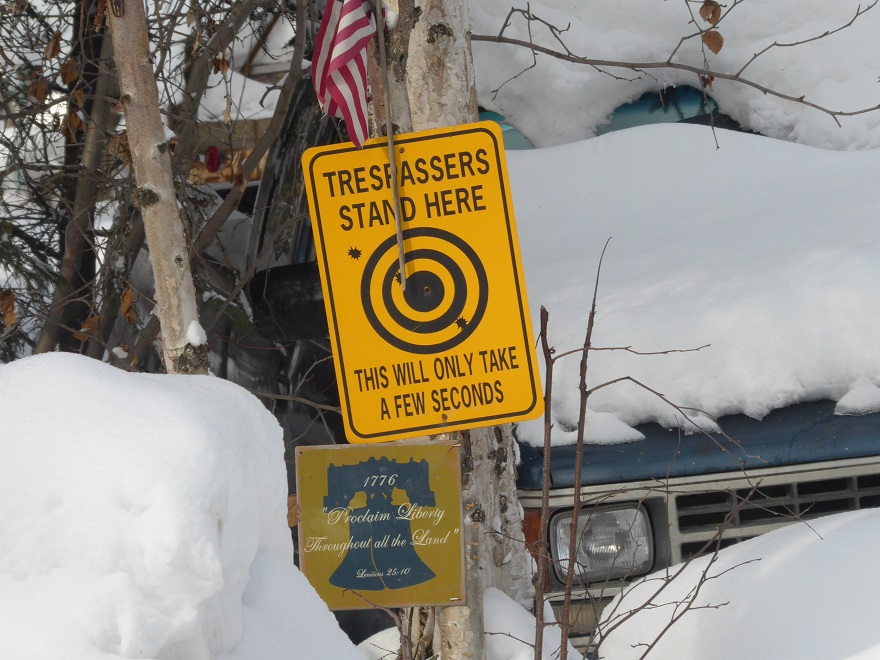 Alaskans dont take kindly to trespassers. P. Maley photo. 
Rose and June in a sled with dogs jumping at the chance to run.  J. Pohnlman photo.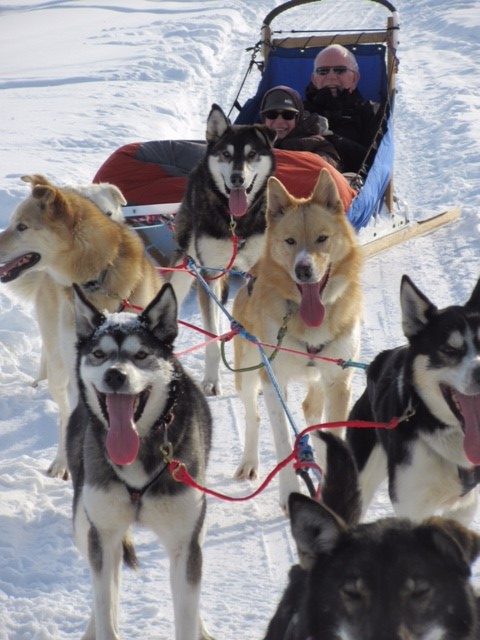 Carl and Jo Ann on the sled.  Photo taken by Peter, an employee at the dog sled site.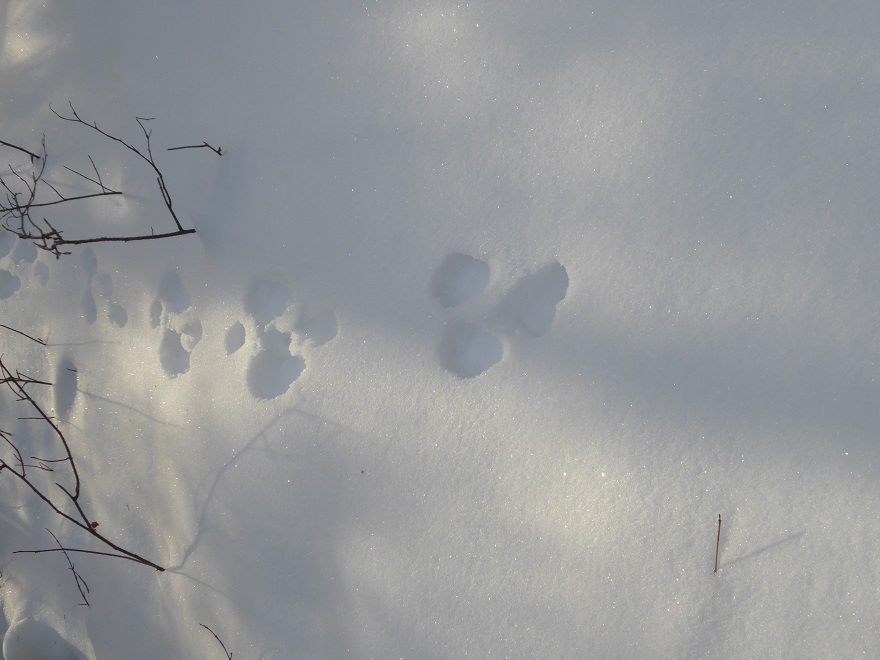 One of a number of different types of tracks made by animals in the snow some by dogs, humans, foxes, squirrels, moose.  P. Maley photo.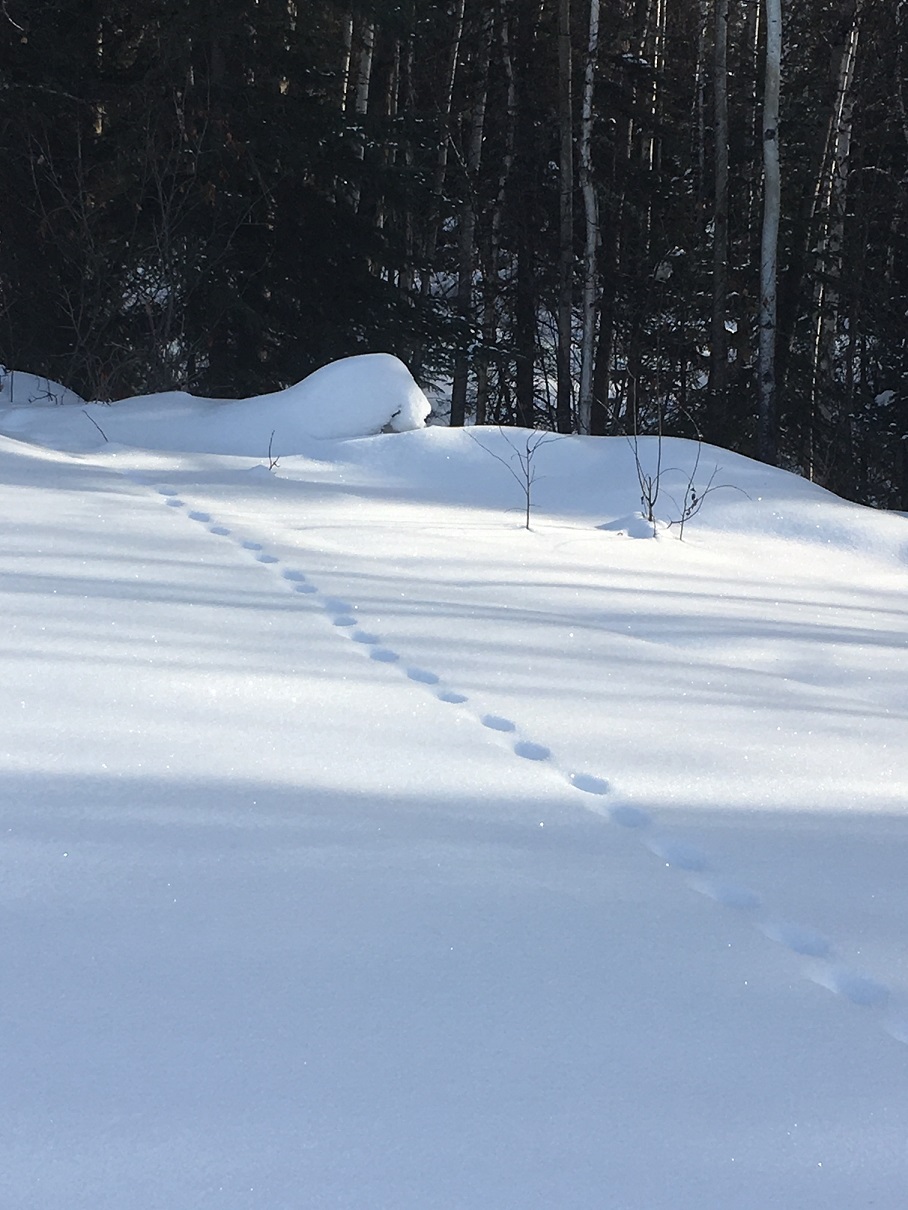 Still another set of tracks. L. Palmer photo.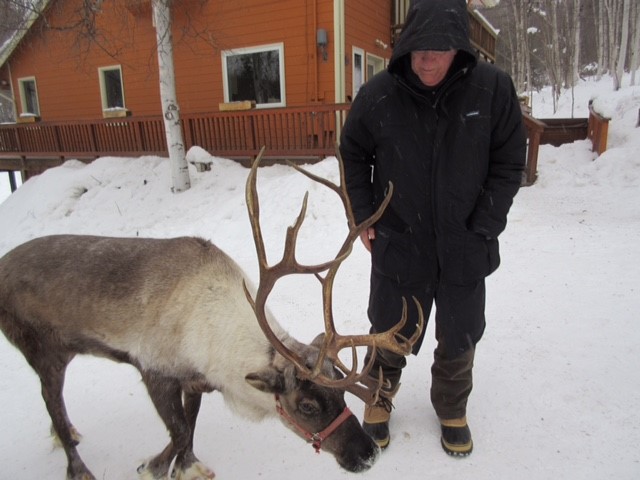 Carl with one of the animals on the reindeer walk.  Jo Ann Novoson photo.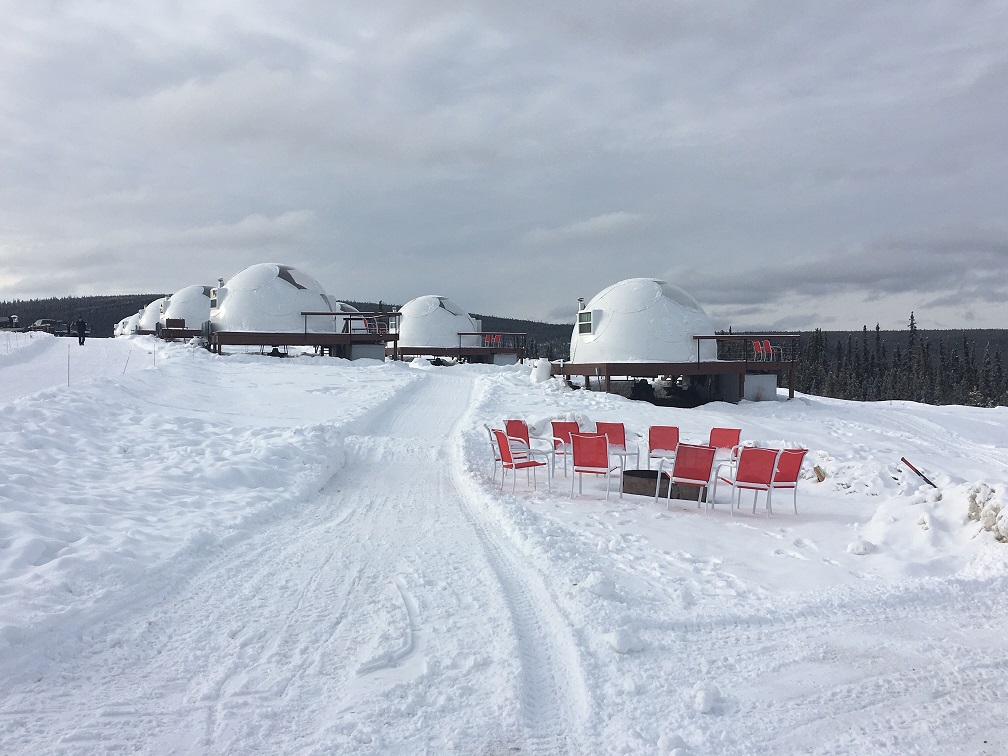 A few of the north facing domes from the site of our next expedition.  L. Palmer photo. 
ICE ALASKA EXHIBITION
On March 7 we took a trip into town to see the ice carvings at the Fairbanks fairground.  The following link shows the prize winning sculpture photos and artist names:
http://sculptures.icealaska.com/en/ Our own photos are shown below.  It is interesting to note that light snow falls covered many of them with a dusting and local fairgrounds keepers were seen blowing the snow off the parts of the sculptures that they could reach. In at least one case their actions caused on arm to completely break off and hit the ground.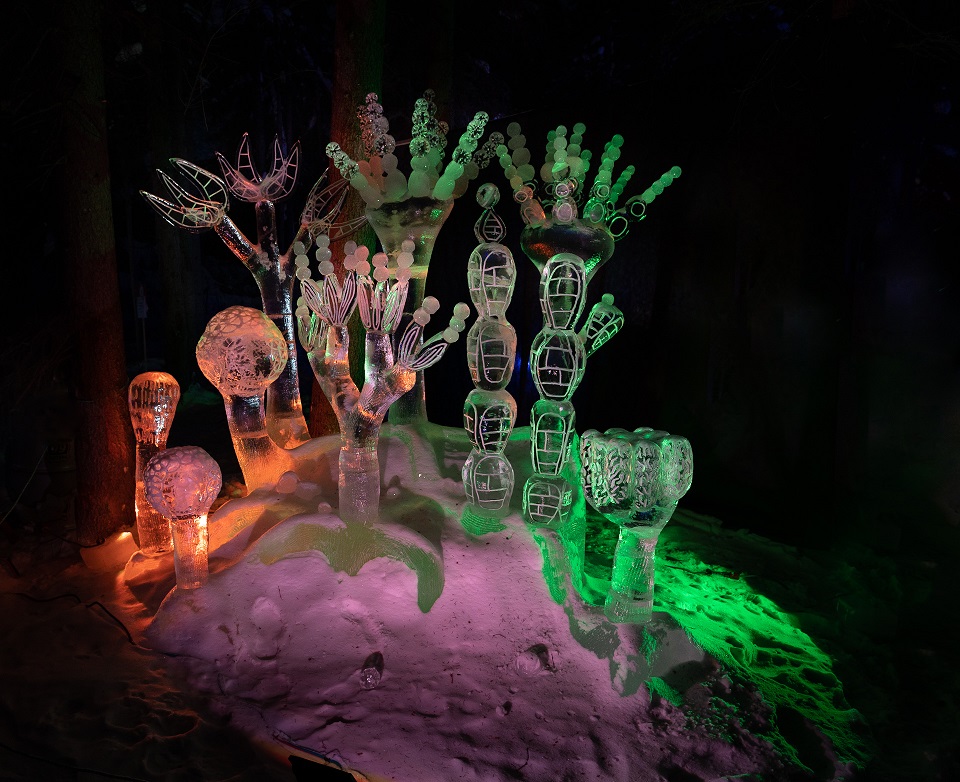 Some sculptures required an explanation description. This one depicts mold.  J. Pohlman photo.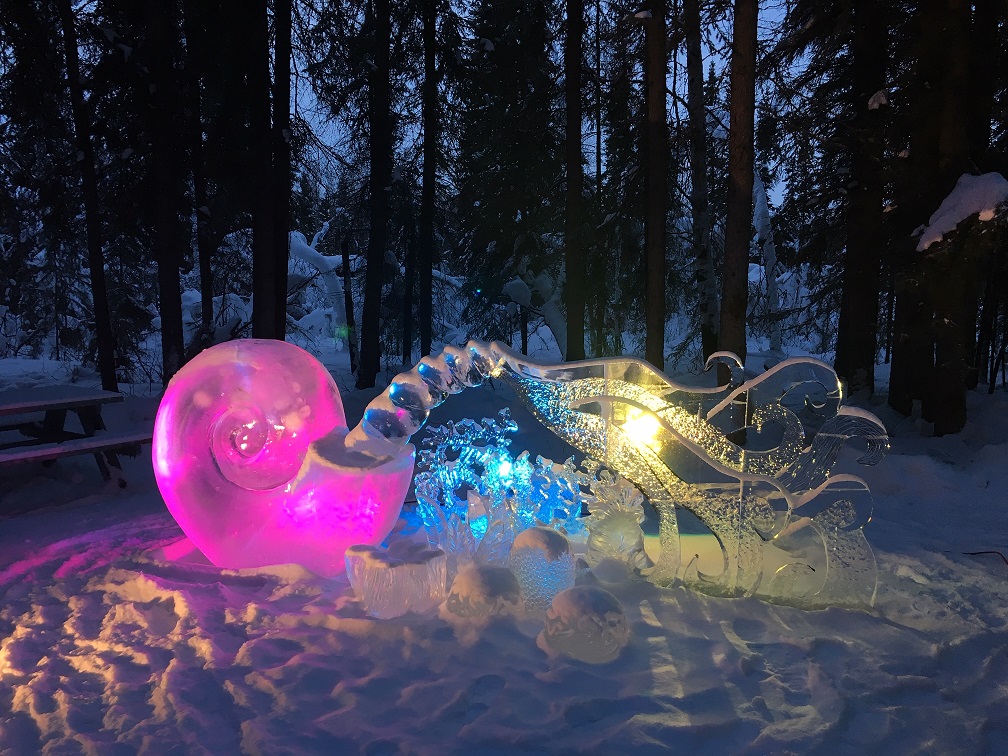 Cornucopia of the sea. L. Palmer photo.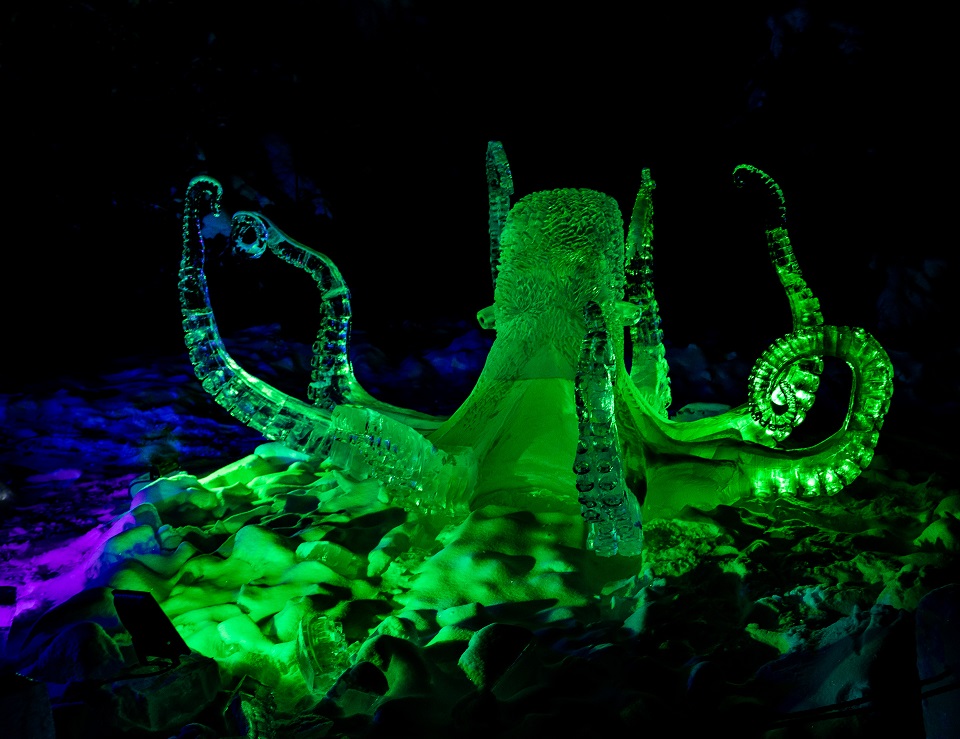 An octopus. J. Pohlman photo.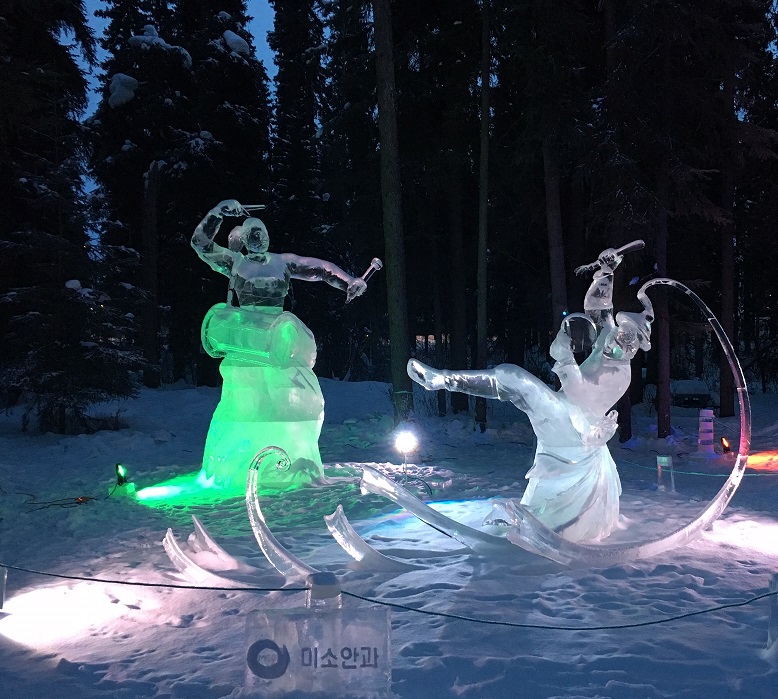 A Korean exhibit. L. Palmer photo.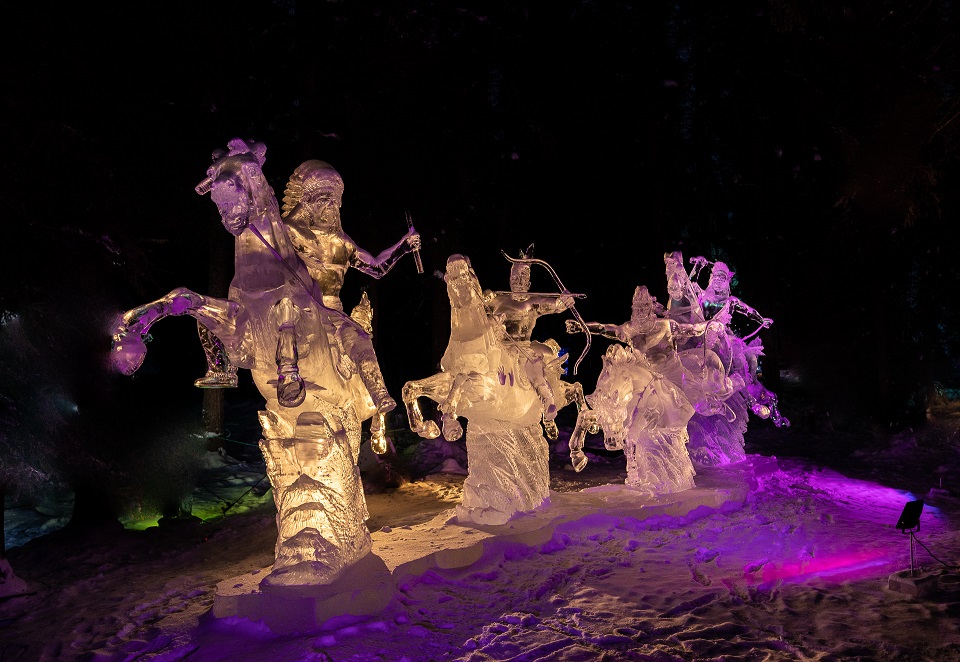 American Indian theme. J. Pohlman photo.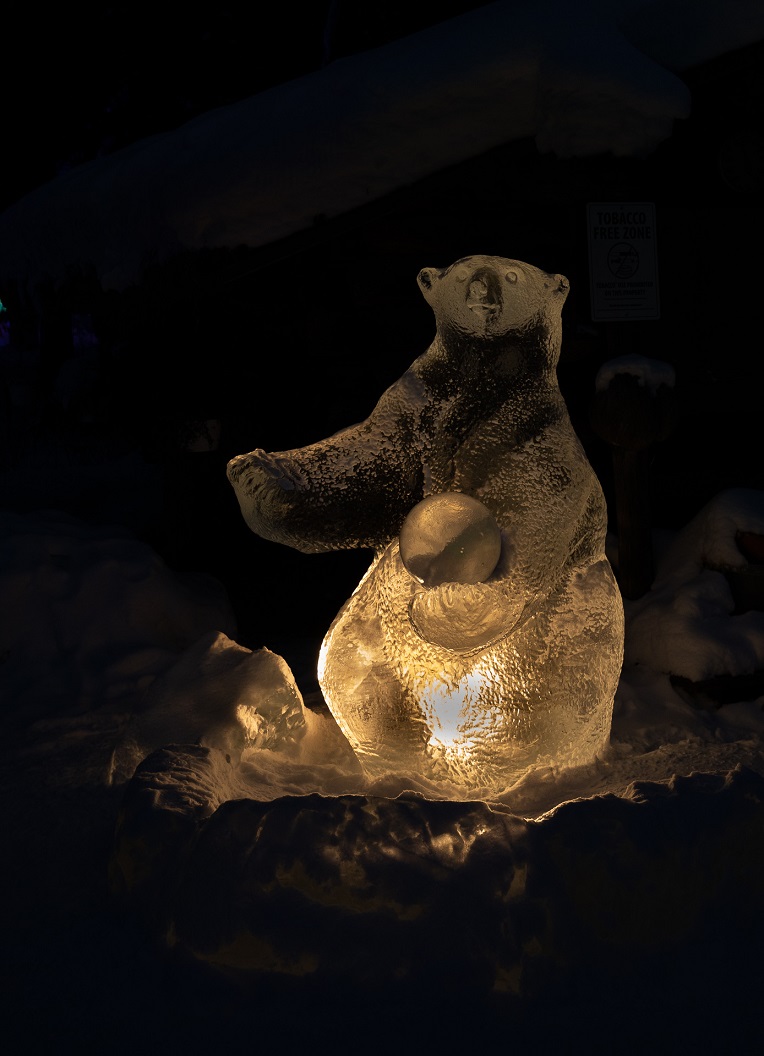 The welcome bear at the exhibit entrance.  J. Pohlman photo.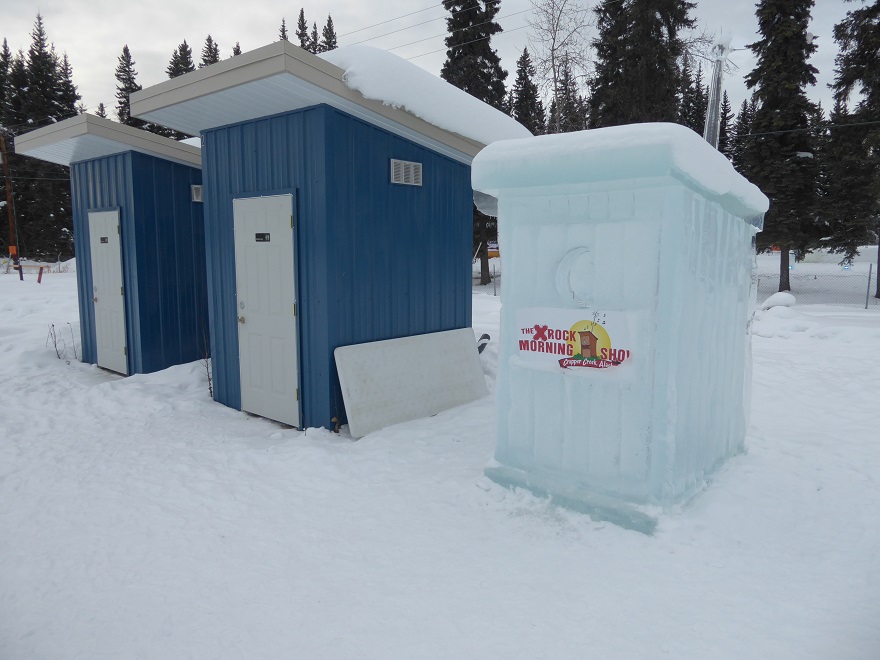 Two real toilets and one ice sculptured one.  P. Maley photo.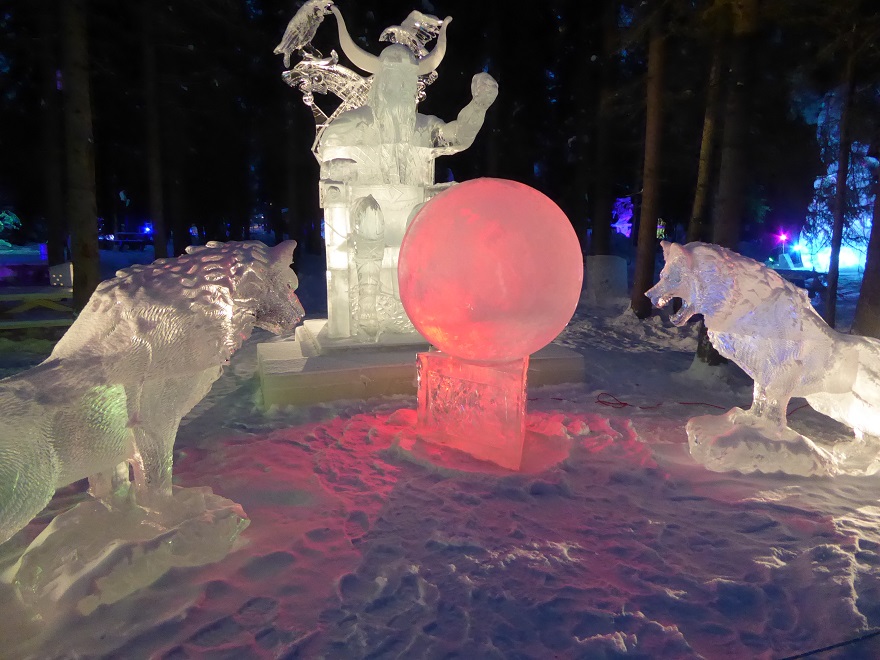 One of the ice sculptures lit up at night.  P. Maley photo.