2010 TOTAL SOLAR ECLIPSE IN FRENCH POLYNESIA RESULTS
by Paul D. Maley, NASA Johnson Space Center Astronomical Society
JULY 11, 2010
Eclipse path over French Polynesia. Courtesy X. Jubier.
Circumstances at the Hao Atoll. Courtesy X. Jubier.
This year we fielded three expeditions to French Polynesia in order to maximize the chances of seeing the total solar eclipse. The largest (62 persons) went to Hao Atoll, the next largest (41 persons) to Hikueru Atoll and the third (12 persons) on the freighter Aranui 3 which was positioned south of Reitoru Atoll as a result of a weather decision. Skies on Hao were clear for the eclipse, cloudy at Hikueru and clear on the Aranui ship during the critical part of the eclipse process. The ship had mobility but this time it was not possible to build in such an option for the two atolls because of cost reasons. Even though both Hao and Hikeru are small atolls, parts of each saw the total phase of the solar eclipse and other parts did not.
This eclipse was characterized by a small drop in temperature, relatively dry environment for all observers, the appearance of a 3rd magnitude star within 45 arcminutes of the sun on some photos (see Li-chun Chen's photo below!), and the first sighting (as far as I know) of an Iridium satellite flare during a solar eclipse process (I made the sighting 24 minutes after 1st contact). In addition you will also see some beautiful images of the southern night sky stars. We received wonderful hospitality on both Hikueru and Hao by local people as well as excellent performance by Air Tahiti's chartered inter-island aircraft which got us to both atolls and back safely and on time. The following are selected photos from all three groups.
Our core land tour was headquartered at the Sofitel Hotel in Papeete and participants enjoyed an island tour and the opportunity to observe the southern hemisphere night skies on two occasions. We chartered two aircraft from Tahiti, one traveling to each atoll; the Aranui 3 spent two weeks cruising amongst the islands of French Polynesia as part of regular freight runs.
The photos were selected based on being of interest and also how well focused they were. Some eclipse images appeared at low magnification to be in focus when in fact they were not.
Our escorts were myself (Paul Maley), Jacques Guertin and Pat Reiff. Unfortunately Claude Nicollier could not attend as he was involved with the solar aircraft test flight in Switzerland.
The group who ran the E5K Run for the Sun. This is a regular feature of Ring of Fire Expeditions begun in 2003. Left to right are Paul Maley, Richard Nugent, Hui Yang, Brian Pistolese, Lynn Palmer, Tim Fitzhugh, Doug Hube, Janet couch, Bob Rea, Michelle Weller, Kim Robertson, Jenns Robertson. William Paciga is not pictured. The run was from the Sofitel to the airport and back on July 10. Photo by D.Weber.
Proper safety warning posted on Hikueru atoll. Photo by P.Maley.
The initial briefing on July 7 held at the Sofitel Tahiti. Photo by L.Palmer.
Fritz Kleinhans at a sunset beach viewing session with eclipse equipment. Photo by L.Palmer.
HAO ATOLL (J. Guertin group)
This was the successful land – based team which experienced clear sky throughout the period of totality but with some passing cloud during the partial phases. The team traveled in an Air Tahiti ATR-72 from Papeete to Hao. Both atoll air charters had very limited in-cabin carrying capacity and everyone was severly restricted weight-wise. Jacques Guertin reports the following:
Hao is about 53km long and 300m wide with a native population of about 1000 where the main occupation is the cultivation of pearls. On getting off the lane the group was met by the mayor's representative and lively polynesian dancers. The mayor indicated the group could set up on the grass or airport parking lot, similar to what was encountered at Hikueru. The airport had toilets (as did Hikueru). A small Italian group set up nearby as was another Japanese group in the village. By 700am and well before first contact everyone with equipment was comfortably set up.
First contact showed partial cloud cover and there were two small sunspots visible. Shortly after 800am a Boeing 737 landed with speculation that John Travolta was onboard (not confirmed). By 831am Jacques had started his pre-recorded countdown which counted from 30 minutes down to 1 minute prior to totality. A few seconds after every time announcement the nearby Italian group yell out the time remaining (in Italian). Just 10 minutes before totality a cloud covers the sun which moves off, but very slowly.
Twenty one seconds before totality filters are removed and a double diamond ring is visible corresponding to two deep adjacent lunar valleys. This 'ring' only lasts a few seconds and then quickly breaks up into Baily's Beads. At totality loud cheers and expletives ring out. A small pink chromosphere appears and a fantastic asymmetrical corona pops out. The conditions are so good that polar brushes are perhaps the strongest Jacques had seen ever with his naked eye. Mercury was easily viewed not far from the sun.
At 845am the ground begins to lighten up and totality is declared over. A total of 3m40s has elapsed in a time frame much shorter than in reality! Jacques approached several teenagers in our group who could hardly speak and were literally crying with joy. Jacques notes that those in the village about 4km away were mostly clouded out. Tahitian TV was set up next to Don Gardner; this was shown on the news later that night.
The eclipse composed of a set of stacked images. Notice that by stacking these frames you can even see real detail on the surface of the moon. Photo set by M.Mah.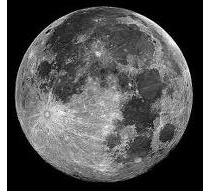 Here is a comparison showing a closeup of the moon from Mike Mah's photo above (left) and on the right, the full moon as it normally appears.
The Hao ROFE team. Photo by J.Guertin.
Temperatures on Hao. From this the temprature dropped about 2 degrees as a result of the eclipse process which is consistent with the data taken at Hikueru. Data recorded by Dan Weller, graphics by Chuck Herold, data entry by Alice Hooten.
The corona and the 3rd magnitude star Delta Geminorum (right of sun) . Photo with Mizar FA-80 Fluorite refractor D=80mm f=600mm F/7 with Takahashi P-2Z equatorial and Canon EOS 7D. Taken by Li-chun Chen.
A classic but complete image series from partial phases through totality and back through partial phases. Courtesy R. Ruiz.
Detailed view of the sun's edge featuring a detached solar prominence. Photo by D. Gardner.
 Chromosphere and Baily's Beads. Photo by C.Malicki.
Wide angle view of totality. Photo by M.Mah.
2nd contact image 1 showing the diamond ring beginning to become distinct. Photo by M.Mah.
2nd contact image 2 showing the double diamond ring with a third valley creating a very larg Bead. Photo by M.Mah.
2nd contact Beads continuing to diminish. Photo by J. Guertin.
2nd contact image 3 showing the smaller Beads but remaining evidence of the two valleys that created the double diamond ring. Photo by M.Mah.
Nearby, Spencer Young shot the eclipse with differnt equipment immediately after the Beads had disappeared. Photo by S.Young.
 A beautiful prominence suspended above the pink chromosphere. This is the so-called "11:00 prominence" based on its location relative to the clock face of the sun. Photo by M.Mah.
Solar crescents projected between leaves were a bit hard to see on Hao. Photo by P.Arpin.
Relative size of sun and moon at eclipse time. Photo by P.Arpin.
Baily's Beads at 2nd contact with correct orientation. Photo by P.Arpin.
 Baily's Beads at 3rd contact with orientation shifted by 90 degrees clockwise.
.
Overlay of chromosphere at beginning and end of totality showing clearly that the Hao site was well off the eclipse centerline. Photo by P.Arpin. 
Baily's Beads + 12 seconds at 3 second intervals. Equipment was Canon 7D with 100-400 lens + 2x extender. The exposure was f22 at 1/400th sec at iso 200 and apart from edge sharpening and cropping, the images are not processed in any way. Photos by D. Manson. 
Don Gardner, Fritz Kleinhans. Photo by D. Manson.
2nd contact with 20 seconds of Baily's Beads obtained by R. Nugent. 
3rd contact with 10 seconds of Baily's Beads obtained by R. Nugent. 
Pierre Arpin. Photo by G. Searle.
Mike Mah next to his IOptron mount. Chuck Herold at far rear by his scope. Photo by G. Searle.
Richard Nugent and Questar 3.5. Photo by C.Herold. 
Li-chun Chen. Photo by F. Kleinhans.
Tim Fitzhugh (kneeling) and Marnie Covey-Dupont (looking through binoculars). Note the rocks and tennis shoes used to anchor the tripod! Photo by F.Kleinhans.
From left, Jean-Francois Guay and Francoise Boutin. Photo by F.Kleinhans.
 From left, Ben Lutch, Dave Balch. Photo by F.Kleinhans.
From left, Pierre Arpin, Holly Warren, Michelle Brown, Sarah Warren. Photo by F.Kleinhans.
ARANUI CRUISE (P.Reiff group)
This group of 12 people were aboard the inter-island freighter called the Aranui 3–both a cruise ship and cargo ship with 180 passengers and about 60 crew.
Our team was composed of the team leader Dr. Patricia Reiff and assistant/daughter Amelia Hill, and five additional couples.
Pat reported:
"The day before the eclipse it was a major concern that weather would be unfavorable on Hikueru.  We spoke with the lead for the largest group aboard, Melita Thorp of MWT Associates, and she was in contact both with weather forecasters and the ship captain.  We agreed that mobile operations, even on a moving ship, was preferable to being ashore and in clouds.  She then made it clear she wasn't interested in my opinion any more and took over the lead of communicating with the captain.  They actually did a good job of finding a route which would both get us farther east (away from the clouds), but which would allow sailing southwest (away from the Sun, allowing a good view from the fantail), and would also not take us too far away from Papeete (many of us had flights or ferries to catch on the evening on the 12th).
Our group decided on its position on the rear port corner of the Sun deck the afternoon before, and Ame obliged by stringing her hammock up, spending the night saving our place.  That morning early we all came to give her a chance to take a break.  We were one of the first on deck to set up.  Breakfast was served on the boat 5:30 to 7 am.  We ate in shifts while setting up, so all were ready by first contact.  Still many of the boat passengers skipped the partial phases and just came for the few minutes around totality, which began around 8:39.  We were surprised that the decks weren't as crowded as we feared, and we were very pleased with how well the captain could hold a heading, making photos a lot easier.
We had clouds in and out of the partial phase, with the last cloud uncovering the sun at second contact.  We heaved a collective sigh and busily took photos and videos.  (No marriages during totality at our site).
Mercury was easily visible, I heard some say they saw Sirius (I don't recall seeing it).  I captured Jupiter in the west in my full dome image.  Clouds along the horizon with a nice glow.
I didn't use a whistle because we were in a crowd. We didn't get a volunteer to record the temperature, so we skipped that, although we heard from others on the boat that the temperature drop was 5 degrees.  Because I didn't take a whistle, though, I'm unsure from the video tape the exact time of totality.  From the oohs and aahs, it appears just over four minutes.
GPS reading (taken 7 minutes after third contact) was S17°55.97', W142°26.19'
All it all it was a lot of fun, and we enjoyed all the cruise aspects as well as our successful viewing!
The night before we were blessed with a great green flash, which we took as a good omen. Because the lower decks "oohed" a few seconds before the upper decks were able to see the green, several folks had good photos of the flash.  "
The infamous green flash. Photo by M.Garrick.
A fish-eye lens view of totality. This is one of two images appearing on spaceweather.com. Photo by P.Reiff
View around the sun. Photo by P.Reiff.
 Beginning of the Diamond Ring at 2nd contact. Photo by M.Garrick. 
The attack of the white cloud. Photo by M.Garrick.
Diamond Ring at 2nd contact. Photo by M.Garrick.
 Diamond Ring at 3nd contact. Photo by M.Garrick.
 Observers on deck watching the partial phases. From left: Andi Anderson, Max Garrick (baseball cap on backwards), Paul Long (in green), Betty Long (in green at camera). Photo by P. Reiff.
HIKUERU ATOLL (P.Maley group)
My group flew to Hikueru only to encounter heavy cloud cover on arrival with rain showers in the area. The prediction showed that at eclipse time the atoll would likely be at least partly cloudy. A representative of the mayor greeted us and we were informed that food would soon be available in case people wanted to eat during their 5 hour stay on the atoll. The attitude and friendliness of the local folks was very much appreciated in what turned out to be a beautiful and tranquil setting. Pristine beaches and clear waters, brilliant green foliage were the characteristics of Hikueru.
The much anticipated time of totality was to occur between 837 and 841am local time. As clouds and rain peppered the area, I had to cover my equipment with a tarp on one occasion. Kneeling down on the shell base adjacent to the airport 'terminal' was difficult and a towel was used to protect my knees. There was ample time to set up, align and focus telescopes on the sun. As the minutes ticked by the mood alternated from pessimism to optimism and back again. Those of us watching the movement of the clouds from southeast to northwest were teased by what appeared to be a very long if not unending gap in the cloud cover. That gap began at 811am allowing the team to refocus on the sun and obtain views of the partial phases for the 26 minutes leading right up to second contact. But just as 2nd contact began heavy cloud obscured the sun. My thoughts: the people just to our southwest in the village where originally we were told the whole group would be transported, would get a good view. Most of our observering team lined up just in front of palm trees adjacent to the runway; there was plenty of room for all to get a good view of the area where the sun was supposed to be.
I had planned to use a sensitive black and white TV camera to capture Baily's Beads at second contact. A near fatal problem with my video was salvaged by quick action from Murray Paulson and a solid 10 seconds of Beads were captured. Though not visible through the cloud to the eye, the Beads appear distinctly after I played the VCR back after the eclipse. David Weber, located just meters away could make out the corona briefly in binoculars. The experienced eclipse observers in the group all commented how dark the eclipse was in the sense of ambient light. I could barely read my digital watch dial without using the light button. The approach of the moon's shadow and recession was not easily noticed and there was minimal coloration along the horizon as we have seen during prior eclipses. It seems that in the parts of the sky where no cloud existed you could make out a bright star or planet. This was the only eclipse where I had the time to just look around to see what I could see. Cloud altitudes were generally at low to middle levels with almost not high clouds visible.
Others who could not actually see Baily's Beads recorded them in photos. But the true visual spectacle that is totality eluded our entire team there. Only well after totality was over did the dark cloud clear and the remaining partial phases were seen without further issue. But the partials were not what we came for and it will have to wait until next time to try again to catch the sometimes elusive totality.
Although we had initially attempted to activate a backup plan to depart for Tahiti early if cloud threatened, any decision to take this step would have been extremely difficult had the plan been authorized by Air Tahiti. The only real decision was to remain in place and trust that the 'gap' was going to last. Temperature readings showed that a nearly identical 2 degree drop seen in Hao was also seen at Hikueru.
The Hikueru team boarding the Air Tahiti ATR42 at 330am. Photo by A.Dyer.
David Weber and Lynn Palmer with the Texas flag (during clearer moments) erected at Hikueru airport. The new and improved flag pole design was formulated and built by David Weber after past high wind problems in China caused stability issues. This time the new design proved its worth. Photo by P.Maley.
The Hikueru ROFE team around 1040am. Notice the nice sky. Photo by A.Dyer.
Hermit crab. Photo by D.Hube.
 Rain at the atoll produced several prominent rainbows. Photo by P.Maley.
First contact at 7.22am. Photo by M.Paulson.
Bhanu Pratap Sharma and Les Nagy observing partial phase. Photo by L. Palmer. 
Kym Robertson. Photo by L. Palmer. 
Joanne Paulson, Patty Warren and Dan Schaefer checking out a coconut. Photo by L.Palmer. 
A -7.8 magnitude Iridum flare from IR 47 occurred at 7.46am about 1/3 of the way from 1st to 2nd contact. Murray Paulson, Charlie Heebner and myself watched. I was the only one to see it naked eye. Photo by L. Palmer. 
Solar crescents visible on the ground through palms. Photo by M.Paulson. 
Bailys' Beads 1 clearly defined at 2nd contact just before the sun was lost. Photo by M.Paulson.
Baily's Beads 2. Photo by M.Paulson.
 Baily's Beads 3. Notice the dynamic between these 3 images as the Beads change in fractions of a second. Photo by M.Paulson
Baily's Bead video sequence by P. Maley using a Meade 2045D, no filter and PC164 video camera. Video was taken over a 10 second interval at 2nd contact. The sequence is shown in the reverse order from the same sequence above from Hao atoll. Because 2nd contact occurred at a slightly different orientation due to the displacement of one atoll with the other, the beads also would not be the same because the lunar features creating them are offset from one another. The frames are identified by frame number. Video was taken at a rate of 30 frames/second such that the time difference between the first and second frames is 0.93 seconds, e.g. Graphic courtesy of R.Nugent
Temperature measurements by Charlie and Bev Heebner. Graphic courtesy of C.Owen. 
My camcorder view of the partial phases. Photo by L. Palmer. 
One of many partial phase images. Photo by J. Sladecek. 
Clouds during the partial phases and rain approaching. Photo by A.Dyer.
 This fish-eye shot captures the sky during totality with a large cloud bank covering the sun. But, the background does not capture how dark the sky really was since the exposure is a bit long. During this time I could make out Jupiter, Procyon, Sirius, Achernar which are not visible in this image. The image is facing east-northeast (azimuth 57). Photo by A. Dyer. 
 Pierre Chastenay and Julie Hebert exchanged vows and rings during the eclipse. Photo by A. Dyer. 
The chromosphere is defined at 2nd contact as the clouds cover the sun. Although the group of 41 persons was relatively spaced out but close together, it all depended on when you took the shot as to what came out on the image. Photo by J.Robertson.
The chromosphere and inner corona. Photo by M.Paulson. 
Observers lined up away from the airport runway had an unobstructed view of the northeast sky. Photo by A. Dyer.
Our Air Tahiti crew views the partial phases with solar eclipse glasses. Photo by P.Maley.
Atoll hospitality featured food provided by the locals and set up at our airport site. Photo by A. Dyer. 
A rather old box of eclipse mints discovered during the eclipse at the airport. Photo by D.Weber.
My own eclipse gear consisting of a Meade 2045D with video attached to a board and hook (courtesy R. Nugent) in order to be polar aligned using an inclinometer and compass. The hook is tilted 18 degrees (the latitude of Hikueru). Note the proximity of various pieces of gear that I used during the eclipse. Photo by P. Maley.
View from Air Tahiti Nui plane. Photo by J. Sladecek.
Sunset from the Belvedere Restaurant. Photo by J. Sladecek.
BORA BORA
Beyond the eclipse the highlight of this expedition was the post tour to Bora Bora, by far an extraordinary vacation spot.
Incredible wide angle view of the Milky Way from the Sofitel private island on Bora Bora. A 40 second exposure with a fisheye lens. Photo by J. Robertson.
The Sofitel private island as seen from the more populated Sofitel Maeve hotel on the main island side. These are not members of the group and are foreground material only. Photo by P. Maley.
Approaching the Sofitel private island (motu) from the main island side. Photo by P.Maley
Lagoon front bungalow. Photo by P. Maley.
Over water bungalows. Photo by P. Maley.
 Even though this is a short exposure, the Milky Way could even be imaged from in front of the hotel. The tail of Scorpius is at the top, Alpha and Beta Centauri and the southern cross at bottom. Photo by M. Mah. 
 View of mountains on Bora Bora from the Sofitel private island resort where our group stayed. You had this view at breakfast every morning! Photo by P.Maley. 
Waters were so clear at the Sofitel that you could see schools of small fish (square tail mullet) just by looking out from the lagoon or waterfront bungalows. I even saw a small shark come up to the dock amidst a school of similar small fish. P.Maley photo.
View from the high point on the motu revealing the shallow clear waters.P.Maley photo.
View from the high point above the Sofitel private island which allowed some to watch the sky without light interference. Photo by P. Maley.
KUDOS TO URUGUAYAN TOUR ALUMNI
Ruben Perez de Paula, one of our distinguished ROFE alumni and his brother went to Patagonia to see the eclipse because its location is very close to Uruguay compared to the other main eclipse destinations. There they experienced a wonderful eclipse and took the following outstanding images with the sun only 1 degree above the horizon. This was the year for Uruguayans since the country was one of the final four in the soccer World Cup.
Totality from El Cafate, Argentina. Photo by Rodolfo Perez during his eleventh eclipse.
 The moon's shadow cone from El Cafate. Photo by Ramiro Perez during his first eclipse.